Just 90 years ago (it seems like yesterday!), you would have been able to transport yourself from the corner of Park and Duluth to the top of the mountain in a matter of minutes, thanks entirely to the Mount Royal Funicular Railway.
Frederick Law Olmstead, who designed Mount Royal Park, didn't want Montrealers to have a quick way to reach the top of the mountain; he intended for them to leisurely stroll along the winding path that begins near the Sir George Étienne Cartier Monument. But even in the nineteenth century, people had things to do and people to see, and they certainly didn't have any time to waste wandering up a hill, so the funicular was built in 1884, tens years after Olmstead was hired.
A ride up the mountain on a steam-powered tram cost five cents for adults and three cents for children. So things went until 1918, when the funicular was deemed structurally unsound. It was dismantled in 1920.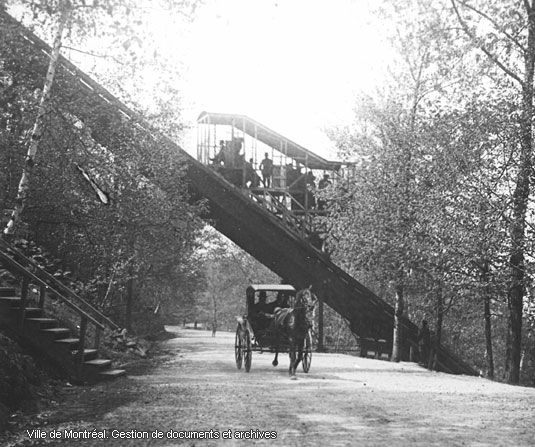 The funicular wasn't the only way to ride the rails up Mount Royal. Until 1959, the number 11 streetcar made its way up the mountain along what is now the Voie Camillien Houde. Today, that streetcar has been replaced by a bus. If you ask me, it just isn't the same.
Photos: McCord Museum and Ville de Montréal