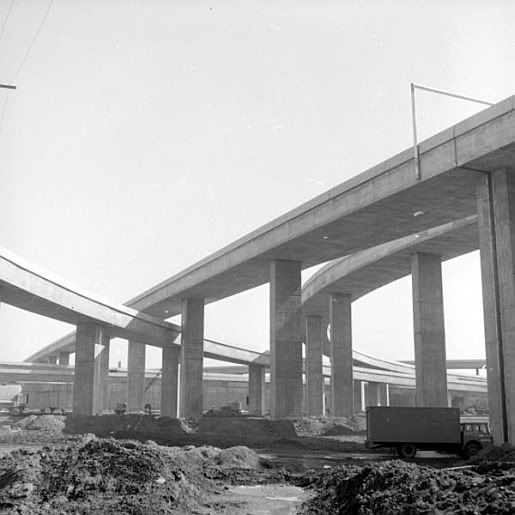 In the midst of the blogosphere-led fury over the Ministère des transports du Québec's plan to rebuild the Turcot interchange (see Jacob Larsen's lively post excoriating the MTQ's attempt at "greenwashing" the project), Urbanphoto's Sam Imberman calls for a breather:
So, let me get this out of the way first-thing: there is currently an interchange here, and for the time being, there isn't a way around that fact. And furthermore: if the Turcot were annihilated tomorrow, we would not necessarily be better off.

See, it's not in question that in some ways, interchanges are Bad Things. They're noisy, polluting, and ugly. They interrupt the Urban Fabric, which as we all know is sacrosanct. And this interchange, in particular, is a Really Bad Thing: it's crumbling, it's on land which could be put to much better use, it's unsafe, it's hard to maintain, it "enabled the entire West Island," et cetera. I agree with all of this.

But now, for better or worse, the West Island exists, and these people basically have to get to work by car. We could, of course, ramp up train service, but that means investing heavily in rails, signals, and rolling stock, and commiting a lot more to the higher operating costs involved in running more trains. Then, we have to build up park-and-ride service, or pay for more buses on suburban arterials (or jitney service down winding West Island roads). It's expensive, and worse, it's institutionally really complicated, involving the AMT, the STM, Transports Québec, and the CN Railroad, among others. And we still haven't fixed the crumbling interchange.

For the time being, then, let's please accept that the Turcot will continue to exist. And if we're going to rebuild an interchange, we ought to be rebuilding it right. That means building with sensitivity to the neighbourhoods nearby, but it also means building to the highest roadway standards possible for the greatest common good possible, all while making reasonable compromises. And it also means that unfortunately, the neighbours will have to accept some discomfort while the thing is rebuilt.

So I'll say it again: I feel bad for Transports Québec. When they add in nonsensical bike paths, and carpool-and-bus lanes that link into nothing, and they present with words like "green" and "carbon neutral," it doesn't sound like malice to me; it doesn't even sound like an arrogant technocracy. It sounds like desperation. If there's something Transports Québec should work on, maybe it's their marketing.
Photo by Gabor Szilasi, via Walking Turcot Yards