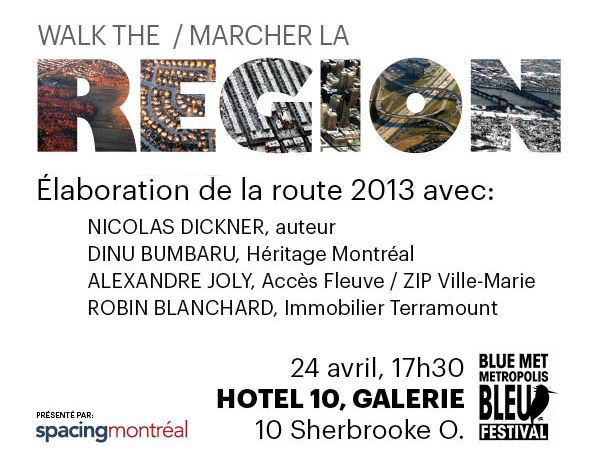 If you were to plan a pilgrimage across the Montreal metropolitan area, what sites and places would be essential stops along the way?
We're gearing up for the 3rd edition of Walk the Region, a 3-day journey of discovery on foot, across the metropolitan region of Montreal. This year, we have assembled an panel of experts in local history, ecology, literature, and real estate, to help us plan the the 2013 route. We're looking to visit both the iconic landscapes and hidden gems that can help us understand the identity and diversity of our region: add your own propositions to the comments section here, or during the conversation next April 24th.This event is part of the Metropolis Blue festival.
For those interested in participating in Walk the Region 2013, which will take place on June 29 – July 1st, the panel discussion will be followed by a planning meeting at 7pm.
When: Wednesday April 24th 2013, 5:30pm
Where: Hotel 10 (10 Sherbrooke W.), in the Gallery room
Cost: Free.
Bilingual
————-
Si vous deviez planifier un pèlerinage à travers la région métropolitaine de Montréal, quels sites et lieux seraient incontournables le long du chemin?
En préparation pour la troisième édition de Marcher la région, la découverte à pied de la région métropolitaine de Montréal, Spacing Montréal convie un panel d'experts en histoire, écologie, littérature, urbanisme et immobilier, pour nous aider à créer le parcours 2013. Nous sommes à la recherche des paysages iconiques et des coins cachés qui nous permettront de mieux comprendre l'identité et la diversité de la région. Vous êtes bienvenus à rajouter vos propositions dans la section des commentaires ici, ou bien lors de la conversation publique, qui aura lieu le 24 avril. Cet évènement fait partie du festival Metropolis Bleu.
Pour ceux qui souhaiteraient participer à Marcher la région, du 29 juin au 1er juillet 2013, le panel sera suivi d'une session de planification à 19h.
Quand: le mercredi 24 avril, 17h30
Où: Hotel 10 (10 Sherbrooke O.), dans la galerie
Coût: gratuit.
Bilingue