National War Memorial – Oct 23 2014 
The National War Memorial, situated within the triangular expanse of Confederation Square, has always been one of my favourite urban spaces in the City of Ottawa. Officially unveiled by King George in 1939 to commemorate the First World War, just months before the start of the Second, it is a place of civic pride, urban movement, and municipal merriment. But on Wednesday, October 22, 2014, it became, if only for a short time, a place of death, sorrow, and a seeming loss of freedom.
This is a place where many of us have marked Remembrance Day, celebrated Canada Day, gained glimpses of the Royal Family, run passed on Race Weekend, cut through on a busy work day, or stopped to snap photos of its tulips in full bloom. It is also the national home to the Tomb of the Unknown Soldier, added to the Memorial in 2000, and the Honour Guard who, as of just recently, ceremonially guard it.
(More images below)
And it is this tomb, which lies humbly at the base of the towering granite cenotaph, that has now made international headlines, as on Wednesday it tragically became the site which now marks the death of another soldier who had been poetically performing the honour of guarding a fellow soldier's grave – far from the confines of war, during a time of relative peace, and on home soil.
In this act, the very urban space itself became overlaid with further layers of meaning – for while the events that transpired in this place are horrific, it has also reminded us of who we are as Canadians, as Ottawans, and as basic human beings. It is thus fitting that the two bronze allegories which grace the top of the monument symbolize the notion of peace and freedom being eternally intertwined, for it was peace and freedom which the fallen soldier had been standing guard for, and which the country and city have turned to in the wake of a series of saddening and surreal events.
Confederation Square is also symbolically, and geographically, very much the heart of both 'Ottawa as Capital' and 'Ottawa as City'. For while it may be national in its fundamental nature, it is a place that unites; with equal views to Parliament, the Rideau Canal, cultural institutions and beautiful architecture. It is space where one can hear the Peace Tower bells ring their carillon or smell the tempting aroma of street vendors – for these are the spaces, sounds, and 'scapes that make the city what it is, and that frame this civic square. An island and oasis of calm and contemplation in the middle of an active city, Confederation Square, and the National War Memorial within it, are physically and symbolically moving pieces of urban design.
Set within Jacques Greber's urban plans, the monumental feelings that the arch's height evoke force your vision upwards and your heart to pound (or at least it still does for me almost every time I see it, even after nine years in the city). It sits in seeming isolation and separation, with its verticality juxtaposed to the square's low profile, and horizontality cut at various angles. A few shallow steps and a ramp lead you up to the base of the monument itself, and encourage you to move around the cenotaph, which is truly sculpted as a narrative from all sides. The square, in its triangular plan, also points to all that the city embodies, with one corner leading to politics, one to culture, and one to commerce. Elgin Street then leads to and from its apex, splitting or uniting at its southern tip, depending on your point of view, and brings together aspects of both Ottawa's bureaucracy and community.
Yet while on Wednesday this civic place and public space came under threat – as the police tape comes down, and the media trucks pack up, we now have the opportunity to reclaim them as urban elements of our identities, citizenship, and of peace and freedom. We are a resilient city, and a resilient country. We will remember Corporal Nathan Cirillo, and we will remember all of the feelings that we felt on October 22. But we will move forward. And I will always be grateful for all forms of sacrifice that have been made in the name of peace and freedom whenever I look upon the granite stones, cooper figures, fellow faces, and colourful tulips that work together to make our National War Memorial truly meaningful. In this, it has served its purpose beautifully.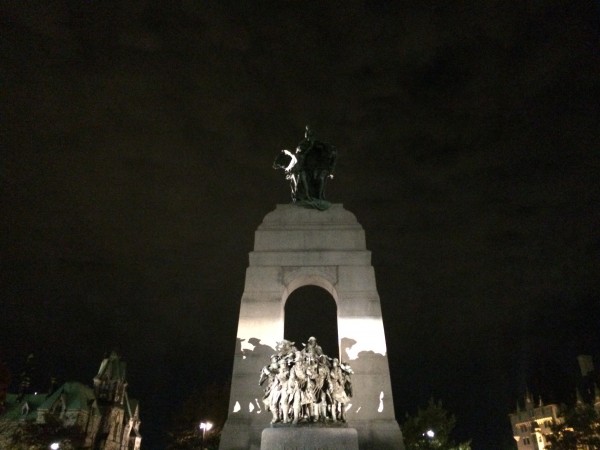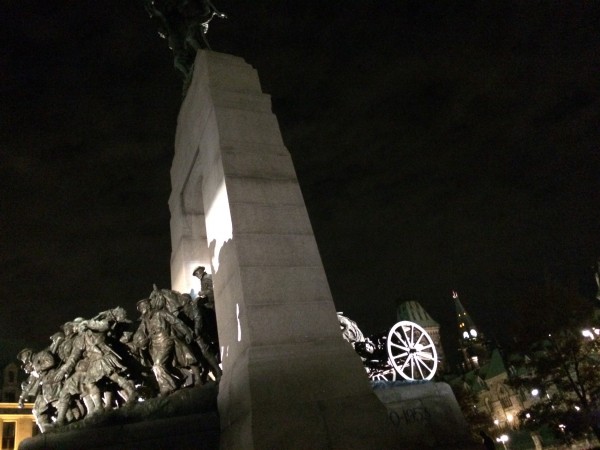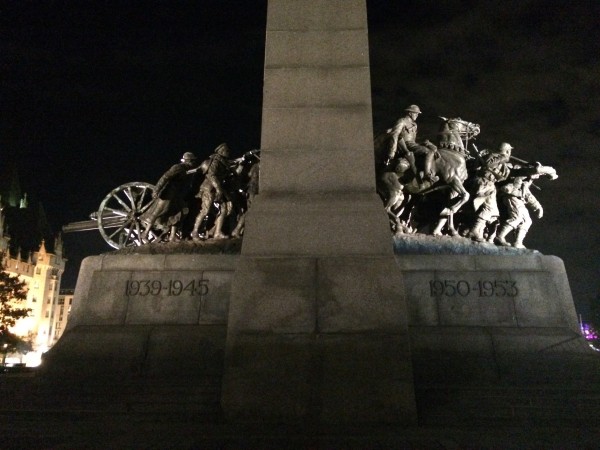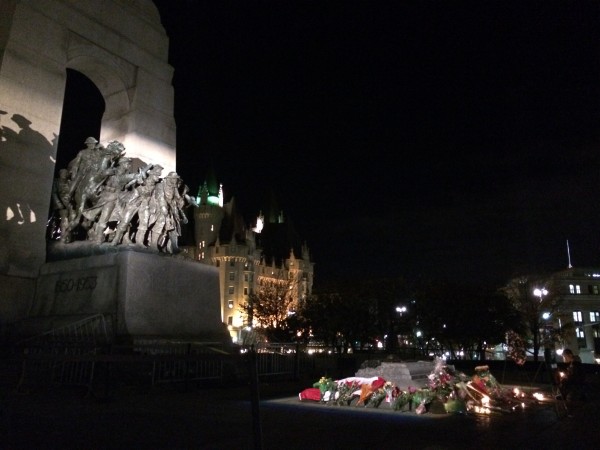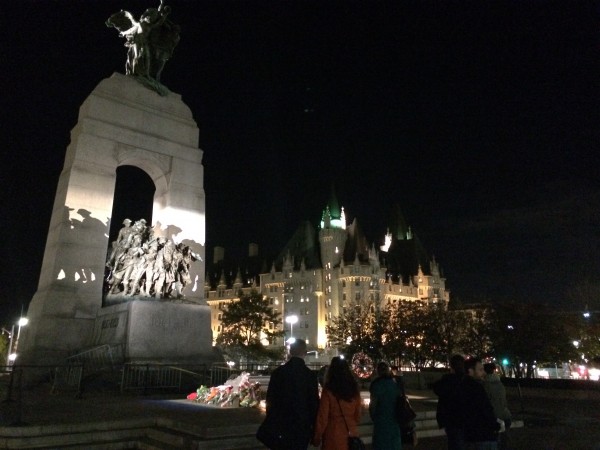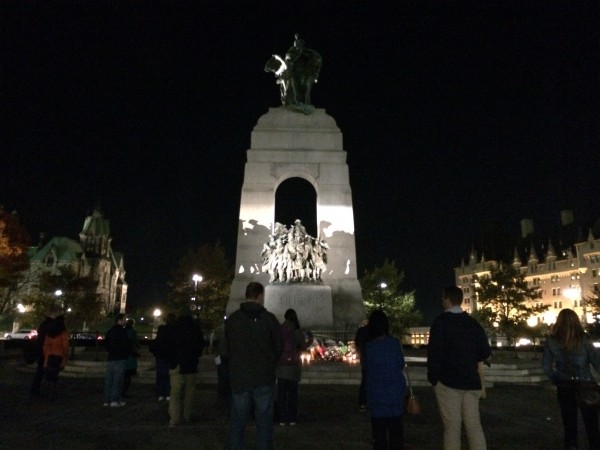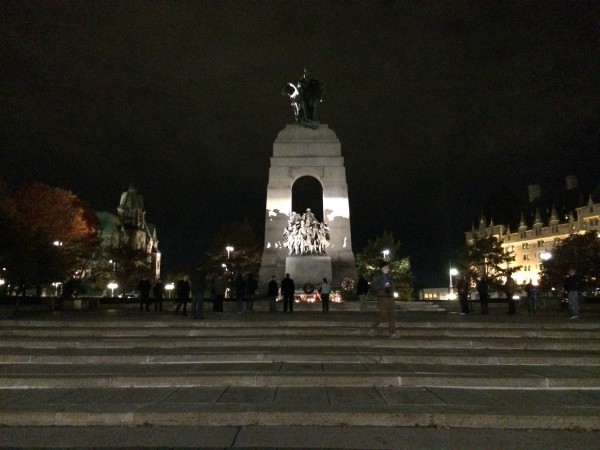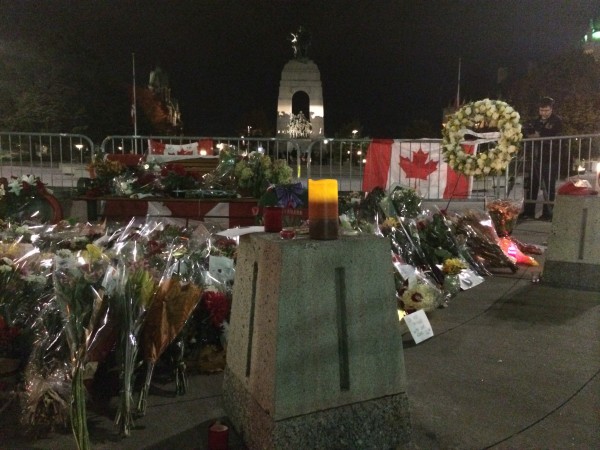 Image: Kristen Gagnon