"Is it okay if I knit here?"
Under a shady tree outside a cafe in Kensington Market, Brenna MacDonald smiled as she pulled out her pastel blue fabric and silver needles. As she spoke, I was welcomed into the exuberant world of knitting at Lettuce Knit. The front wooden gates outside the shop are wrapped in intricate yarns made from fluffy, bright, flowing textures. It's not International Yarn Bombing Day yet, but the knitters at Lettuce Knit always have their hands full with new fibres and designs.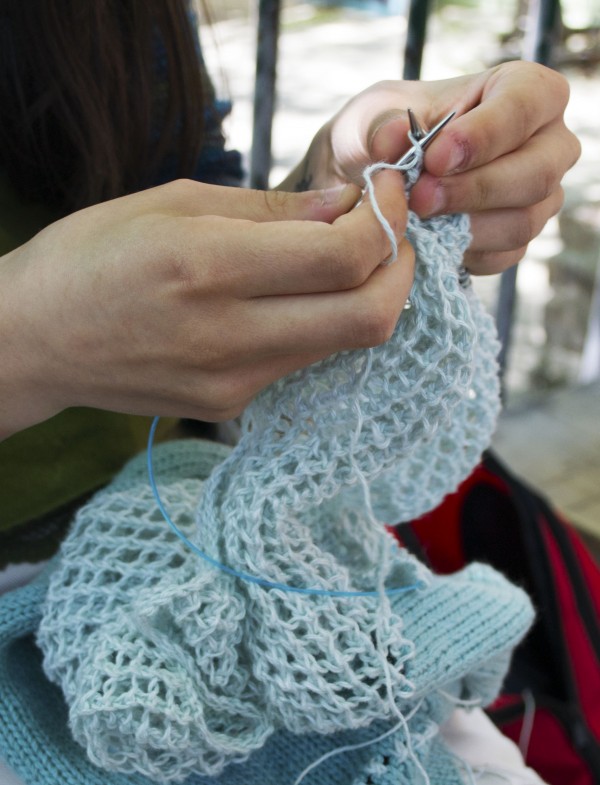 SPACING: When did you start knitting?
BM: About four years ago, I was sick for three months. I decided to take out my old crocheting supplies and teach myself new techniques. I re-taught myself to make amigurumi, the Japanese art of stuffed crocheting toys, and eventually knitting became a daily habit. I can marathon my favourite TV shows while being productive, keeping my hands busy, and in the end have a new knit sweater.
SPACING: Where did the name Lettuce Knit come from?
BM: The name is just a good pun on "let us knit". Lettuce Knit opened up in 2003, but I've been working here for a year, teaching classes for beginners or certain items like hats (my favourite piece to knit!). People from all levels of knitting come out to socialize and create. Sometimes people come in and ask, "Is this a mix of a grocery store and knitting place?"
SPACING: What goes on inside Lettuce Knit?
BM: People come in to hangout and knit. They bring their knitting supplies, their lunch and get comfortable. We're here for emergency help if someone is stuck with a pattern. We also sell a lot of luxury fibers that are hand dyed locally in Ontario or Canada. We have a social knitting class every Wednesday, and classes for beginners and advanced knitters who are looking for something new. I also teach a class for Tunisian crochet, a hybrid of knitting and crochet with a long crochet hook. It can be used to create lace and durable fabrics. When I started knitting, I didn't know many other knitters and here people can socialize and knit at the same time so it's great that Toronto has places like this.
SPACING: Why should people knit?
BM: In big cities there are not a lot of low key places to hang out. It's easy to feel isolated in big cities and here people can keep it safe and still be part of something. Knitting is also very meditative. One reason why people get into knitting is fashion; there are so many different fibers too. Some yarns are made with silk or cashmere; it feels lovely on your hands! Why wouldn't you want to hold it while you knit? You can create pieces that are unique, cheaper, and fit you. It's a confidence booster for plus size woman who come in and knit sweaters that fit them. They gain self-satisfaction from hand making a garment that they feel comfortable wearing.
SPACING: How does Toronto benefit from the act of yarn bombing?
BM: People love seeing the fun, colourful objects in their city. Yarn bombing makes the city more unique and pretty with bright colours and objects like flowers and hearts. I'm teaching a yarn bombing class for a highschool group, and they wanted to yarn bomb the smokers bench for the final project. It was all their idea! They wanted the bench to become comfy and colourful so we're going to go out at night dressed in black and guerilla yarn it. Cities benefit from yarn bombing also because it's not permanent like spray paint. If it were up to me, the yarn used for yarn bombing would be re-used for other knitting projects.