We're back this summer with a whole bunch of new merchandise items for sale. You can get an exclusive chance to shop all the new goods at our launch party on Tuesday, June 25th at 3030 Dundas St W.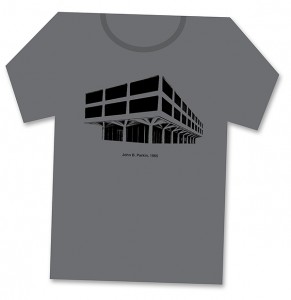 1) Bata Shoes HQ Modernism t-shirt – $25 pre-order/$30 retail
Fitting with this issue's theme of Modernism architecture, the first of our new line of t-shirts brings you the old Bata Shoes HQ designed by John B. Parkins. We are currently taking pre-orders on this shirt until it is officially released at the beginning of July, but you can always pick one up at our launch party too. Printed on American Apparel 100% cotton tees, men's and women's sizes S – XL.
2) Updated Dufferin and Museum buttons and magnets – $2 button/$3 magnet
We've always joked that we would never get rid of our old Museum station design, but now that Dufferin's new walls have been unveiling over the past few months we decided to give both designs a new facelift. These new designs will replace the originals in all of our button and magnet sets starting in July, but the classic designs will still be available seperately.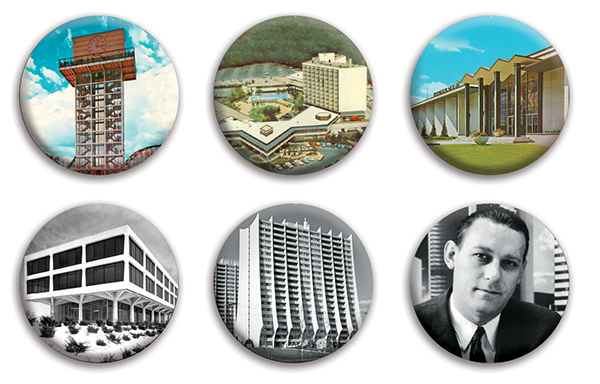 3) Toronto Modernism buttons and magnets – $10 button set/$15 magnet set
Also to go alongside our new Modernism issue, we've created a 6-button/magnet set highlighting some of our favourite Toronto Modernist designs: the Bata Shoes HQ, Shell Oil Tower, the original Hockey Hall of Fame, Inn on the Park, Uno Prii, and Modernist architect Peter Dickinson. They are available as 1″ buttons or 1.5″ magnets.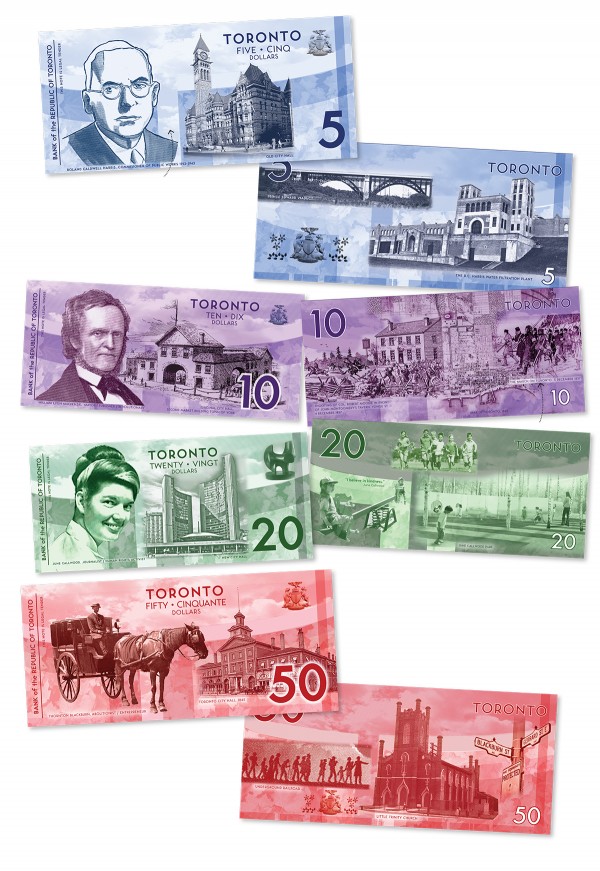 4) Republic of Toronto currency magnets – $10 set
In our new issue we challenged graphic artist Marc Ngui to design a very Toronto take on Canadian currency. Who would be the iconic civic leaders featured on them? What symbols are so definitively "Toronto"? You can find the answers in our new issue and get your hands on a special magnet set of the bills ($5, $10, $20, and $50) at our launch party.
5) Spacing pop-up: featuring indepnedent Toronto artists and designers
We're excited to soon be announcing a new section of our e-store where we've assembled items from some of our favourite urbanist artists and designers. Soon we'll have t-shirts, maps, postcards, posters, new buttons and magnets, and other unique items for sale. We'll be offering an exclusive, sneak peek sale of some of these items at our launch party as well. Stay tuned for more info on the Spacing pop-up at the end of June.