In December, City Council agreed to a small but welcome improvement in the City's snow clearing standards. Starting two winters from now (2015/16), the City will mechanically clear snow from sidewalks on main streets in the old city that have heavy pedestrian traffic (but only where their current sidewalk ploughs fit). The City has in fact been informally doing this ploughing in recent years when it can (after many complaints from the now-defunct Toronto Pedestrian Committee), but now it will be part of the City's formal level of service requirements so they can't just stop if staff decide it's no longer convenient. It's a useful step forward — it will be good for on-street retailers, and for the many downtown commuters who walk to work — and the City deserves credit for finally doing it.
One group it doesn't really help much, however, is people with mobility difficulties and seniors who live in the old city. The reason? They are still going to have trouble getting to the now-clear main street sidewalks from their homes, because the City still won't clear 1,100 km of residential sidewalks in a large swath of the old part of the city — the most densely populated part of Toronto. The City requires residents to clear their own sidewalks there. Most of them do — but it only takes one negligent homeowner to not do so for the sidewalk to become hazardous for a senior who fears a fall or someone who needs assistance moving, and potentially dangerous for anyone else too. Anyone who lives in the no-plough zone knows that, inevitably, there is someone on every block who is negligent, often an absentee landlord, and that means any snowfall or icy conditions makes pretty much every residential sidewalk in the old city dangerous for vulnerable people until the next melt.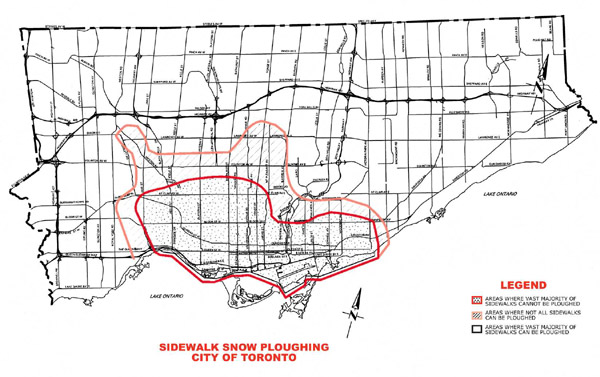 The City does have a program to clear the sidewalk for seniors and people with disabilities who cannot do so themselves, but not only is this program implemented rather half-heartedly, it doesn't help if someone else hasn't cleared their sidewalk up the street.
The danger of slipping and falling for seniors is very significant. Not only might their balance be not as good as a younger person's, putting them in greater danger of falling, but they are more likely to suffer a serious injury if they fall due to their weaker bones. A Danish study (PDF) found that, on a particularly icy day, there was a sharp increase in the number of pedestrians admitted to emergency. A disproportionate number of them were older people (especially women), who had suffered wrist and hip fractures.
The City claims that it can't clear downtown residential sidewalks mechanically because they are too narrow, because there's nowhere to put the snow on the side where cars are parked, and because they are worried about damaging fences, cars and other private property beside the sidewalks. It's worth noting that it formerly used similar excuses for the main roads it has now promised to plough. In its report on winter maintenance (PDF) in December, the City rather ludicrously claimed that it would need 360 gangs of day labourers to clear old-city residential sidewalks manually, at a cost of $9,900,000 a year.
Other old cities with narrow sidewalks, however, such as Montreal and Ottawa, manage to find ways to clear their residential sidewalks mechanically. In a 2009 Toronto Star article on the issue, staff conceded that "that central sidewalks could be plowed if Toronto, like Montreal, spent "considerable resources" buying smaller tractors."
It's worth noting the current costs of not ploughing, as well. The City appears to spend $7-11 million dollars a year (PDF), possibly more some years, settling liability claims from slips and falls on ice and snow. It spends another half-million, the report says, on the seniors snow-clearing program. The report in fact notes that, if it wanted to cancel mechanical residential sidewalk clearing in the newer parts of the city where it currently exists, it would cost $4.5 million to extend the seniors sidewalk clearing program there — more than the current mechanical clearing costs (which also raises the question of whether the current central-city program is under-funded).
While it's not clear where exactly those insurance claims were incurred, it's worth pointing out that the total insurance payments often appear to be similar to the cost of even clearing old-city residential sidewalks by hand.
Added to the costs to the taxpayer, if not the city, is the price to the health care system of injuries caused by people slipping and falling. A study of slips and falls due to snow and ice in 2005/06 showed they resulted in  2,133 trips to the emergency room in Toronto. Of these, 222 people had to be hospitalized, 30% (68) of whom were over 65.
But more important than the costs is the simple accessibility issue. The Government of Ontario passed the Accessibility for Ontarians with Disabilities Act in 2005, which includes provisions for transportation and the design of public spaces. We are supposed to be moving towards a city and a province where everyone can expect a reasonable standard of accessibility from public services. We've put curb cuts on every sidewalk in the city; the TTC is building elevators in subway stations and only ordering new vehicles that are accessible. Yet these are irrelevant if seniors and people with disabilities can't safely leave their house whenever it snows, and for days afterwards until that snow melts.
As the population ages, instituting effective residential sidewalk snow clearing in the old city would also be part of the necessary move towards "age-friendly cities". Toronto recently unveiled a new "Seniors Strategy" — any such strategy must include making it safe for seniors to walk on the sidewalk after snowfalls.
The City's attitude towards snow clearing on residential sidewalks in the old city is simply negligent. They are not cleared to a standard that is acceptable to make them functional. If the city absolutely cannot clear them mechanically, it would have to institute policies that made sure they really were cleared fully by residents: an expanded, comprehensive program to clear sidewalks for seniors and people with disabilities; some kind of youth employment program that people going on vacation, absentee landlords, and people with health issues could call on to pay to have their sidewalks cleared; active rather than passive enforcement by bylaw officers cruising streets and looking for uncleared sidewalk (it's worth noting that Toronto has remarkably few bylaw enforcement officers — we should perhaps have more); and a thorough public education campaign to let people know about these measures.
In all likelihood, however, once all of these programs were in place and added to the budget, the City would discover that it could, in fact, afford to buy the necessary equipment and find ways to clear residential sidewalks in the old city mechanically.
In its December meeting, City Council directed staff to look more closely at sidewalks in wards that do not receive sidewalk ploughing, to see if any could be added. It also directed staff to look at all areas that aren't being ploughed mechanically to "submit recommendations for sidewalk snow clearing using other means to ensure accessibility guidelines are maintained throughout the year." Councillors have, rightly, created an opportunity to fix this long-standing problem. We need to see a comprehensive solution before next winter.