As they navigate the grid of Canada's largest city on their two wheels, Toronto cyclists have an excess of helmet choices as the lid gradually transforms from a strictly functional afterthought into a fashion accessory. Long viewed both as an annoying burden to carry around post-bike ride, more options and designs that appropriate skateboarding's edginess have made wearing a helmet decidedly cooler. Many urban cyclists are eschewing the basic road style helmet, with it's slim, narrow ventilation strips and longer shape for rounder, simpler designs.
Downtown bike shops are noticing this shift in consumer taste. At Sweet Pete's on Bloor, store manager Brent Robinson says that they have seen an increase in a demand for more stylish helmets in the last few years, and that customers seem to now be concerned about looks as well as practicality. The Annex's Curbside Cycle sees different demographics  attracted to different colour helmets, with younger customers more drawn to subtler grays and blacks, and some older cyclists more concerned with safety preferring the more visible yellows, greens, and reds.
At Kensington's Bikes on Wheels, store manager Liam Parker says that his store has sold skateboard style bike helmets for years, and that they are most popular with commuters who like that they look less sporty than more traditional bike helmets. "I would say in the last 3 to 5 years, companies have made efforts to redesign this style of helmet to provide ventilation and look more 'urban'," says Parker.
He also says that although new styles have been well received, he does not think that the number of people wearing helmets overall has increased significantly. Bikes on Wheels' best selling helmets are the Giro Reverb, a round ventilated style with a brim, and the Lazer Next, also ventilated and with a matte exterior.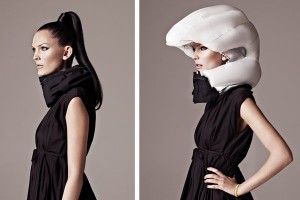 A July 2013 piece in the New York Times style section took note of the rise of the helmet as a fashion accessory, focusing on its infiltration into upscale boutiques and fashion lines. The article cites a Manhattan boutique that sells leopard print and faux-crocodile helmets, the inflatable helmet from Swedish designers Anna Haupt and Teresa Alstin (see image, right), and even a bizarrely expensive $960 one from Gucci. A niche helmet accessory market is even opening up, with one designer catering to commuters who want to protect their hairstyles en route to work with a $48 helmet turban.
Perhaps the best indicator of the helmet's new style cred is the emergence of custom helmet companies that cater to cyclists unable to find a helmet in bike shops that suits their individuality. New York's Belle Helmets is owned and operated by illustrator Danielle Baskin, who handpaints and designs custom helmets and ships them internationally. Baskin has her own designs for sale, including helmets with avocado, honeycomb, solar system, and lighthouse themes, and she also paints customers' own ideas.
As a child, Baskin hated wearing her helmet, but that all changed after she painted one for herself. "Occasionally someone's first helmet will be one of my hand-painted designs because they finally found a helmet they like the look of or just started riding a bike," she says. Baskin views Belle Helmets and her unique designs as a way to promote helmet wearing in a lighthearted, non-preachy way. "I go a sideways route and get people to look at the art on the helmet before the helmet itself," she says.
Another more high-end option that caters to fashion conscious cyclists, and one especially popular with women is Danish company Yakkay. Yakkay sells simple, colourful skate style helmets, and a selection of feminine covers to top them. The tweed, military, equestrian, and fedora covers make the helmets look like large hats, identifiable only by the chinstraps, appealing to the cyclist who wants to be inconspicuously safe.
Another consumer draw towards new helmet styles is their versatility, as many do not look out of place when used for other activities, including skiing, snowboarding, skateboarding, and even white water paddling. It is important however, for consumers to check with the manufacturer to make sure that their helmets are okay for the different sports they do. It would not be a good idea, for example, to wear a ski helmet bought larger than necessary to accommodate a toque, as a bike helmet in the hot summer months. Part of popular helmet company Bern Unlimited's vision is to give athletes one helmet that can be adjusted for different sports and seasons. A lot of snowboarders appreciate this, removing the padding and cozy ear flaps from their brimmed winter helmets and using them for biking and skateboarding as chairlifts grind to a halt in the spring.
Erin Lewis, a student in her final year at Ryerson, appreciates this versatility. Lewis spends her summers working for an overnight camp where she leads multi-week white water canoe trips. When cycling around Toronto, the 23-year-old Danforth resident wears the same brimmed, black helmet as she does when navigating rapids on remote rivers in Ontario and Manitoba. "It cost $90 so I'm making the best out of my purchase," she says. Lewis thinks she will probably buy one exclusively for cycling at some point, but for now she is content with the sleek look of her paddling helmet.
 In conjunction with the increase of cycling in Toronto, the last several years have brought a change in how urban cyclists want to look on the road. As the biking scene continues to grow, it seems a natural evolution that more thought and money will be put into something that people are wearing each day. Baskin, who has a company built on this premise, agrees. "If you're stuck with this utilitarian safety object on your head, it should get special treatment."