The NXT CITY PRIZE is all about vision to reimagine Toronto's public spaces and inject a sense of energy, dynamism and reflexivity. With a focus on ideas coming from the next generation of city builders, The NXT CITY PRIZE is an open invitation for all young people connected to Toronto to improve on the design of our city's open spaces. The NXT CITY PRIZE will be announced in mid-August, and the deadline for submissions is July 31st. Spacing has teamed up with the NXT CITY PRIZE to provide our readers with a series of Q&As with local and national city builders in the lead up to the announcement of the winning design.

TODAY: JANE FARROW, founding Director of Jane's Walk
What public space improvements have you made?
I have been part of teams and community campaigns to make important improvements and modifications to the public realm that range widely in scale and scope. As Jane's Walk director I energized and facilitated hundreds of community workshops and walks aimed at establishing safe, unobstructed and enjoyable walking routes. As a consultant I have facilitated community input on significant park and public realm projects conducted in dense urban neighbourhoods such as Yonge/Eglinton and Church/Wellesley. As Chair of Active 18 I was an integral part of the initial community conversation that, continuing over many years, resulted in the creation of a new park, large public media arts centre, the restoration of a Carnegie Library building as the new home of the Theatre Centre, and a novel partnership with Artscape and the Triangle Lofts that preserved vital live/work space in the area. The walkability studies I co-wrote with Professor Paul Hess of U of T were the first of their kind done in North America and the 'Walkability Checklist' we devised continues to be used around the world. As Policy and Campaigns Advisor to Park People, I advocated effectively for the removal of obstacles on behalf of residents who volunteer their time maintaining our shared green spaces.
What public space improvements would you like to see in Toronto?
I would like to see the establishment and empowerment of a city department built around the culture of 'YES' aimed at helping people make their public spaces more accessible, connected, lively and vibrant. Modeled after an organization like NYC's Projects for Public Spaces, this body would champion their visionary approach to place-making – 'lighter, cheaper, quicker' – that highlights active citizenship, collaboration and rejuvenation. Neighbourhoods, like great cities, rise and fall on the basis of individual human relations. From the small social space of a park bench comes bold ideas and great cities.
Another pressing need for public realm improvements is in innovative park design. Parks are our 'front porch', where neighbours connect and communities knit themselves together. With more people moving into the city every year, parks are under pressure to accommodate greater numbers of people and a wider arrange of events and programming from movie nights, art camps and farmers markets to quiet, friendly spaces for reading and kicking around a ball. Instead of putting up obstacles or ignoring the demographic shifts, designers and city staff must find ways to embrace this intense interest and engagement in our public realm, realizing it is the essence of good neighbourhood engagement. Let's facilitate people's love of trees, open space, park benches and recreation with creative community collaboration and great design.
Specific public realm wish list items also includes:
A consistent and well designed wayfinding system for pedestrians and transit users.
More bike lanes, safe separated lanes and a connected grid.
More pedestrian bridges over highways, rail corridors and rivers.
Removal of fences blocking walking connections to schools, shops, transit stops, especially in the suburbs.
Posting clear signage that indicates that people can sit and enjoy the various privately owned public spaces, plazas, courtyards and green spaces at the base of high rises.
Enhance 'sitability', more places to sit and perch comes back in greater walkability and sociability.
Enhancement and upgrades to the ravine trail system with pathway improvements, wayfinding and new access points.
Remove the 'no ball or hockey playing' signs posted on our streets.
Solid Examples around the world of good public realm design:
Sugar Beach
Las Ramblas in Barcelona
Parklets on Church St (2013)
People making their own cricket pitches in our suburban hydro fields
Central Park, especially Sheep Meadow
Chair-bombing – lawn chairs made by volunteers out of wood reclaimed from shipping pallettes and left in parks for people to use
Cycling infrastructure in Europe
Leslie St Spit
West Humber Pedestrian Bridge
Advice to young people as it relates to public space?
Youth are generally the heaviest users of the public realm but they are rarely welcomed with good design that accommodates their needs or interests. Sadly, I rarely see young people at public consultations and yet they are the 'experts' that have to come out and share their insights and opinions in order to change this. In the same way that parks and public spaces knit us together, the community conversations about parks and public spaces are the best place to advance mutual understanding and the shared goal of making great public spaces.
Jane Farrow has spent her working life making good things happen in neighbourhoods and public spaces. She has written and taught about civic life and urban literacy, and is an effective consultant and facilitator on public realm and park revitalization projects.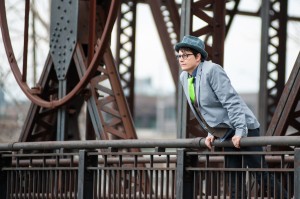 Jane was the founding Director of Jane's Walk, an annual event featuring free walking tours led by locals and inspired by urbanist Jane Jacobs that has spread to over a hundred cities globally. She has co-written Walkability Studies of Inner Suburban High Rise Communities with University of Toronto Professor, Paul Hess. 
While a resident in the west end she chaired Active 18, a community association that advocates for robust local planning engagement and good design.  Jane served as an Executive Assistant to Councillor McMahon (Ward 32), and acted as Policy and Campaigns Advisor to Park People, advocating for the removal of obstacles on behalf of residents who volunteer their time maintaining our shared green spaces. 
She worked as a CBC Radio One current affairs producer and host, and is the bestselling author of Wanted Words, Volumes 1 & 2, and The Book of Lists: Canadian Edition. 
The Toronto Community Foundation recognized Jane's contribution to urban resiliency with a Vital People Award in 2010. 
Top photo by Ayla Newhouse, Trinity Bellwoods Park