The NXT CITY PRIZE is all about vision to reimagine Toronto's public spaces and inject a sense of energy, dynamism and reflexivity. With a focus on ideas coming from the next generation of city builders, The NXT CITY PRIZE is an open invitation for all young people connected to Toronto to improve on the design of our city's open spaces. The NXT CITY PRIZE will be announced in mid-August, and the deadline for submissions is July 31st. Spacing has teamed up with the NXT CITY PRIZE to provide our readers with a series of Q&As with local and national city builders in the lead up to the announcement of the winning design.

TODAY: KEN GREENBERG, urban designer
What public space improvements have you made?
Public space has been at the core of every project I have ever worked on from putting the "parks" in Regent Park which never had them, to reconnecting St. Paul to its origins on the Mississippi River, to re-appropriating abandoned piers on the Brooklyn waterfront to create the Brooklyn Bridge Park, to giving the public access to the edges of the Harbour Islands in Amsterdam. It is the starting point and the critical leitmotiv for urban design. Shared common ground where we come together face to face is what makes cities livable and productive and makes democracy work in heterogeneous societies especially as we learn to live in smaller spaces in denser more walkable settings and find our way toward a more sustainable future.
What public space improvements would you like to see in Toronto?
Toronto is exploding in density and population but new parks and open spaces are not keeping pace. There are also increasing numbers of families and children living downtown. We have outgrown the somewhat meager offering of 'official' public space that is the legacy of much smaller city.  Space for new conventional parks is scarce and expensive and traditional means of buying discrete parcels of land to create new parks are not working. On the other hand there is a tremendous and as yet untapped potential to create a big picture, overall vision using non-conventional, creative strategies to expand and improve parks and open space in downtown Toronto, focussing on opportunities to link green spaces into continuous interconnected networks through linear greenways formed by 'parks', but also trails, bridges, green streets etc. This latent potential is being revealed in projects currently in development and emerging as linked networks like the West Toronto Rail Path, the areas around Fort York, the Lower Don and Waterfront trails, the John St corridor, the Pan Am Trail etc. In fact the city itself can become more park like, green and connected for people on foot and on bicycle. For me, the 'kinetic' feeling in navigating these networks is exhilarating. Seen from a fresh perspective, the city reveals itself in new ways. Self-propelled motion at relatively low speeds offers us more than exercise and a chance to commune with our neighbours. It restores a geographic intuition that was weakened by the car—a feel for the real distances between things, a sense of the connections between the parts of the city. It gives us back the ability to move through barriers between neighbourhoods and city districts, heedless of traffic volume or the many limits restricting our movements.
What sorts of places are solid examples of public space improvement in other cities around the world?
These are as varied and specific to places as the urban cultures that have given birth to them and provide the stewardship and care they need. They come in all sizes and shapes. The best ones have a living, ongoing symbiotic relationship with their host cities From the great urban parks in the heart of cities like Central Park in NYC (and all the great Frederick Law Olmsted parks for that matter), Chapultepec Park in Mexico City and the Bois de Boulogne in Paris; to the new carved out spaces like Millennium Park in Chicago and the Highline again in NYC; to the legacy of Spanish colonialism in the new world forming well-loved and well used "plazas" and 'paseos" in cities large and small; to the campos of Italian cities, or the pleins of Dutch ones, the places of France; to our own intimate neighbourhood parks like Trinity Bellwoods, gardens and historic squares like Victoria Memorial Square a 1793 burial ground, to remarkable bridges like the elegant Humber pedestrian bridge, to the pedestrian laneways of Melbourne. This begs the question of what our next signatures spaces will be as we evolve into a great and densely populated city. As I said above I think our future resides in the sinews and networks; the ravines of Toronto offer significant clues about our own genius loci.
Your advice to young people as it relates to public space?
Get involved of course. I am on the Board of Park People, a tremendous advocacy group representing the roughly 1600 existing parks in Toronto and promoting the emergence of new and expanded networks and there are tremendous opportunities for civil society groups to play critical roles. Shared public space or common ground is the life blood of a great city. It is far too important to be neglected or shortchanged. It comes in constantly evolving forms and permutations. Each generation has the opportunity to put its own particular stamp its evolution.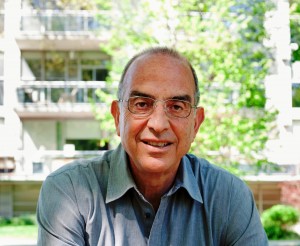 Ken Greenberg is an urban designer, teacher, writer, former Director of Urban Design and Architecture for the City of Toronto and Principal of Greenberg Consultants. For over three decades he has played a pivotal role on public and private assignments in urban settings throughout North America and Europe, focusing on the rejuvenation of downtowns, waterfronts, neighborhoods and on campus master planning, regional growth management, and new community planning. Cities as diverse as Toronto, Hartford, Amsterdam, New York, Boston, Montréal, Ottawa, Edmonton, Calgary, St. Louis, Washington DC, Paris, Detroit, Saint Paul and San Juan Puerto Rico have benefited from his advocacy and passion for restoring the vitality, relevance and sustainability of the public realm in urban life. In each city, with each project, his strategic, consensus-building approach has led to coordinated planning and a renewed focus on urban design and the critical role of the public realm. He is the recipient of the 2010 American Institute of Architects Thomas Jefferson Award for public design excellence and the author of Walking Home: the Life and Lessons of a City Builder published by Random House. A frequent lecturer and teacher in North America and Europe, Ken has been the Charles Moore Visiting Professor in Architecture at the Taubman School at the University of Michigan, has led 2 Masters studios in urban design at Harvard's Graduate School of Design and has taught in the Master's Program in Urban Design at the University of Toronto at the University of Pennsylvania Department of City and Regional Planning. 
Top photo by Sam Carriere, West Toronto Rail Path