Today, Mayor John Tory and Ward 20 Councillor Joe Cressy announced plans for the protection of 21 acres of land in the downtown core for future use as a major city park. Or perhaps more accurately, Tory and Cressy, with Jennifer Keesmaat, MP Adam Vaughan, and Councillor Glenn de Baeremaeker on hand, announced plans for the creation of 21 acres of land: the ambitious park plan calls for decking over the railway yards between Bathurst Street and Blue Jays Way and the creation of a "signature Toronto park," which the city is calling the Rail Deck Park, on top that would connect Front Street with the CityPlace condo neighbourhood to the south.
The proposed rail deck park would bring a badly-needed infusion of green space into the downtown core. "Around the rail corridor, the city has been growing very quickly," said Tory at a press conference, noting that the downtown population is estimated to reach 500,000 in the next 20 years. "We've allowed a lot of development to take place without taking a step like this," said Tory. "We cannot allow the development to take place […] and not have adequate parkland."
Parklands are a badly needed infrastructure investment for downtown residents, who have far less parkland than other parts of the city. With over 18,000 families living with children downtown, and the population of Ward 20 estimated to reach as high as 70,000 in coming decades, "If you live in a condo tower, the park becomes your backyard," said Cressy. "Public spaces and community facilities, they make our cities livable and they make our neighbourhoods livable."
Cressy also reiterated his continued commitment to a plan to buy or expropriate a Richmond Street parking lot for a new downtown park, near John Street. The rail deck park, however, is a larger, bigger-picture project, that Cressy and other city staff (including Keesmaat) hope will be an iconic "central park for all of Toronto." (This they say with both implicit and explicit capitalization on 'central park.') "This is something special," said Cressy. "Unless you plan big and invest big, you won't get the city you want."
The backdrop to the announcement, made in the shadow of CityPlace, made the potential benefits of a railway-spanning park poignantly clear. As a former resident of the neighbourhood, I can say that the railway yards are an ever-present reminder of the boundary, spiritual and physical, between the largely self-contained CityPlace community and the rest of Toronto. Residents of the development are, according to Cressy, "over the moon" about the proposal, which would seamlessly connect Front Street with the condos along Fort York Boulevard and would deck over the primary factor in the community's physical isolation. As well, it would make the neighbourhood more attractive to families living downtown.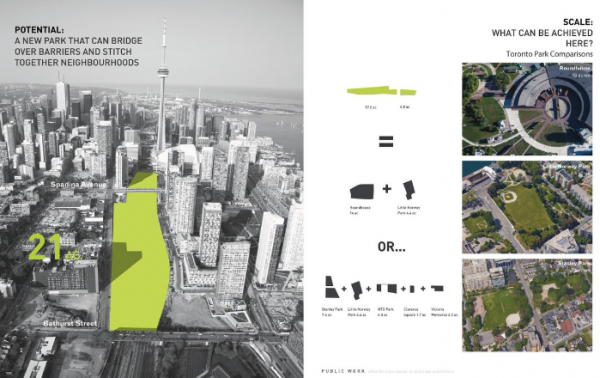 At the moment the proposed rail deck park isn't much more than a twinkle, albeit a substantial one, in the mayor's eye; Tory merely announced plans to put forth an official report, which will be released and voted on in Council later this September. The City would still need to negotiate air rights above the track, which are currently owned by CN Rail and TTR, and use of the land, which is operated in part by Metrolinx, though Tory did say that rail companies have "certainly indicated no desire to stand in our way." City Council will vote on an amendment to the Official Plan that would see the area above the railway zoned for parkland development, such that no other developments could be approved in place of the proposed park.
It is further unclear, beyond the mayor, Keesmaat, and the decidedly urban-positive Cressy, what sort of political support an infrastructure project of this scope and nature would enjoy — especially when the costs of the project are as yet unclear. Mayor Tory worked hard to dodge questions about cost, claiming that even rough estimates would not be available until the official report is put before city council this September. "Cost can't be outlined with precision," said Tory, "because to some extent it's uncharted territory." (Tory's comment that Toronto too often gets hung-up on the cost of necessary infrastructure projects, in the wake of the protracted Scarborough subway extension debate, wasn't exactly an unbreakable code.)
Tory, who has in recent months pushed hard for budget cuts, was also mum when it came to any questions about the source of funding for this development. He did, however, suggest that looking to similar supra-rail development projects in other large cities might give an indication of costs. The closest analogue in terms of size and scope is Chicago's Millennium Park, which cost in the ballpark of $33 million per acre, nearly 15 years ago. If this plan costs roughly the same per acre as Millennium Park did, the total cost of the park could easily surpass $600 million.
If instructive, the comparisons may also be cause for concern, since the Millennium Park, and Federation Square in Melbourne (another comparable project), were both beleaguered by cost overruns into the hundreds of millions of dollars; it isn't unforeseeable that such an ambitious infrastructure project may run into similar challenges in Toronto.
Despite the details being fuzzy, and the scope being ambitious, there was certainly no shortage of enthusiasm among the City staff present, and a commitment to see what was being called a "legacy project" through to completion. "It won't happen overnight," said Cressy. "It will take years." Tory seemed especially committed, politically speaking, to the proposed park. "I see a place that, once transformed," he said, "will change the Toronto landscape, and the livability and sustainability of our city."
---
Photos courtesy of Jennifer Keesmaat