"When Rita Joe first come to the city, she told me … the cement made her feet hurt." The last line of George Ryga's landmark 1969 play The Ecstasy of Rita Joe touched on the physical, emotional, and spiritual dislocation experienced by many urban-dwelling Indigenous people. When Saskatchewan-based theatre artist Yvette Nolan directed the play in 2009, she said the words were a touchstone she shared with her Algonquin mother, "a way of us acknowledging the difficulty of being different, of being other on our own land."
Although about 60% of Canada's Indigenous people now live in cities, "there's so little in the fabric of those cities that acknowledges them," says architect Calvin Brook, a partner with Brook McIlroy Architects Inc. This idea was one influence on the founding of the Indigenous Place Making Council (IPMC), which exists to "[facilitate] the creation of unique, iconic spaces of gathering located throughout the fabric of Canadian communities for learning, teaching, culture and exchange that embody Indigenous culture and place-making traditions."
"The whole premise of it is to restore Indigenous presence to our urban centres," says Sam Kloetstra, manager of operations at the Aboriginal Professional Association of Canada and a founding IPMC board member. "As a young person who moved from a First Nation in Northern Ontario to a major urban centre [Toronto], I felt that there was history here that wasn't being told. There's about 10,000 years of it, and unfortunately in Canada we only hear about 200 years of it."
Established in August of 2016, the IPMC grew out of a collaboration among Brook, who serves on the board; J.P. Gladu, president of the Canadian Council for Aboriginal Business; and Sarah Midanik, executive director of the Native Women's Resource Centre in Toronto. Its seeds were sown when Brook McIlroy was retained to work on the transformation of Thunder Bay's waterfront through the design of a complex called Prince Arthur's Landing and a new art gallery.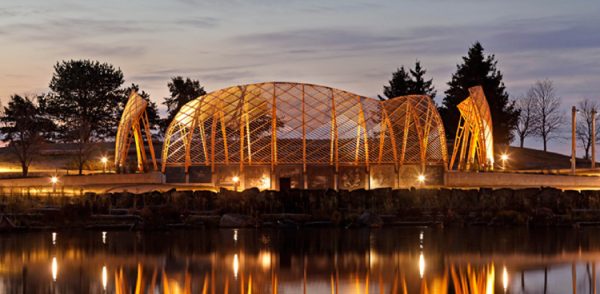 In the context of that project, Gladu made connections between members of local Indigenous communities and Brook McIlroy to set up a co-design process for a public installation. Representatives from the Fort William First Nation, Red Sky Métis, and Robinson Superior Treaty Communities offered input that resulted in the creation of the award-winning Spirit Garden, which has already become a much-used community gathering place.
Brook notes that participants were paid for travel and time. "There's actually a big issue with increasing consultation requests to Indigenous communities, because people expect them to pay for travel and work for free; it's important that they be paid for their time," he says.
Furthermore, employing young First Nations talent to lead the creative process was a vital component of the project. "We ended up working with young Indigenous architects, artists, and designers – some of them still in school," says Brook. In particular, Ryan Gorrie, a young Indigenous artist and architecture student, took on a lead design position, "so he was able to really take the input from the elders and other participants at these sessions and interpret them into design concepts." Another key participant was artist Randy Thomas, son of the well-known painter Roy Thomas.
In the Spirit Garden and subsequent projects, direct employment opportunities for the First Nations communities in creative roles, as well as in construction, was a central tenet. "I'm a youth — I'm 20 — so seeing other young people being able to fully reach their potential through all of this, that's really my stake in this organization," says Kloetstra.
"Another part of this is to look to the history that we're missing, but also balance that with the fact that we, as an Indigenous people, are very much contemporary. We do it through allowing Indigenous people autonomy over what they're doing. I'm more interested in the process behind the creation of these structures. I'm more interested in the empowerment and the self-determination piece."
Other IPMC projects include the Institute for Indigenous Entrepreneurship at Algonquin College, the Collingwood Waterfront, and the Deer Clan Longhouse at Crawford Lake, which welcomes some 70,000 schoolchildren each year.
The Hoop Dance, or Indigenous Gathering Place, at Hamilton's Mohawk College is an open-air pavilion that's used by Indigenous students for teaching, ceremonies, and drumming. "What surprised us is that it's been solidly booked, ever since it opened, by the broader Hamilton community for inspirational talks, weddings, corporate retreats, and musical events," says Brook.
The organization is currently working on an Ontario 150 project called reTkaronto, which Brook describes as "a visioning exercise to look at a kind of district that starts at Moss Park and goes to the end of Allan Gardens," covering several blocks between Jarvis Street and Sherbourne Avenue that include "a number of Indigenous service organizations, but also key public spaces that are informally used by the Indigenous community… and within this district is the Dundas corridor [where] Councillor [Kristyn] Wong-Tam has this initiative of creating an Indigenous business district."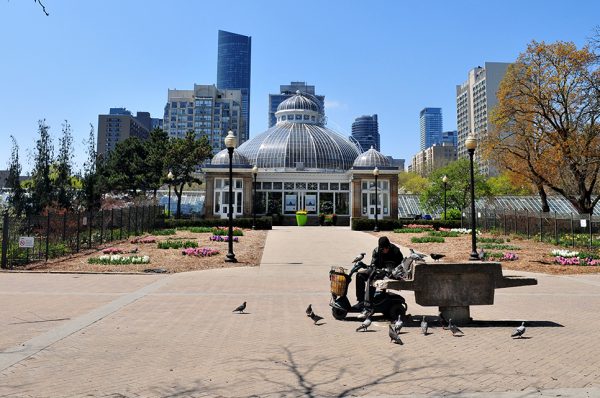 Through a visioning exercise with Indigenous youth led by Kloetstra, IPMC is developing an approach that could be used "almost as a pilot project for the rest of the city, or other cities, so the fabric of the urban landscape has this sense of Indigenous recognition, not limited to the Indigenous community, but embodying Indigenous themes as a way of making Indigenous people in Toronto feel like they belong here. There's nothing in Toronto like that," says Brook.
Kloetstra is optimistic about the possibilities for change ahead. "Within the last five years, the entire dynamic of Canada has been shifting," he says. "This idea of Truth and Reconciliation has made a lot of people question their own identity, their own truths and their own ancestry. It's more like an era of self-reflection for a lot of people."
"There are incredible things happening every day, beautiful stories about Indigenous Canadian communities," says Brook. "That's a key part of what we want to communicate to other Canadians, and I think it's a key part of Reconciliation."
illustration by Kate Traynor
---
This article originally appeared in Spacing's summer 2017 issue.