by Dr. Judy Farvolden, Josh Fullan and Angela Ma
Ask a kid what makes a great city and you'll get answers that sound like those any good urbanist might give: freedom of movement, shared spaces for recreation and nature, human scale, and safe places to hang out. Kids are, as former Bogotá mayor Enrique Peñalosa has pointed out, "an indicator species for cities." Peñalosa and his brother Gil, founder of Toronto-based 8-80 Cities, are part of a global child-friendly cities movement that understands that cities designed well for an 8-year old are cities designed well for everybody. Child-friendly cities are happy, healthy places.
Demographics trends add weight to the movement. By 2030, the United Nations forecasts that 60% of global urban populations will be under 18. In the GTA, the number of youth aged 0-19 is projected to grow to two million by 2041, increasing by half a million. This makes planning and designing cities for children and youth, and calling for their meaningful engagement and participation, not just a feel-good platitude but a necessity. No other demographic has more to gain or lose in how we build 21st-century cities.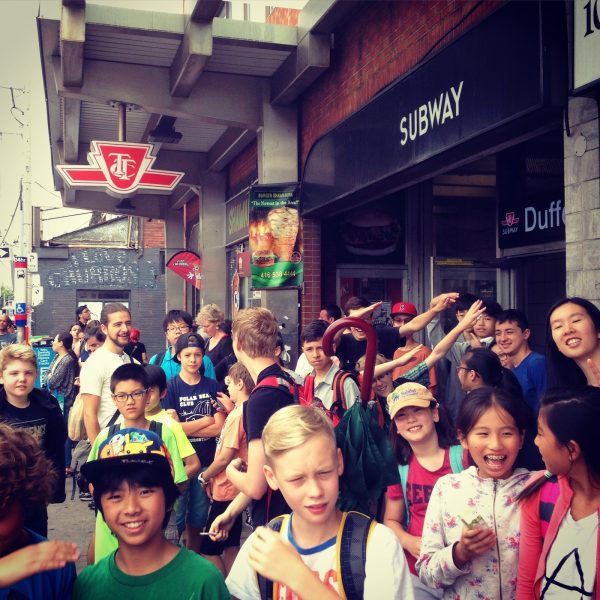 Cities and organizations worldwide are creating tools and processes to better engage young people in city planning and design. Local examples are the City of Toronto's Growing Up Vertical, Raising the Village, and Youth Engagement Strategy, now being implemented in multiple ways including student design competitions for the King Street Transit Pilot. ARUP recently published a comprehensive report and guide on designing for urban childhoods that importantly include case studies for youth participation, from small interventions to large-scale urban renewal.
In 2017, Maximum City developed the YouthScore, an engagement tool and metric to evaluate streets, places and neighbourhoods for youth-friendliness. Kids in our summer city-builder camps were asked what elements make a place or street youth-friendly or unfriendly, and ranked how important each of these elements are to them. Safety was the single criterion consistently paramount to youth.
In the field, they assessed well-known Toronto neighbourhoods such as the Annex, Kensington Market, and Queens Quay for youth-friendliness, using the survey tool and variables they created. Some of the results affirmed what we expected, while others surprised us: they found Kensington Market youth-unfriendly because it didn't always feel safe.
We then tasked them with a design challenge to come up with interventions to improve the YouthScore of these neighbourhoods. Not surprisingly, youth found creative ways to improve the youth friendliness of places, including adding a skate park to a waterfront parking lot and using digital wifi-finding (a portmanteau of wayfinding and wifi) stations for better connectivity and safety.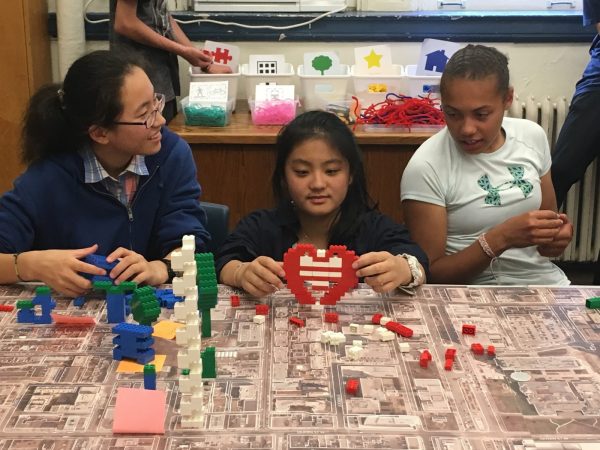 Their work was supported by experts from the University of Toronto's Transportation Research Institute's iCity project (a valuable collaboration among researchers at the University of Toronto), OCAD-U, Esri Canada, and Maximum City for youth engagement and participation. For an authentic process and actionable outcomes, get some professionals in the room to give feedback to young ideas, co-create solutions, and in the best cases help guide their implementation. The YouthScore, refined over the course of the year by different cohorts of youth and researchers, will travel to Germany this summer where a group of high school students in Maximum City's Global Urban Citizens program will use the survey tool in five different Frankfurt neighbourhoods.
And here lies the challenge of child-friendly cities. It is time to move beyond participation and research and into the much more fraught world of implementation of design solutions. We are very good at talking about child-friendly cities, and we are getting better at having children participate in the engagement and design process, but we are still fairly dismal at getting things done at the street and neighbourhood level. Tim Gill, author and advocate for child-friendly urban design and a contributor to the ARUP report, sums it up: "while this movement's values were and are beyond reproach, it has had very little influence on the built form of cities." The message to cities worldwide, more and more preoccupied with their bottom lines, is that talk is cheap, effective engagement and participation cost time and money, and real action on raising a neighbourhood's YouthScore is priceless.
---
Josh Fullan and Angela Ma work for Maximum City, an education and engagement company in Toronto. Dr. Judy Farvolden is the Executive Director of the University of Toronto's Transportation Research Institute.