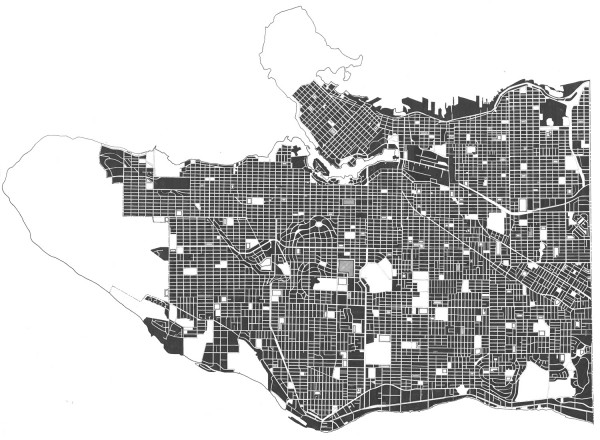 Blocks are a part of a city that most of us take for granted. Yet they play a critical part in how we experience the city – the distances we walk, the views we see, how we orient ourselves.
There is a common misconception of this city that I hear frequently from those that live here: that Vancouver is simply a straightforward grid laid on top of the hilly terrain. Although there is some truth to this belief, the city's structure is a lot more subtle that.
Historically, Vancouver wasn't planned and laid out in its entirety. Several developers created different parts of the city at different times and in accordance to there own rules. Although the typical 33′x120′ lot exists relatively uniformly across this urban landscape, it is only because that method of surveying and laying out lots and blocks was convention and not because of an overarching vision of what the modern city of Vancouver should be. The result is that different several grids don't line up, change directions and orient themselves differently.
Other important factors shaping Vancouver's city form include topography and the railway. These influences are clearly expressed in the many curvilinear streets (i.e. Shaughnessy) and shifted grids (Kingsway corridor) throughout the city.
Ultimately, these subtle differences create the unique qualities that differentiate Vancouver's neighbourhoods. Shaughnessy's meandering streets have a distinct quality different from the north-south oriented streets of Marpole that allow sunlight to grace both side of the street everyday. These, in turn, are very different than the east-west oriented blocks of Kitsilano.
Many valuable urban design and planning lessons can be learned from visiting the many neighbourhoods in this city. And I'm constantly delighted at how small journey's throughout Vancouver can take me into new, different, and wonderful environments. It is surely one of this city's best qualities.
With this in mind – and as a contrasting follow-up to the map showing the topographic structure of the city – this ink figure-ground map depicts the varied block structure of Vancouver. There is, however, a more subtle layering of information worth explaining: blocks are shown in black, white areas are parks, school open spaces are outlined with a heavier line weight, institutions (municipal and hospitals hatched with a diagonal pattern.
Lastly, a quick note of thanks for all of the kind words, emails, and suggestions I received regarding the Vancouver relief map…and the website hasn't even officially launched yet!! Don't fret, there are many more to come. Please do continue, however, to offer suggestions…if I haven't already produced it, I will do my best to get to it. I'd also love to anything y'all have created.