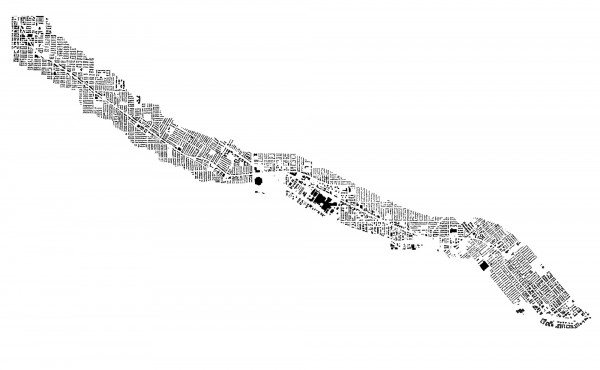 Kingsway is one of the most significant streets in Metro Vancouver.  With its rich history that pre-dates European arrival and its unique diagonal urban structure spanning three municipalities, its importance has not diminished over time.  Quite the opposite, in fact.
Last year, I humbly accepted the request to teach the final studio for the Environmental Design program – ENDS 402 – at the University of British Columbia.  The course is called Settlement[s] and is intended to introduce students to designing for the complexity of human habitats and connecting systems of different scales – from natural systems to parcels and buildings.
After much thought, I decided that focusing on the Kingsway corridor – from Vancouver to New Westminster – would fit the subject well.  Although it was ambitious, I thought that it was an excellent medium to introduce the class to the complex layers that are embedded in a seemingly straightforward city street.
The municipalities of New Westminster, Burnaby and Vancouver kindly donated GIS base information along Kingsway (although we had to also generate a lot of our base information to make up for discrepancies) and, over the terms, we undertook a number of exercises, from on-site sketches and drawings to corridor-wide mappings.   Needless to say, the class uncovered a lot of extremely interesting information and generated some remarkable maps – many of which are virtually impossible to create due to the politics associated with a street that crosses over several municipal boundaries.
As such, the class kindly felt that they were worth sharing with a broader audience and we hope to post several of the interesting graphics created. For those willing to write, certain maps will be accompanied by pieces explaining the siginificance of each written directly by the student(s) who worked on to their respective graphic.
We'll start with this wonderful figure-ground map depicting every building footprint within a two- to three-block area along either side of Kingsway, from Main St. to the Fraser River shoreline in New Westminster.  Representing the length of the corridor, one can readily see the built character along this approx. 14km stretch and the relationship of the surrounding buildings to the Kingsway.  Open spaces – such as parks – are simple shown as blank void space.
Municipal boundaries were purposefully not included since the space of the street is experienced as a corridor in its entirety, irrespective of the invisible boundaries that slice it into isolated linear chunks. Sadly, ones experience doesn't fit the reality of its how Kingsway is designed, as the separate municipalities implement different futures for the street without acknowledging one another.  This is most clear in the vast scale shift between Metrotown (lying about dead center, just east of the Central Park void) and the rest Kingsway's built fabric.
In fact, a closer look shows that the despite the omission of political boundaries, their distinction is very evident in the built fabric along Kingsway – as the relatively tight street wall within Vancouver gives way to typical suburban pattern of Metrotown and stripmall developments in Burnaby, only to tighten back up in New Westminster.
A figure-ground map of this size and complexity is laden with fascinating patterns and I encourage you to spend a little time to explore….you won't be disappointed.
****
The map courtesy of ENDS 402_w09 class, digital format © 2009:
ENDS 402 CLASS:   Caitlin Bailey, David Bishop, Alessandra Bragagnini, Beverly Chan, Rebecca Esau, Daniel Hapton, Genta Ishimura, Laura Kozak, Arthur Leung, Edward Minnett, Roya Mottahedeh, Federica Piccone, Elsa Snyder, Eric Stockand, Gigi Tang, Michael Vander Laan, Mary Wong, Audrey Young, Stephanie Yu, Jon Yu, Kevin Zhang, Ellen Ziegler. CO-TEACHER: Alex Witko