Of all Vancouver streets, Hastings has seen more change than any other corridor in the city.  As one of Vancouver's original roads it holds a novel of stories in its history that tell of immigration, commerce and industry.  From steam trains to sky trains, from high finance to low income, from retail centre to business district, a brief walk down Hastings Street will teach you more about Vancouver's history than you thought possible.
Named for Admiral George Hastings of the 1860's Royal Navy, Hastings Street started its life as one of Vancouver's most important streets. As the closest street to the waterfront, early Hastings brought goods from steam trains and sailing ships right into the heart of Vancouver. Industry and business built up quickly and brought with them the means to turn Hastings and Burrard into the city's p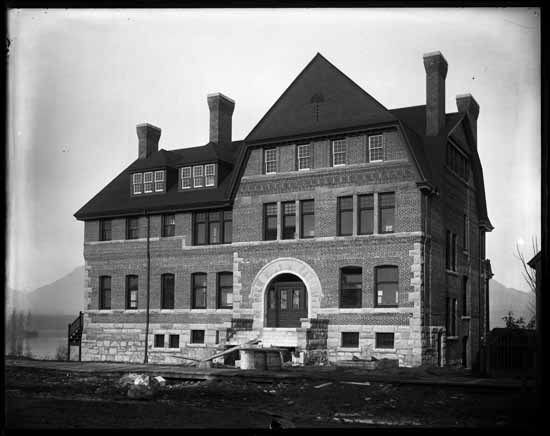 riciest neighbourhood. Then known as Seaton Street, this area was the address for Vancouver's elite at the turn of the 20th century. Locally referred to as "Blue-Blood Alley", evidence of this high-class era can still be seen in the long-standing Vancouver Club (the original building pictured left), which started as a high-end men's club, and the Marine Building, which was built as a testament to Vancouver's growing success as a grain port. Back then, the surrounding land was spotted with large family homes on wide lots and housed some of Vancouver's wealthiest residents including Thomas Townley, the town Mayor.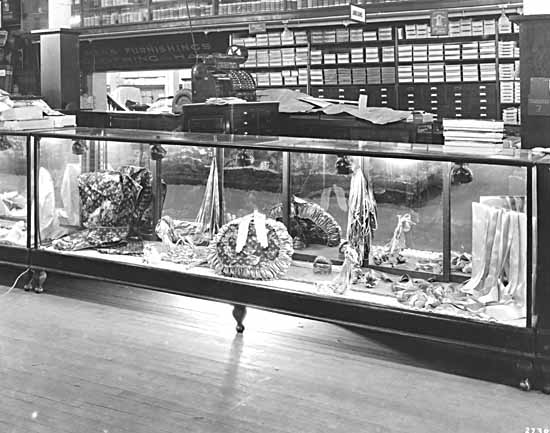 The expanse of wealth, and easy access to transportation routes meant retail was quick to follow. Spencers Department Store (pictured right) took up residence at the corner of Richards, and Woodwards moved in a few blocks down, creating a thriving commercial district in between. From the 1900's to the 1990's Hastings Street continued to be heralded for its offerings of fine mens and womens fashions. As transit and transportation developed, Hastings became even more accessible, both for trades coming in off the Burrard Inlet, and for the quickly developing suburbs of Vancouver.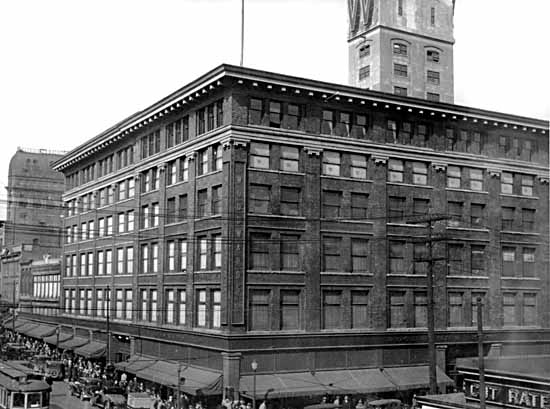 However, all this would change as business began systematically moving farther west into what was once residential, but now becoming the heart of the financial district. Dressew, established in 1961, is one of the only stores left east of Granville that speaks to Hastings fashionable history. Spencers sold its business to Eatons, which became Sears after Eatons closed, which then became its current embodiment as the SFU downtown campus. Big department stores like Sears moved south starting in the 1970's to a new shopping district surrounding Pacific Centre, taking smaller retailers with them. The final loss for the fashionable era was the closure of Woodwards (pictured above), which signaled a defining change in the landscape that was Hastings Street.
Fashionable retail gone, business having moved West, and transportation now commonplace, the downtown section of Hastings became known widely for the ongoing struggle between its current residents and those who would like to see it return to its glory days as a retail and transportation hub. Steeped in controversy and decades of transformation, Hastings Street is still at the heart of our city, a visual reminder of our history, and a centre for debate in our future.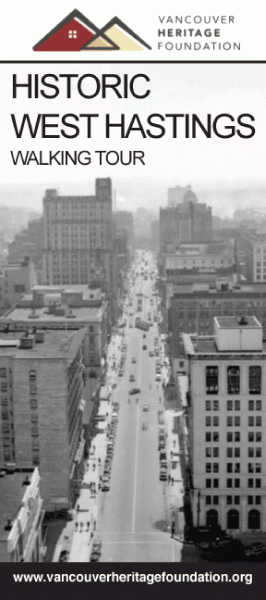 Inspired by Hastings' diverse history? Take yourself for a walking tour! The Historic West Hastings Map Guide is now available at several West Hastings businesses, our offices, the VPL Central Library Location (Special Collections), and Tourism Vancouver Visitor Centre.
OR take the tour with us! For a limited time, VHF is offering guided West Hastings tours using the Map Guide as inspiration. Check out all the details on our website and sign up online!
Photo Credit: Harbour Centre – West Hastings. Changing Vancouver: Then and Now Images. St. http://changingvancouver.wordpress.com/2012/10/05/harbour-centre/
Vancouver Club, exterior, Hastings Street. VPL 19838. Bailey Bros. 189-.
Display Case at David Spencer's Department Store. VPL 10546. 1921 Leonard Frank.

Woodwards Department Store, North West Abbott and Hastings.VPL 12720. 1920c. Frank Leonard.