Over the next 30 years, the Metro Vancouver region will grow by one million more people and add half a million jobs to the economy. As a region, we will have to address transportation challenges and face some difficult decisions: how will we travel for work, school and play?  How will we move goods to grow our region's economic prosperity while maintaining our quality of life?
Rethinking Transportation: New Voices, New Ideas is a speakers' series focused on key transportation issues and opportunities facing the Metro Vancouver region. The series will explore new perspectives on the movement of people and goods in cities with thought leaders, decision makers, and experts from across North America who have tackled some of the most pressing transportation challenges.
Breaking the Political Gridlock to Address the Transportation Challenge: Lessons Learned from the Greater Toronto and Hamilton Area
Details
Date: Tuesday, January 28, 2014
Time: 7 p.m.
Location: Djavad Mowafaghian Cinema, Goldcorp Centre for the Arts (at SFU Woodwards), 149 West Hastings, Vancouver
Admission is free, but reservations are required.
Metro Vancouver is not the only region in North America facing difficult choices about how best to meet the future transportation needs of a growing population—and how to pay for it. Like Metro Vancouver, which will add one million new residents over the next 30 years, the Greater Toronto and Hamilton Area is projected to see its population increase by 40 per cent in the next 20 years. Both Metro Vancouver and Toronto are seeking ways to give their residents new transportation choices, ease congestion, better connect people with jobs, and enable people to travel efficiently in all directions.
To preserve and enhance their economic vitality and quality of life, both Metro Vancouver and the Toronto city-region cannot postpone significant investment in their transportation networks. In Toronto, where political gridlock has led to inaction, Dr. Anne Golden led a panel in the fall of 2013 to find a viable transit investment strategy for the Greater Toronto and Hamilton Area. She will describe the political and financial context that was blocking progress in Toronto, and set out the plan that she and her 12 panel members hope will break the political and transportation gridlock.
You can watch a video of the entire presentation.
About Anne Golden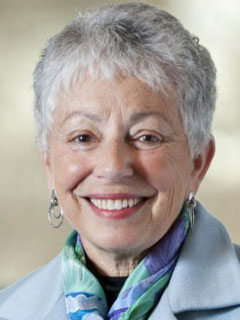 Anne Golden, PhD, CM, has been president and chief executive officer of The Conference Board of Canada since October 2001. Previous to that, Dr. Golden served as president of the United Way of Greater Toronto for 14 years.
She gained national recognition for her role in the public policy arena through chairing two influential task forces: one in 1996 for the provincial government on the future of the Toronto area, and another in 1998 for the City of Toronto and the federal government on homelessness.
Also noteworthy is her work on The Canada Project, the largest public policy project undertaken by The Conference Board of Canada, for which she co-authored Volume III: Mission Possible: Successful Canadian Cities.