Please join us for a book launch to celebrate the publication of Planning Canada: A Case Study Approach.
Details
WHEN: 
WHERE: University of British Columbia Bookstore, 6200 University Boulevard, Vancouver, BC V6T 1Z4 (Map)
RSVP: FREE registration via Eventbrite
4:00pm Meet and greet with the authors
4:30pm Introduction by Erick Villagomez, Editor, Spacing Vancouver
4:45pm Insights into the local case studies
5:30pm Celebrate with us at Mahony & Sons (down the block at 5990 University Boulevard)
#PlanningCanBook
---
About the Book
Planning Canada: A Case Study Approach
Edited by Ren Thomas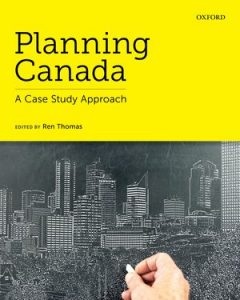 Planning Canada introduces students to the fascinating discipline of community and regional planning by exploring the diversity of planning research and practice in Canada. Featuring over thirty compelling case studies, this engaging resource illustrates the multidisciplinary and participatory approach that planners use in developing and implementing policies, plans, and programs.
Practical and accessible, Planning Canadahelps students think critically about the current challenges and opportunities planners face as they work to meet the diverse needs of communities across Canada.
Reviews
"It is high time for a new Canadian urban planning text. . . . This book is well thought out in terms of engaging undergraduate students."
—Meg Holden, Simon Fraser University
"Like this text, I believe that Canadian planning has a lot to offer–not only to students in Canadian planning schools but to those interested in innovation practice around the world."
—Jill Grant, Dalhousie University