We've all read the stories about Vancouver's disregard for heritage homes, about the frequent demolition of gorgeous character houses to make way for gawdy, new concrete mansions. Rarely do we hear about efforts to preserve our industrial heritage, although it's equally important. Our industrial buildings carry the weight of our city's modern history and often feature architectural detailing that is worth retaining and reimagining.
It is something that cities around the world are embracing, including Canadian cities such as Toronto, home to the upcoming WaterWorks condominium project by MOD Developments Inc. and Woodcliffe Landmark Properties that will see the transformation of the 1932 art deco complex on Richmond Street West into a new commercial and residential development. Also by MOD Developments, Toronto's new Massey Tower preserves the old 1905 bank building.
Similarly, the former Imperial Oil headquarters on St. Clair Avenue that has been beautifully transformed into the Imperial Plaza condos, a project shortlisted to receive the William Greer Architectural Conservation and Craftsmanship Award and that has won Heritage Toronto's Merit Award.
In Vancouver, however, it's a struggle to take an old building and re-imagine it. For a variety of reasons, it is much easier to tear it down and start over. That's been my experience in redeveloping an industrial heritage building in Vancouver's Mount Pleasant Industrial Lands. When we originally looked at the Lightworks Building in the area, we saw a simple, utilitarian, concrete industrial box. Nothing exceptional. But looking more closely, the board-formed concrete facades are articulated with beautiful Art Deco detailing on the pilasters.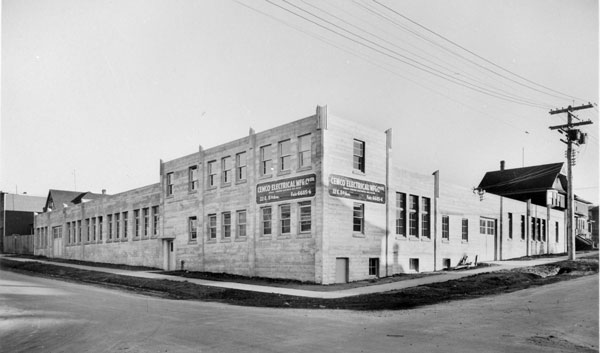 Doing some historical research, we learned the building was designed by H.H. Simmonds—the architect behind the city's Stanley and Vogue Theatre, among other iconic buildings—and the rich history of the building as a radio and radar manufacturing facility to support the Allied war effort. Contemporaries in our real estate community were skeptical. We faced many challenges: how to preserve the exterior façade, contamination from businesses that occupied the site over the years, and how to come up with a workable building form that would appeal to the emerging creative businesses moving into the area, to name a few. But next month, construction is starting. Protective bracing has been installed to hold the heritage façade together during construction. Seemingly despite the odds, it is happening.
There are a few other examples of industrial heritage preservation in Vancouver, among them the Salt Building now housing a craft brewery, the historic red Opsal Steel Building that was painstakingly moved and restored to be part of a condo tower in the city's Olympic Village and others in Gastown. But according to veteran Vancouver architect Chris Bozyk, although the city doesn't have many heritage buildings in manufacturing, the new Lightworks Building has the potential to inspire other developers to look at heritage industrial preservation in a different way. "We need to realize the heritage isn't always architectural, but it's also about the stories housed in those old buildings, their history. Other buildings in the city deserve that attention, to at least leave a remnant to remember what was there."
Architecturally, he says, it's a challenge to balance façade maintenance with the realities of new retail or residential needs, "to make it all fit without it looking ugly." In the case of Lightworks, that meant number crunching and playing with different openings on the ground floor.
Bozyk has worked on several other industrial and commercial heritage redevelopments, including an upcoming project that will be transforming an old dorm for CN Rail workers into a residential condo on Main Street. And with Lightworks currently under construction in a highly visible part of the city, there is talk in the industry about preserving, renovating and reimagining our city's historic industrial buildings.
The new Lightworks Building is one industrial heritage building in Vancouver not going to the wrecking ball. Instead, it will be transformed into a new business hub with retail and office space in a neighbourhood severely lacking in both: changing a run-down, austere 20,000 square foot building into a brand new, 54,000 square foot, six-storey business centre intended to serve the many creative industries moving into the neighbourhood.
So, while project will become home to businesses in the city's new creative zone, it will also be part of preserving a part of the city's history, the story of how people worked and lived and made a living. Demonstrating that when we talk about heritage, it needs to be more about buildings telling fascinating stories about our city. We need to broaden our definition of heritage and understand it's not just pretty houses, but things with meaning and value beyond the physical architecture, itself.
In Vancouver, we have already lost a lot of our industrial history. But our company's experience shows that there's a growing appreciation for these buildings and their ability to support new uses. That being the case, a lot of the industrial heritage buildings are functional, flexible and adaptable…with a histories worth keeping.
***
Brent Sawchyn is a real estate entrepreneur at PC Urban Properties Inc. in Vancouver. His company re-imagines and repurposes urban properties to help establish sustainable communities.