The shortest path between any two points is a straight line. That's pretty basic geometry. So why do so many of Halifax's bus routes twist and turn? Transit riders want quick travel times, but we're slowing trips down by making riders travel out of their way. Many of our outdated routes don't know if they are ridership routes or coverage routes.  Ridership routes travel directly along busy corridors; coverage routes weave to provide service to large areas.
Consider the route 10, the second busiest route in the city, with over 6,000 riders a day. It serves MicMac Mall, Bridge Terminal, Scotia Square, Dal and SMU – destinations with heavy all day transit demand. It also makes a huge detour after leaving Dal to serve low density Beaufort Avenue, costing every rider heading to Dal a few minutes. A similar problem exists at the other end of the route – the 10 takes a pokey route through low-density neighbourhoods. Barrington and Gottingen have a different problem – the route heads one way down each street. Along two of the city's busiest streets, riders can't rely on a major bus route in one direction. All of these detours increase the area the 10 serves, but dramatically decreases the speed, reliability and usefulness. Transit is always about tradeoffs, and the 10 has traded direct service (and quick travel) between major destinations for increased coverage.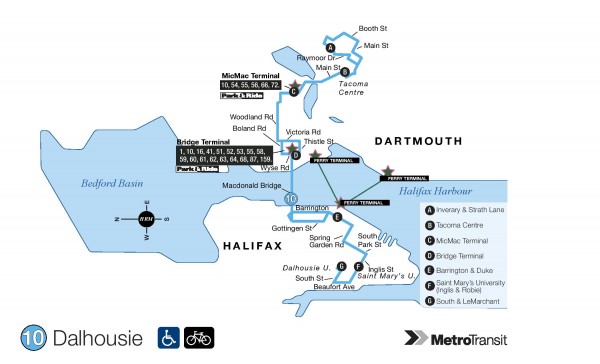 Halifax Transit is redesigning their network. One principle for this redesign is to put more resources into service that will attract lots of riders: fast, frequent and reliable service. The first thing to do is ensure that major routes run in straight lines along major corridors. Get rid of the detours and the extensions of high-ridership routes deep into low-density neighbourhoods. The map below shows the major corridors (in red) where Halifax Transit should focus major ridership routes in a new network.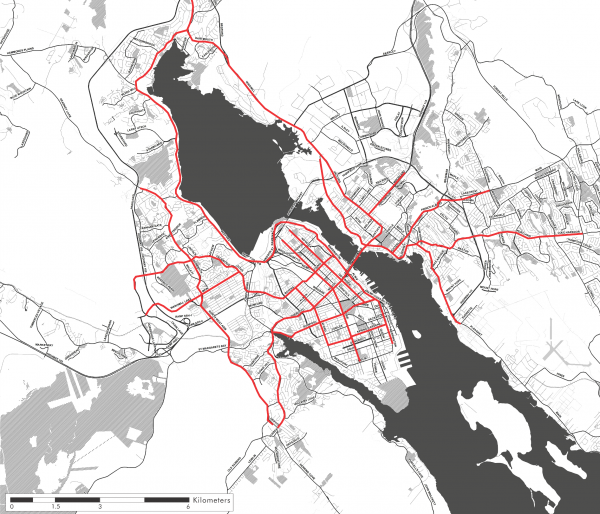 Two final thoughts. Not every route need be straight. Some routes will be coverage routes, designed to provide basic service to large areas. Twisting and turning provides service to a larger area with fewer resources. The key is to make sure the core high ridership routes are straight and quick. Also, due to Halifax's interesting geography, straight routes aren't always possible. In a fully gridded city like Toronto or Montreal, very long straight routes are possible – and desirable, as transit consultant Jarrett Walker explains. Major routes in Halifax will have to turn, but not all turns are detours: L-shaped, S-shaped or U-shaped routes can all work, as long as they are taking a quick route between major destinations.  Translink, Vancouver's transit agency, released a great graphic showing the shapes of their highest and lowest performing routes: the highest performing routes all travel in simple, mostly straight lines.
Halifax Transit will release a draft of their new network sometime this fall. We should all demand long, straight routes that tie together important destinations in a strong network. Successful transit networks are built on smart, straight routes.
Next columns: reliable transit and transit priority.
Sean Gillis is a professional urban planner and amateur transit nerd. He is a member of the grassroots advocacy group 'It's More than Buses.' Follow It's More than Buses on Twitter (@morethanbuses) and Facebook /itsmorethanbuses.

Title image from the talented T.J. McGuire.