HALIFAX – After a brutal February and an almost as horrid March, Halifax (aka Hoth on a nasty day) is finally emerging from the worst winter in years. The snow came in February and it combined with periods of rain and frigid temperatures to leave ice inches thick on sidewalks and roadways. As the ice and snow piled up, it became increasingly difficult to get around on foot and by the end of the month, the rapidly narrowing streets and rising snow banks meant everyone was feeling the pain. By mid-March, Haligonians were protesting and taking matters into their own hands. When the topic of snow clearing arrived at Regional Council, many councillors blamed the municipality's failure to keep the streets and sidewalks clear on the worst winter in memory. The winter of 2014/2015 was remarkable in its ferocity and would have been difficult for any city to deal with, but the weather isn't entirely to blame. Throughout the season, large institutions like Dalhousie University showed that clearing the sidewalks, even in awful conditions, is possible. As the snow melts away and municipal staff begin their review of winter operations, we need to fully consider how we handle snow clearing and what can be done to improve results next year.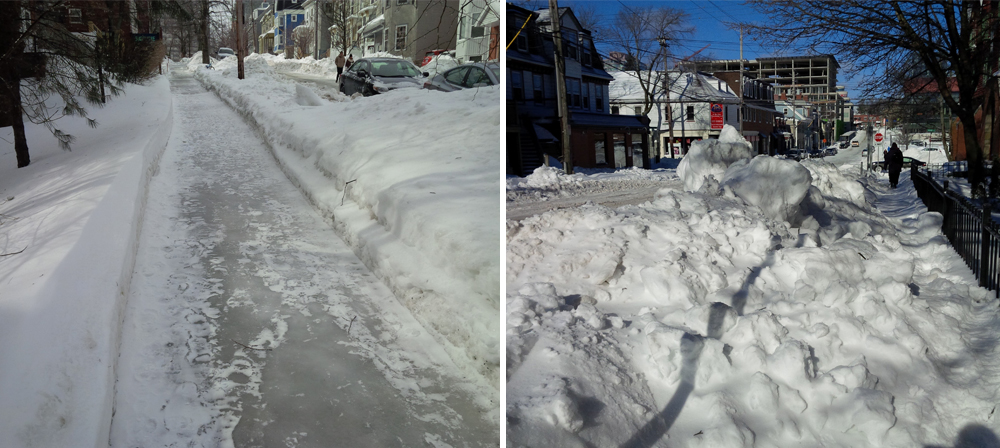 The Politics of Snow:
Prior to 2014, residents on side streets on Peninsula Halifax were responsible for clearing the sidewalk in front of their homes while sidewalks in Dartmouth, Bedford and Halifax County were cleared by the municipality. This differing approach reflected the services that were in place before amalgamation created the Halifax Regional Municipality. Leaving snow clearing to Peninsula homeowners saved money, but results were often inconsistent. A sidewalk that is 90% cleared is a nuisance to the able bodied, but can be an impassable barrier to anyone with reduced mobility.
After years of discussion, Council voted 9-8 to extend sidewalk snow clearing to the Peninsula. Taxes went up slightly to cover the cost and the service began in the winter of 2013. Unfortunately, things didn't go according to plan. Contractors and their skidsteers (bobcats) tore a swath of destruction across the Peninsula, clipping flower gardens, yards, porches, decks, trees and anything else that was close to the sidewalk. 2013 produced a record number of complaints and prompted many to ask if bobcats were the right tool for the job? The municipality fired one Peninsula contractor, but largely chalked up the less than stellar results to severe weather and the contractors' learning curve. Checkout Spacing Atlantic's 2013 coverage for a trip down memory lane.
While property damage largely dominated discussion last year, this winter has put the focus squarely on service delivery. Bobcats are a versatile piece of equipment and are designed with many uses in mind, only one of which is snow removal. They're not true sidewalk plows as staff with the City of Fairbanks noted when their city invested in a purpose-built plow. I can relate a similar anecdote. When I first moved to Dartmouth, the sidewalks in front of my Downtown home were cleared by a small sidewalk plow and it did a wonderful job. It brought things down to bare pavement, had a good turning radius, was the right width for the sidewalk and couldn't be operated at high speed, minimizing property damage. The next winter, the sidewalk plow was replaced with a bobcat, which sped through the neighbourhood and left a lot more snow behind on the "cleared" sidewalks while also doing lots more damage. Each winter is unique, making it hard to fairly compare, but the apparent difference in results was quite striking.
Bobcats seem to be great for skimming off the top layer of snow and ice, but what they leave behind gets packed down and freezes to the sidewalk. With bobcats, bare pavement only emerges if a storm is followed by some warm sunny days. Unfortunately, there were no thaws this winter and once an extremely solid, bedrock like layer of ice was in place, things just got worse and worse until many sidewalks were virtually impassable. The municipality did manage the heavy snowfall that hit over March break fairly well, it was the ice that stumped them.

Contractors:
To prevent a repeat of this winter's mess, Halifax needs to consider ways to improve service. Sidewalks aren't a luxury, they're an essential part of the transportation network. If the city is going to keep clearing sidewalks, equipment, standards and, importantly, timelines are going to have to be looked at and any improvements that focuses on contracting will likely cost more money. The Halifax Cycling Coalition is calling on the city to look at investing in plows with brushes that could get down to bare pavement. Another idea would be to restructure how contractors are paid. Tim Bousquet argues convincingly in the Halifax Examiner that paying contractors through a fixed price for the whole season rather than by storm takes the emphasis off delivering quality service. Contractors are paid a set amount, regardless of how much or how little it snows, creating an incentive to bid low to win the contract, hope for mild weather and, if confronted with winter conditions, do the minimum. The city and its contractors are, essentially, gambling on the weather. If instead, contractors were paid by the storm, the incentive would shift from trying to protect their limited profit to providing great service. Halifax would end up carrying the budgetary weather risk, but it's worth remembering that, ultimately, that risk is always with the municipality no matter what contract is in place. If a winter is so bad that contractors, even after cutting corners, can't make a profit, they will simply walk away. The municipality doesn't have that luxury because streets and sidewalks need to be attended to. Since we can't really transfer the weather risk to the private-sector, we might as well accept it and focus on getting great service.
People Power:
Instead of trying to sort out the contracting side, Halifax could hand snow clearing on side streets back to the residents and cut taxes. This approach is cheap and relatively effective. There is simply no way for the municipality and its contractors to match the collective labour of thousands of residents in terms of quality and speed. This is especially important given that Halifax's freeze thaw cycles mean that there is often just a few hours before slush turns to solid ice.
If citizens are going to take up their shovels again, the municipality needs to tackle the old problem of consistency. We can't go back to the previous situation where sections of sidewalk could be effectively closed because of one tardy homeowner. In the old system, an uncleared sidewalk fell under bylaw enforcement which meant that a bylaw officer would respond to any complaints received 12 hours after the snow stopped falling. If the sidewalk was found to be snow-covered, a citation was issued requiring that it be cleared within 24 hours. A bylaw officer would check back later and if the sidewalk was still uncleared, they called a contractor the cost of which became a lien on the property. This was a slow and cumbersome way to respond. To try and avoid this issue, the municipality could still retain a few contractors whose job would be to check each street 24 hours after the snow stops falling and clear any sections of sidewalk that haven't been shoveled. The municipality would bill the tardy homeowners, helping to offset some of the cost. The goal of this proactive approach would be to ensure that all sidewalks are cleared in a reasonable time-frame. Depending how the contract was structured, perhaps residents who wanted to continue paying for snow clearing could do so by signing on with the winning contractor at the start of the season. Since the contractor would already be passing through their neighbourhood after each storm to shovel out any problems spots, there would, presumably, be some economies of scale at work to reduce the cost. Halifax's existing program to assist low-income seniors and people living with disabilities to clear the snow in front of their homes would also likely need to be updated to reflect the return of sidewalk responsibilities.
Whatever course the Halifax Regional Municipality takes on snow clearing, one thing is clear, we can't allow a repeat of the poor results from 2014/2015. This year's winter imposed real economic and social costs on residents and businesses. If the city wants more people to walk to work, to take the bus and to live and do business in the urban core, sidewalks need to be taken seriously. A detailed review of the last two years with an eye to addressing problems for 2015/2016 is needed.