Dartmouth – What started as a response to the lack of guidance about what height was appropriate in Downtown Dartmouth has evolved into a full plan update and the creation of a Design Manual. The Manual is very important for the future of Downtown Dartmouth, particularly Portland Street. Portland Street has a beautiful rhythm of small buildings, built to the property line on narrow lots. This traditional Main Street form has created an attractive pedestrian-focussed place that is a hub for independent business. Modern buildings tend to be wider though, which means that new development could easily threaten the street's attractive scale.
New development is, however, also an opportunity for Downtown Dartmouth. Downtown needs new residents and businesses to foster its ongoing Renaissance, which means we need good rules to preserve the best of what exists while also allowing for complimentary infill. Fortunately, the Design Manual appears to be on the right track, but it needs to be surer of its convictions when defending Downtown Dartmouth's Main Street character. Rather than leaving wiggle room for planners and developers with language like "should" and "consider," the Manual must use "shall" in reference to how new developments relate to the "historic pattern of narrow shops" and Downtown's "fine-grained character." This character is not a minor design feature. It speak to the essence of what kind of place Portland Street is now and what kind of place we want it to be in the future. The Street's attractive human scale is its best feature and something that is worth being absolute about to protect.
Portland Street's Best Asset

Portland Street is the heart of Downtown Dartmouth. It's a traditional main street that is largely made up of small buildings built on narrow lots. The consistent rhythm of storefronts creates an interesting and engaging streetscape that is perfectly scaled for pedestrians. The small commercial spaces and relatively cheap rental rates has made Portland Street a centre for small business, especially for entrepreneurs just starting out. Portland Street's human scale is what enables the street to function as a hub for independent business and it's the street's best asset.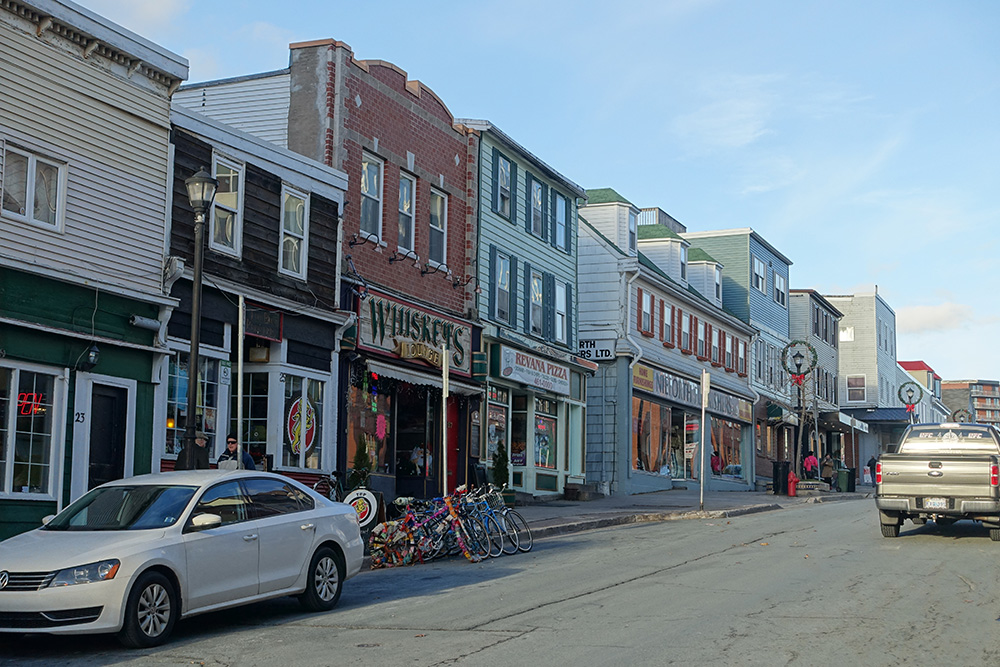 The Threat of Bad Design
The main danger facing Portland Street is that the recent interest in Downtown Dartmouth will lead a developer to consolidate most or all of an entire block, level it, and then build a new building that doesn't reflect the street's existing rhythm. Modern buildings tend to be much wider than Portland Street's narrow lots and they don't always vary the front facade in a meaningful way. Because Portland Street's Downtown section is quite small, just five blocks long, it would only take one or two poorly planned new buildings to destroy the engaging existing pattern of narrow shops. This would be a huge loss to Portland Street and would make Downtown Dartmouth a much less interesting place. A good example of a hostile streetscape can be found right around the corner from Portland Street at Queen's Square.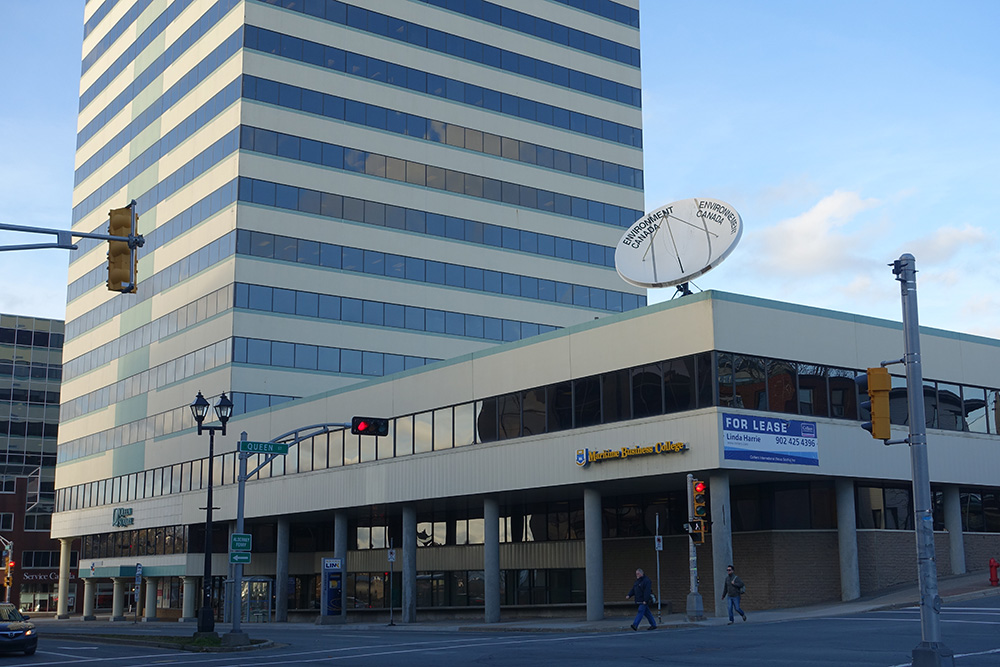 The hostile streetscapes created by many post-war highrises, such as Queen Square, aren't just footnotes in architectural textbooks. The form has changed, but some of the same issues continue to appear. Over in Halifax, a developer wants to level the Doyle Block across from the new Central Library to construct a single building. If approved, the mix of buildings and styles that currently exists on the Doyle Block will be replaced with one long structure with little significant variation in its street-level facade. It's prettier than Queen Square, but it has some similar issues. The Doyle proposal is an example of the kind of contemporary building that could destroy Portland Street's attractive scale if good design rules aren't put in place.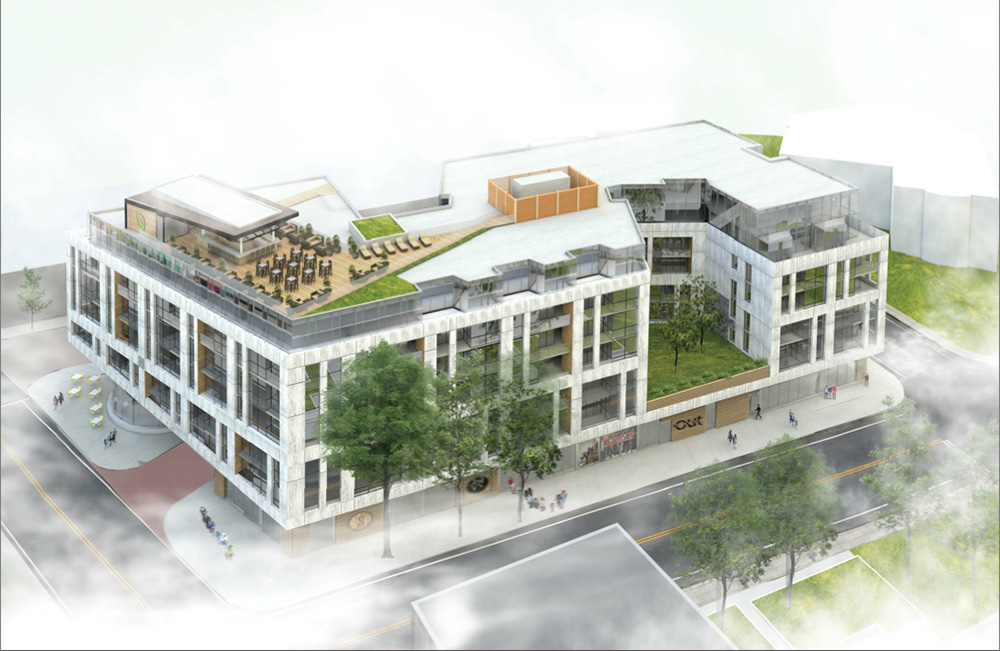 The Need for Development
One way to protect Portland Street's scale would be to impose significant restrictions on new development to, in essence, freeze the street in time. This may be desirable to some, but it would negatively affect Downtown Dartmouth's ongoing revitalization. Before the rise of suburban shopping malls, big box stores and cul-du-sacs, Portland Street was where people in Dartmouth went to shop, eat and be entertained and most of them lived nearby. This all changed in the 1950s and 1960s as people and business moved to the suburbs, sending Downtown Dartmouth and Portland Street into steep decline. Portland Street hit bottom in the 1980s-1990s and over the last decade, it has been slowly bouncing back. The so-called Darkside of the harbour is rising again.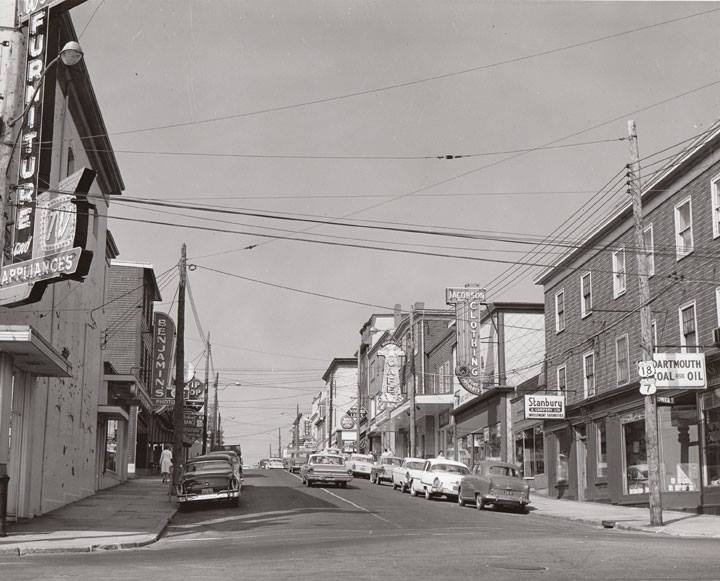 We can't turn the clock back to 1950 when everything in Dartmouth was Downtown, but that's okay because Portland Street has a bright future as a mixed-use neighbourhood and as a destination for entertainment and specialty retail. Key to ensuring Portland Street's future success is growing Downtown Dartmouth's population. More people Downtown means more customers to sustain the business community. New residents would, in essence, replace some of what was lost to suburbia. This is why Dartmouth's last plan envisioned growing the Downtown population from 6,305 to 10,000 by 2020. So, what we're left with is both a need to preserve Portland Street's best existing asset, its human scale, while also allowing for new growth and development. It's a tricky balancing act.
Good Design
Fortunately, planning and design best practices have evolved over the decades. With good rules, we should be able to preserve the best of what Portland Street is now while allowing for some new development and infill. We have examples right here in Halifax of large buildings that respect their Downtown surroundings by breaking up their facade into smaller units, varying the exterior materials to avoid monotony and stepping back height to minimize the impact on their surroundings. It's all about getting the right design for the right spot. My favourite local example, even though it meant the demolition of the apartment building I was living in at the time, is the Vic at the corner of Hollis and Morris Streets in Halifax. The Vic's street-level facade is broken up into five different sections, which are accentuated with different exterior materials. The building's 10 storey height is also somewhat hidden by generous stepbacks at the fourth and fifth floors. The result is a visually appealing building that reasonably reflects the scale of its historic Downtown neighbourhood, that provides space for small business, that doesn't feel out of place despite its size and that has added 82 new apartments and accompanying residents to the area. Dartmouth's Founders Corner, although not quite as effective, is another good example of a thoughtful approach to fitting a larger structure into an historic Downtown.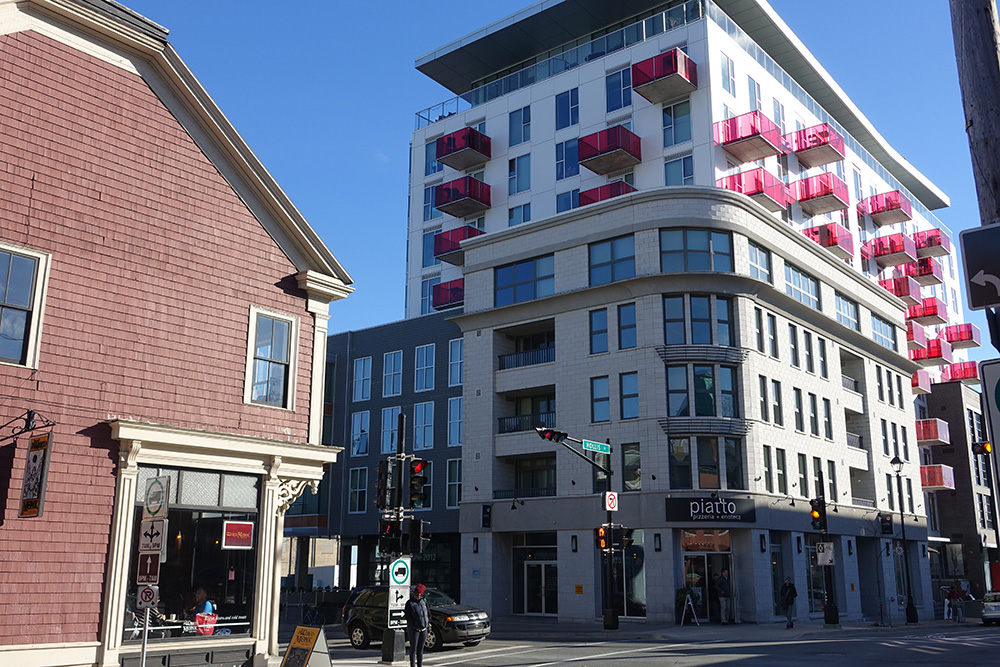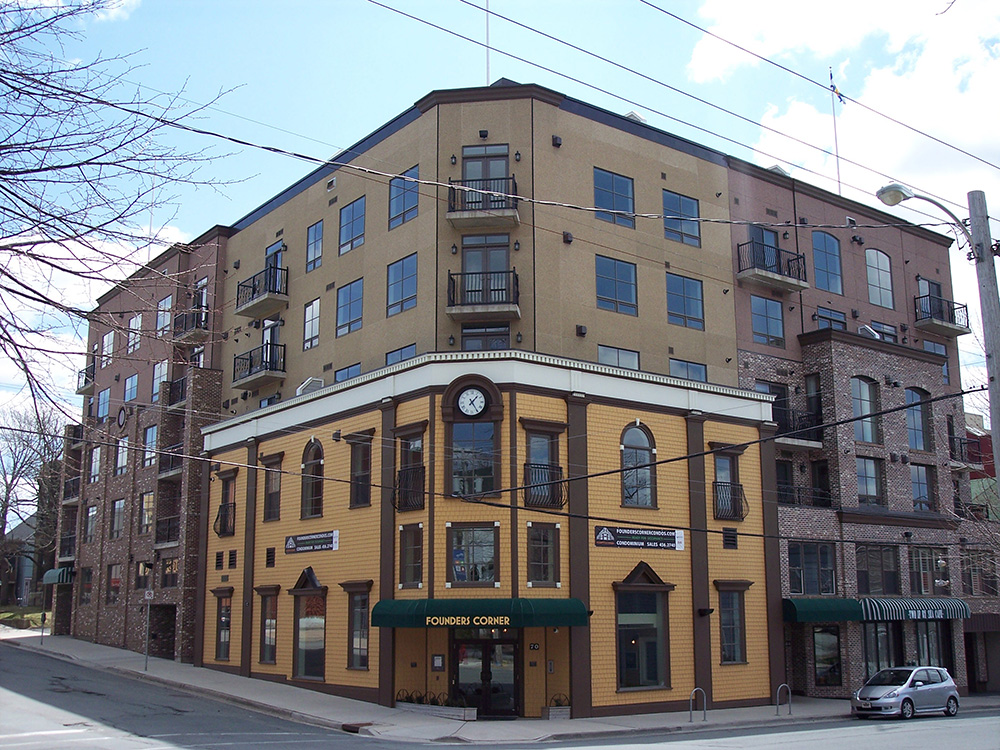 Of Shoulds and Shalls
The new plan for Downtown Dartmouth is still being finalized, but a draft of the accompanying Design Manual has been released. The Design Manual will set the criteria by which new developments in Downtown Dartmouth will be judged. The critical question is, does the Design Manual strike the right balance by allowing for development that respects Downtown Dartmouth's attractive scale? The good news is that it largely hits the right note. The Manual references Downtown Dartmouth's "historic pattern of narrow shops" and its "fine-grained" character as features that new buildings should match. The Manual would generally stipulate that the facade of longer buildings be varied, that any additional height after the 4th storey (12 meters) is stepped back, that buildings fill their frontage and come up to the property line, that they be animated with entrances and transparent glass and that blank walls be avoided. In essence, build small to match the existing pattern or use good design solutions, such as those employed in the Vic and Founders Corner, to go bigger.
There is one flaw with the Manual though: most of the language allows for deviation. In setting out the design criteria, the wording comes in the form of "should" or "consider." These words imply that there has to be a good reason to vary the design criteria, but variation can be permitted. This makes some sense. Site conditions from project–to-project are unique and many design elements are subjective. Some flexibility, especially for nitty-gritty details like awnings or entrances, is desirable. In reference to the big picture idea of what kind of street Portland is going to be though, the Manual should not permit variation. It should be absolute in its protection of the "historic pattern of narrow shops" and Downtown's "fine-grained character." Rather than "should", "consider" or "encourage" the Manual must use "shall." Portland Street could all too easily be lost in one or two poorly planned projects. Let the Design Manual live up to its promise of ensuring better buildings, but let's also make sure to preserve the best of what Portland Street and Downtown Dartmouth currently offers.
The municipality is accepting feedback on the draft Design Manual at planhrm@halifax.ca until December 14. The accompanying Plan will also be released for public comment soon.