DARTMOUTH – After a long period of silence, discussion on daylighting Dartmouth's Sawmill River is resurfacing. The Ecology Action Centre is hosting a public meeting at the Mic Mac Aquatic Club at 7:00 on Thursday, June 23 and staff from the Halifax Regional Municipality and from Halifax Water will be in attendance. This is a remarkable development because, so far, the municipality and utility have been unwilling to discuss daylighting, despite the public's clear interest in the idea. There is still time to daylight sections of Sawmill River as part of Halifax Water's pipe replacement and to create some beautiful public spaces for residents and visitors to enjoy in Downtown Dartmouth.

Why Now?
The Sawmill River was entombed in a pipe underground after Hurricane Beth caused significant flooding in Downtown Dartmouth in 1971. Dartmouth isn't unusual in choosing to bury its river. There are lost waterways in cities all around the world. As best practices in managing storm water have evolved, many of these forgotten waterways are being returned to the surface (daylighted) to create green space and improve the local environment.
Daylighting Dartmouth's Sawmill River first appeared as an idea in the 2002 and 2006 Ekistics plans for the Canal Greenway Park. The 2006 Ekistics plan was supported by public consultation and was eventually approved by council in 2008 as the preferred vision for the Park. External factors have since aligned perfectly to support daylighting:
(1) The intersection at Portland/Alderney needs to be replaced
(2) Development of the Canal Greenway Park is finally moving forward
(3) Halifax Water needs to replace the aging and undersized Sawmill River pipe and
(4) The Department of Fisheries and Oceans requires the new pipe to include fish passage, a goal best achieved in a daylighted waterway
This is a once in a generation opportunity to return Dartmouth's Sawmill River to the surface. Everything along the Sawmill River corridor will be under construction in some form over the next several years. From a planning perspective, it doesn't get any better than this.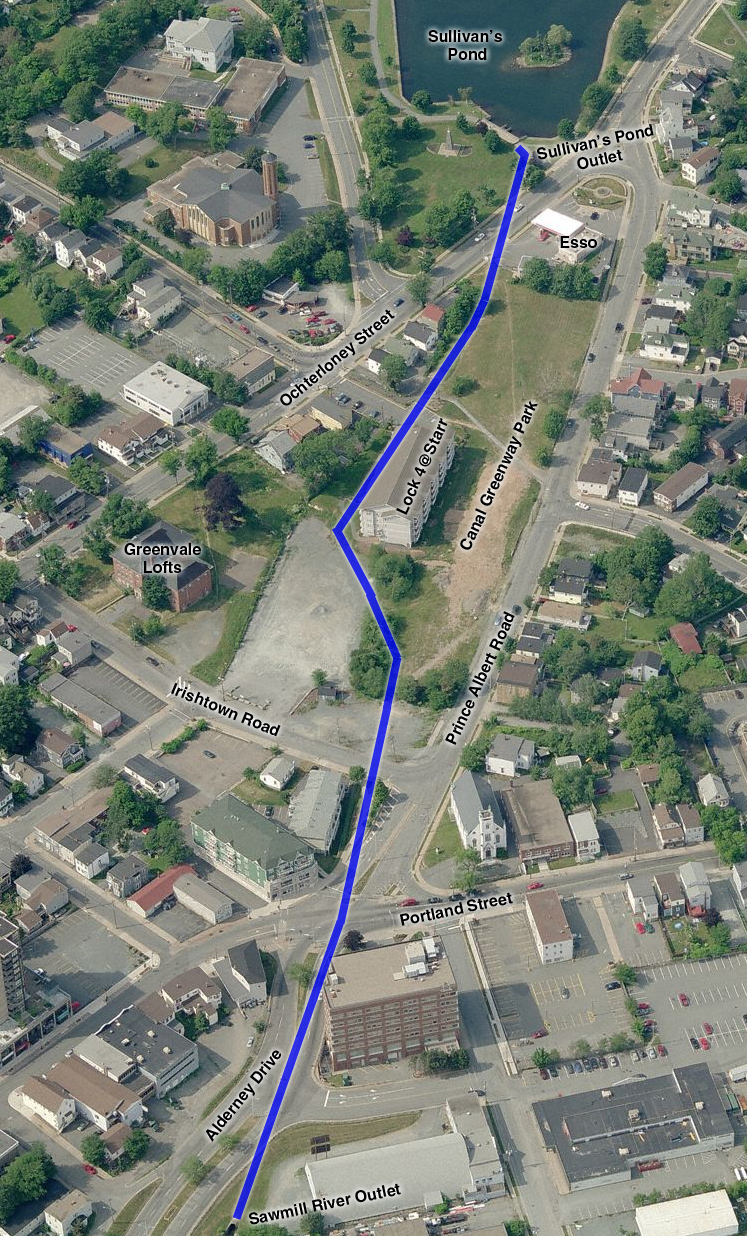 Why the Uncertainty?
Despite the near-perfect convergence of infrastructure projects, DFO policy requirements, and daylighting's central place in the approved vision for the Canal Greenway, HRM has, so far, not been supportive of the idea. Daylighted waters disappeared from the latest version of the Canal Greenway Park Plan in 2014 without any public discussion. When forced by Harbour East Council to address daylighting, HRM staff produced a very one-sided and overly negative report. For its part, Halifax Water refused to release an engineering report that indicated that daylighting would be the best option for renewing the Sawmill River pipe. The municipally owned utility only relented when an Access to Information Request by the Chronicle Herald forced them to.
Given HRM and Halifax Water's early reluctance to seriously consider daylighting, it seems very unlikely that the dream of uncovering Dartmouth's lost river would have survived without the Ecology Action Centre's campaign, federal requirements for fish passage and the mobilized interest of 100s of Dartmouth residents. This isn't an unusual story. Other daylighting initiatives, including the now celebrated Yonkers, New York project, faced similar adversity. Daylighting tends to be difficult for governments to deal with because it crosses jurisdictional and bureaucratic boundaries, it's a major change from the status-quo and there is rarely a clear champion inside government. Now that HRM appears to be willing to discuss daylighting with the public, Thursday's meeting may just be the start of a conversation that focuses on how it can be done rather than on all the reasons why it can't. It could be a key turning point for Downtown Dartmouth's future.
The Opportunity
There are a lot of constraints with the available property and Halifax's Water's easement. The Ecology Action Centre has been working with Ekistics to explore possibilities. Daylighting a large portion of Sawmill River should be doable, including the upper section from the Pond to Ochterloney Street and the middle section in the Canal Greenway from the Lock4@Starr condo to the Alderney/Portland intersection.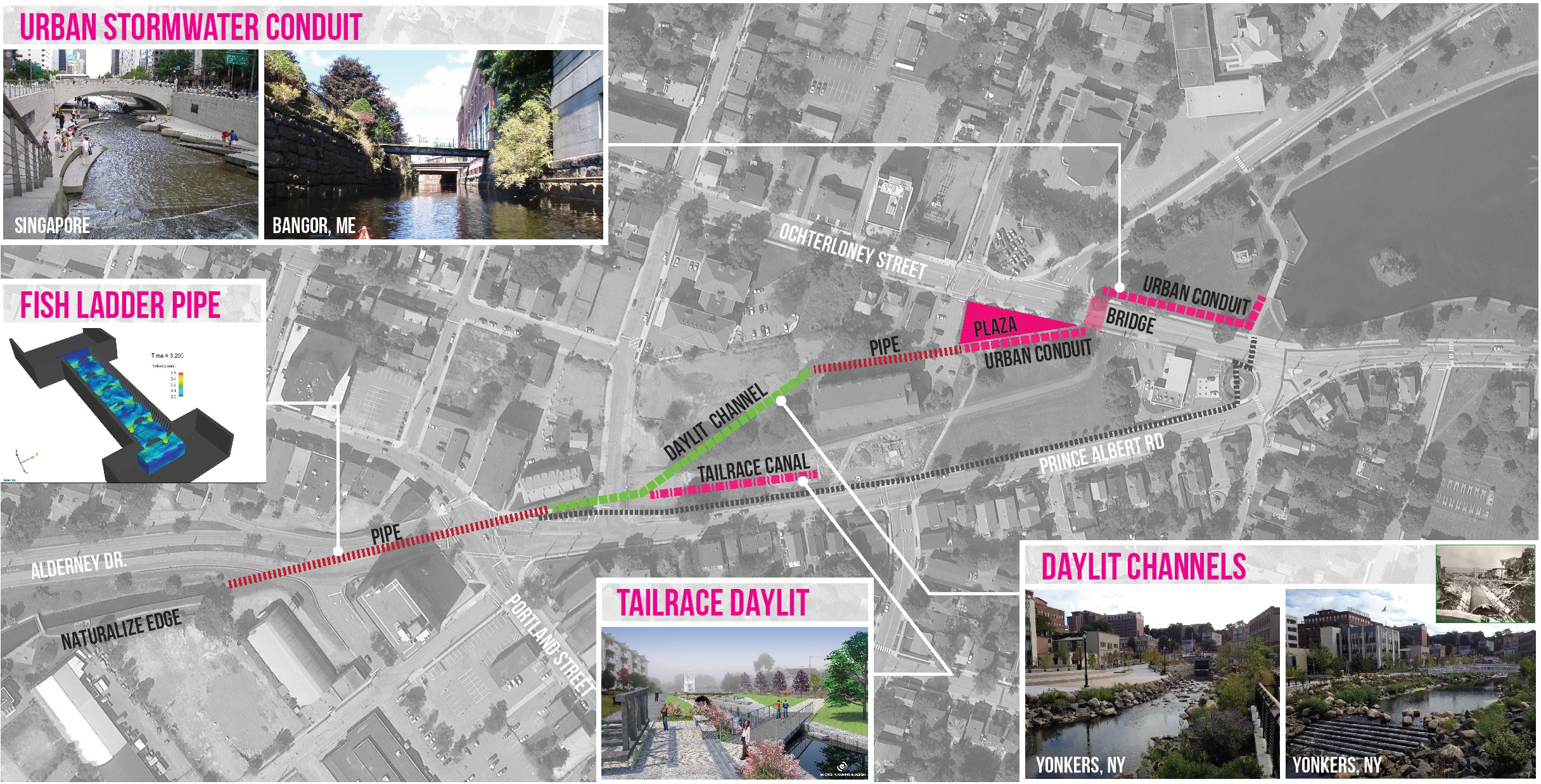 There may not be room for a free-flowing, fully naturalized stream like you would find meandering through a forest, but we can still create something beautiful in Dartmouth. Daylighting projects in other dense urban areas including the other Saw Mill River in Yonkers, Cheonggyecheon in Seoul, South Korea, Thornton Creek in Seattle, Washington and Arcadia Creek in Kalamazoo, Michigan are all very artificial waterways, but they've been well-designed and have become beloved public spaces. We can do the same thing in Downtown Dartmouth.


Previous warnings by Halifax Water that they may need to "grate over" an exposed Sawmill River need to be resisted in favour of a more common-sense approach. We have an opportunity to fix a flooding threat, restore fish access to the lakes and create beautiful park spaces. Let's spend our money wisely to make the most of the opportunity that is right in front of us and achieve all three objectives.
The Ecology Action Centre's meeting is at 7:00 on Thursday night.