Edmonton's built environment was strongly defined by its mid-century construction booms. While many buildings of that era are simplistic, cheap constructions that better reflect the mindset of their developers than their architects, our best architecture paradoxically emerged in this period as well. Buildings such as the Royal Alberta Museum, Citadel Theatre, and Muttart Conservatory have continued to define Edmontonians' experience of their city. However, most of Edmonton's architectural approaches are imported, and few of the city's buildings—brilliant and mediocre alike—speak to the climatic and aesthetic realities of this place. Peter Hemingway's are exceptions, giving Edmontonians a glimpse into a city where the architecture is in tune with its prairie reality.
Born in England in 1929, Hemingway immigrated to Canada in 1955 after earning his architectural diploma in Kent. Hemingway is responsible for a string of Edmonton landmarks: the Stanley Engineering Building (1968), Coronation Pool (1968-70, now renamed Peter Hemingway Pool), the Central Pentecostal Tabernacle (1964-72, now demolished), and the Muttart Conservatory (1976). Two of these, Coronation Pool and Stanley Engineering, won the Massey Medal for Architecture. Hemingway was also active in the professional community, contributing to publications such as Canadian Architect and serving as the President of the Alberta Association of Architects in 1982.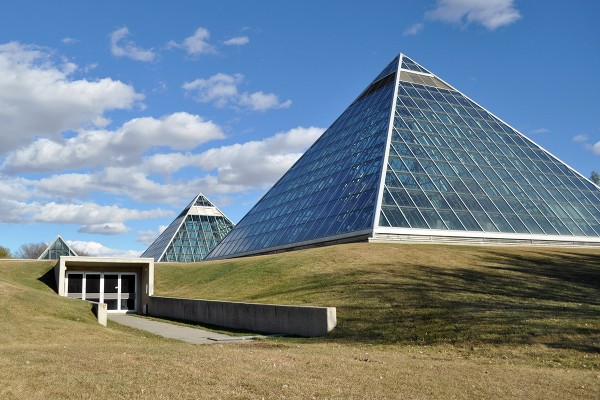 Despite his beginnings abroad, Hemingway fully embraced the realities of the prairie condition. Reflecting on his new home in the book Modern Canadian Architecture, he notes the following:
"The Prairies present a harsh and unforgiving environment. No matter how beautiful the Alberta Rockies or Saskatchewan sunsets or Manitoba lakes, the threat of early frosts and hard winters is ever-present in all three provinces. Cross this climate with a cost-conscious developer concerned with speed of construction and economy of means and you have a very difficult context for design. … The Prairie region, in its geographic immensity, climatic hostility, and social rigidity requires its architects to be potent givers of form. This, in my opinion, is why the most powerfully original buildings in the post-war era have come from here. I would go further and say that perhaps the only truly Canadian – as against adopted – architectural images have been created on the Prairies, out of this harsh necessity for strong forms in a landscape wide as Heaven or Hell."
True to this quest for 'strong forms,' Hemingway's buildings present bold shapes set within the landscape, be it the simple box of Stanley Engineering, the pyramids of Central Pentacostal and Muttart, or the elegantly curved surfaces of Coronation Pool, flowing up out of the rolling berms surrounding the building. This refined confidence is also carried into superb detailing: faced with a roof drainage pipe coming right through the centre of Coronation Pool's elegant wood ceiling, Hemingway painted the drainage system bright yellow, giving the playful appearance of a 6-legged yellow spider clinging to the dark brown ceiling. And the forces within that building's tension cables are beautifully resolved through giant bolts slotted in pairs of vertical concrete walls rising from the landscape. Materially, his buildings have an earthy quality, often paired with a use of glass that emphasizes its immaterial qualities. All of this works together creating a strong atmosphere that resonates with Edmonton's natural, un-built environment.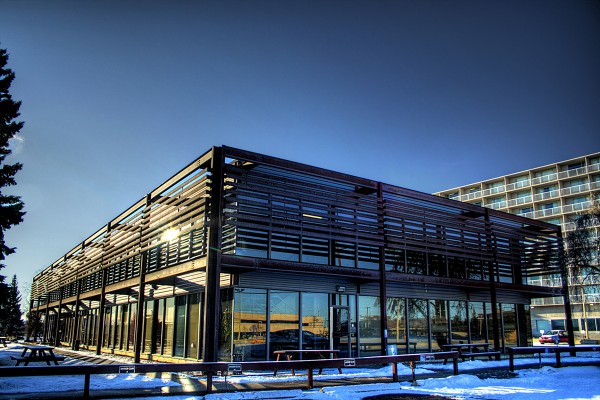 In discussions of his work, it is often noted that Hemingway's best buildings owe a great deal to the work of other architects: the Stanley Engineering build can rightfully be seen as a response to Eero Saarinen's John Deere Office Building, and Coronation Pool as a response to Kenzo Tange's National Gymnasium and Pool. And while this bothers those who believe that architects should strive for originality, it is reasonable to argue that Hemingway spent time learning the guiding principles of some exemplary architecture, and applied those principles to the unique contexts of his own projects. That ability to create buildings true to Edmonton, even when his design principles were imported, is something that Edmonton's architectural community desperately needs to learn from Hemingway's work.
His belief in the socially transformative power of architecture motivated Hemingway's practice, and it comes to the fore in his essay "Architecture for the Individual":
"[Architects] must realize that when they design spaces within and without buildings, the inhabitants interact with these spaces in a number of significant ways. It is precisely this interaction that in turn helps to form a culture. Architectural values can so easily become society's values and architectural weaknesses society's weaknesses. … People in our depersonalized age want desperately to feel significant – to believe that lives have a purpose. They need to live in communities that ennoble them and assist them to become truly human. All of this the architect can help to accomplish if he will begin now to DESIGN FOR THE INDIVIDUAL and not pander anymore to faceless governmental and commercial power brokers who are merely interested in controlling people."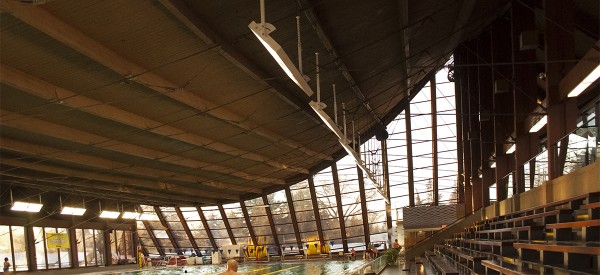 Standing in Coronation Pool on a cold winter day, within an embrace of wood, welcome humidity, and warm dappled light, that rhetoric takes on its full meaning. The promise of a vibrant life up north feels closer than ever.
Sources:
Geoffrey Simmins, "Peter Hemingway" in The Canadian Encyclopedia [http://thecanadianencyclopedia.com/articles/peter-hemingway]
Leon Whiteson, Modern Canadian Architecture (1983).
Trevor Boddy, Modern Architecture in Alberta (1987).
William Bernstein and Ruth Cawker, Building with Words: Canadian Architects on Architecture (1981).