Whether you just moved into town or have never taken public transit before, riding Edmonton Transit System (ETS) can be stressful. It's unfair to expect any rider to understand how things work and confusion will eventually occur. A mistake during a trip can cause an hour delay, lots of grief, and in the long run, encourage people to not take transit — not a good business model. It should be in our interest to make minimize these errors if we want to make our streets less congested and a pleasant time for everybody.
Here are just a few things that ETS could improve to make life just a little easier:
The honour system used in Western Canadian rail transit where stations do not have ticket surveillance is strange especially for those coming from Toronto or Montreal. A common mistake that occurs for new users is skipping the validation booth right after purchasing tickets from the machines. These folks get dinged by transit cops at the end of their ride and the fines can be heavy if luck is against them. Conversely, when the vending machine produces previously validated tickets, new riders can accidentally purchase several pre-validated tickets, resulting in an expensive ride. In the meantime, ETS could bring more attention to validating tickets after purchase. This could be done through message, design, or location. Could the validation slot be installed in the vending machine itself?
In the future, turnstiles that accept tickets and smart cards could potentially resolve this.
2. Express Buses (e.g. Route 100)
It is common to see people try to get off the bus during a non-stop section of an express route. This can become stressful for unaware passengers on buses like Route 100, where there are no stops for nearly ten kilometres between West Edmonton Mall and Downtown. For instance, I saw a child breakdown into tears because the bus driver refused to stop along the route thinking that they could get to school. Part of the problem is that the route map provided is not clear in demonstrating the non-stop service. In the following image, the top diagram illustrates unnecessary and distracting information that could confuse riders on first glance. The map below it shows the same route, but the graphic is simplified to avoid misinterpretation.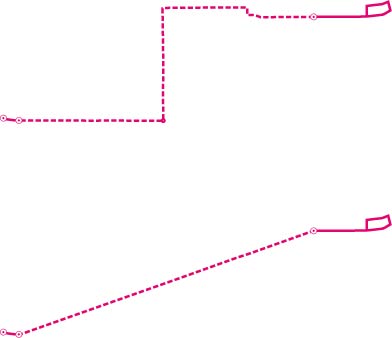 Another way to soften this problem is to turn some of the express routes into bus rapid transit (BRT) routes. In the case of Route 100, some stops could be removed Downtown and added to 124 Street, 142 Street, and Meadowlark. That way, the bus can service more neighbourhoods without increasing the number of stops it has to make.
3. Directionality (e.g. Route 4)
Riders can benefit from knowing which direction buses are going. From the University of Alberta, new riders are told to take Route 4 to get to West Edmonton Mall. However, some people will take the wrong Route 4 and head the opposite direction towards Capilano. If ETS could use 4W or 4E for the bus names (or something similar), it would do wonders.
Found on the Northeast corner of 107 Street and Jasper Avenue: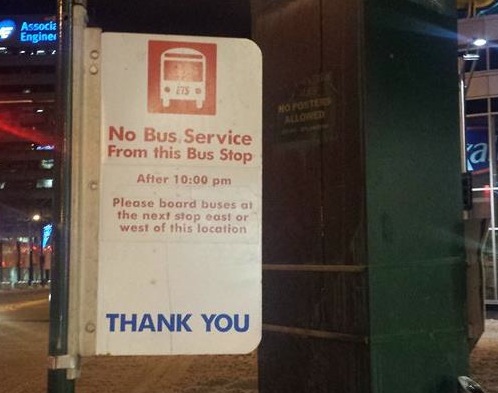 Lots of people end up missing their bus at this corner because the sign does not draw any attention. Worse, the most important information presented here reads like fine print. Instead, the sign should read in large, black capital letters at eye level, "BUS STOP CLOSED AFTER 10PM", accompanied with a bus symbol behind a large X. It may not catch everybody's attention, but I'm willing to bet it would catch more.
5. Visibility and Wayfinding
This issue has been previously mentioned in our blog by Jeff Robson:
Signage at LRT stations in Edmonton is often excessively detailed, visually busy, inconsistent, and not to be understood quickly. In short, it is many things that signage should not be. Differentiating LRT signage from its wheeled counterpart is important in not only communicating the difference in travel options and experiences, but also increasing visibility for transit users with low visual acuity.
That said, I definitely support the idea of reintroducing the 'Flying E' design to replace the existing signage at LRT stations!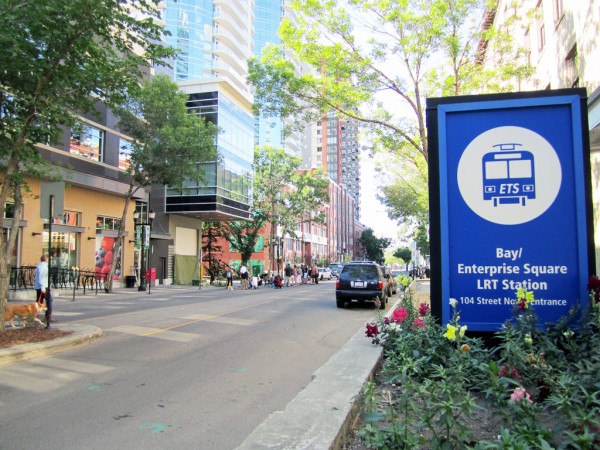 Have any other suggestions on improving ETS? Share your ideas in the comments below!