Well, it can't be ignored.
Montreal City Hall sketchiness has reached such astronomical proportions that The Economist ran a piece about it on June 25th, under the headline "Municipal corruption in Canada."
For any readers who have manged keep their heads buried in the sand during the recent cries of scandale! in the local press, the Economist report candidly sums up the most blatant instances of favouritism (the SHDM and Water Meter deal). I don't doubt that for each "tip of the iceberg" that made the international press, there are more cases and more implications of this kind of abuse at home.
If this is all starting to sound like the plot of a weird mafio-political drama, well, it is. Quebec's favourite movie director, Denys Arcand, made that film way back in 1973: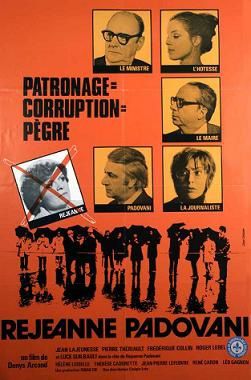 "Patronage = Corruption = Pègre" ("Patronage = Corruption = Underworld"): the tag line for Arcand's 1973 film about Montreal Mafiosos, unscrupulous politicians, and expropriating home-owners to build a highway.
Here's an extract from the description of Denys Arcand's film Réjeanne Padovani, found on the Films Quebec blog:
Histoire :
En l'honneur de l'inauguration d'une autoroute, une réception fastueuse a lieu chez un gros entrepreneur montréalais. Durant la soirée, son épouse le fait chanter.

Résumé :

À la veille de l'inauguration d'une autoroute dont ils ont orchestré la construction, quelques politiciens sans scrupule se réunissent dans la demeure d'un parrain de la mafia, Vincent Padovani, pour célébrer l'événement. …  Ailleurs dans la ville, de jeunes militants préparent une manifestation pour protester contre les expropriations massives ayant découlé de la construction de l'autoroute.
Sound familiar?
Now back to reality, 2009…
Naturally, what tarnishes the mayor's party is a golden opportunity for the opposition (and in an election year!). Louise Harel, leader of Vision Montreal, called for a Provincial inquiry – on top of the 5 police investigations already underway at city hall. More interestingly, a commentor on the Economist's online edition points out that the article may actually have been authored by a political consultant for Projet Montréal.
But if Arcand's film was in any way inspired by reality, this kind of cronyism has been around for at least a couple of generations. You gotta wonder whether the opposition parties will be any better at resisting the offers of the allegedly-mob-affiliated contractors whose reign over the city predates the current administration. Can we vote our way out of this problem?
The only remotely comforting thing is that, in spite of this political climate, Montreal seems to have raised – and adopted – a whole lot of people who none-the-less care about the city very much. But how can citizens be empowered when the system is broken?