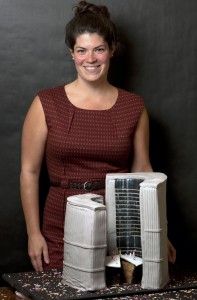 Sarah Fortunato is a pastry artist living and working in Toronto. After receiving a Fine Arts education at the Ontario College of Art and Design, Fortunato discovered a passion for pastry and fine-tuned her skills by continuing her education at George Brown College's Pastry Arts Management program.  Now working as a freelance cake, cookie, and confection artist Fortunato hopes to open a store in the near future.
In 2013, Fortunato got in touch with Spacing after responding to a request for pastry artists to create a cake for our 10th anniversary issue. Her replica of Toronto City Hall was featured on the cover. You can find Fortunato on her website at sarahswoodenspoon.com where she displays her work and offers custom pastry design.
How did you get involved with Spacing to make the cake for the cover of the 10th anniversary issue?
It was through an advertisement I had responded to through a friend who has studied planning. He was more aware of Spacing than I was, but I'm happy to be more familiar with them after this experience. I spoke with Matt over email; he was really kind and extremely easy to work with.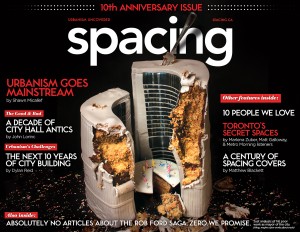 Whose idea was it for you to recreate City Hall?
The idea was all Spacing; I think Matt was behind it. He sent me an image of a cover mock-up of City Hall. The city chambers offices looked like a birthday cake with candles coming out of it. That was the original design that I started to work with, and he basically left it up to me.
What were your thoughts on making the City Hall cake? 
Speaking from a technical standpoint the cake itself was extremely difficult to make just in terms of stability because it was quite tall in the end. The tallest chamber was just over a foot. Thinking of it in terms of structural integrity it was a little tricky. I've never made a cake so tall and narrow before, so it was a welcome challenge. It took three solid days to complete.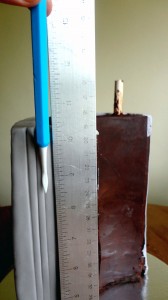 What kind of cake was it, and why?
It was a vanilla butter cake with chocolate butter cream and chocolate ganache. Matt was interested in something that would give some contrast, so I figured with the pale cake and dark chocolate butter cream it would give it nice layers, and the layers would be distinguishable.
What has the response been like for you since the magazine was released?
It's been pretty incredible! Actually, an architectural firm contacted me shortly after the release and they were interested in having a cake made in the likes of the building they were creating. Unfortunately the timeline was a week and it just didn't fit in with my schedule. I have had more people contacting me about making buildings, which is great. It's something I've never really done before.
What kind of cake work do you typically do? 
I do a lot of freelance stuff. I have a fine arts background, so I tend to lean towards more textural or colourful cakes, nothing too linear. I generally make cake that's a little more playful than architectural buildings. I enjoy doing hand painted cakes, and really colourful children's cakes.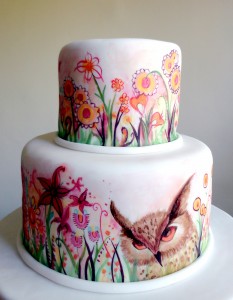 Is this a fulltime job for you, or more of a business you run on the side?
I hope to make the transition into having my own shop one day soon. I'm working out of a rented kitchen right now while I do freelance work. People contact me with ideas, and I work with clients to make their cake dreams come true.
Would you say there is a high demand for what you do?
Certainly, yes. I think people are more aware of custom work now given the media and television shows that focus on cake decorating. There's a higher demand now, and people are more interested in having custom work. I also think there's been a shift in trends and people want to know where ingredients are coming from.
Where do you get your ingredients? 
I try to source everything as locally as possible. I work closely with Stirling Butter, a company in Stirling, Ontario. I work with fair trade, organic chocolate, cacao and sugarcane. A lot of it is just directly through suppliers. I work primarily with alternative grains, and my kitchen is wheat free. I try to focus on things that are a little out of the ordinary.
After attending OCAD for fine arts, what made you choose to go into baking and pastry art?
It kind of just fell into my lap. I have nephews, so I started making birthday cakes for them and cakes for celebrations. Eventually word started to spread, and I fell in love with the art of it. Baking is really special because it's an 'of the moment' kind of thing. In my career at OCAD I had a really hard time letting work go. I so often would return to it, and tweak it trying to make it better. In the cake world you pour all of this energy into it, you spend all this time and then it leaves the kitchen, and someone else gets to enjoy it. It's a beautiful celebration of the moment.
Do you practice other forms of art in your spare time?
I do! Lately it's been a small shift towards craftier things. I host a craft night most Monday's throughout the winter. My friends come over, we drink tea and sometimes we'll knit or make seasonal crafts. It's a lot of fun. I like to bring out the old lady within me. So often I'm inspired by fabric designs, or certain techniques I use in my craftier life, and that translates beautifully to my cake design.
What is your favourite thing to create (cake, cookies, confection)?  
I have really fallen into chocolate again. I really like making molded pralines, which are essentially confections consisting of a hard chocolate shell that is filled with caramels, ganache or creams. Chocolate is so complex in flavour that it's a really tricky thing sometimes, but it's a lot of fun. Outside of cake, chocolate is definitely my next favourite thing to do.
What is your favourite type of cake? 
That's a really tricky question to answer. My Nona makes a wonderful Italian custard cake with limoncello, which is an Italian lemon liqueur. It's essentially like a vanilla cake with vanilla custard, lemon preserve and limoncello. I hold that one close to my heart, but I'm happy with any cake really as long as the ingredients are good.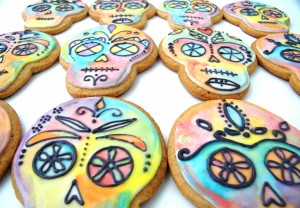 To see more of Sarah's work, visit her website sarahswoodenspoon.com