Standing at the corner of State St. and Woodward Ave. in Detroit's downtown, the Spacing Urbanism Road Trip of over 50 Canadian urbanists barely noticed the American in the cowboy hat who had quietly joined them in the back of the huddle.
The tour was Spacing's second trip to Detroit since September (a third trip takes place in June, with two trips heading to Pittsburgh in May and July as part of the Spacing Urbanism Road Trip series).
Architect Mark Nickita, president of Archive D.S., was pointing to the vacant hulks of formerly imperious towers. Once iconic in and of themselves, the towers were now famous for their juxtaposition of ornate architectural splendour, and blight. Many of these buildings, Nickita told the group, were already bought-up by new developers, ready to breath new life into the grandiose husks.
Cowboy Hat listened, he looked around at the points of interest, he looked back at the tour leader; but something seemed to trouble him. Nickita's comprehensive mobile tutorial was obviously not answering some question that was most active underneath the eccentric headgear. Ultimately, he gave in to the gnawing question, and voiced it:
"What happened to us?"
That, as Nickita said, is a very big question, with many very long, intricate answers.
Maybe the shortest answer has to do with resilience. Urban resilience, while it can mean many things, could be briefly and clumsily defined as a city's ability to respond to various strains and stresses: environmental, economic, social, and on.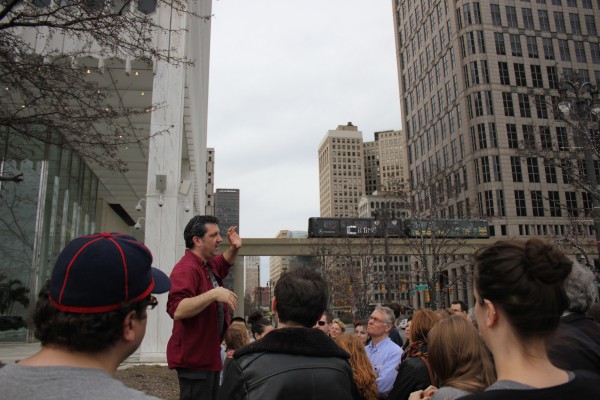 Detroit, while founded in the 18th century, became the storied Motor City as automotive manufacturing became the key driver of the city's growth, and the main employer for many of its residents. Cars shaped it, employed it, and kept the lights on. When the automotive sector declined in North America, Detroit did not have the resilience to adapt to the economic change.
It's all been said before, in many publications and forums, and at much greater length than above. It's not The Answer. A comprehensive answer would examine whole decades, and would have to include the longstanding social, racial and economic disparity that shaped the city as well.
"What happened?" will never be answered in a walking tour. But as the group moved through the seemingly empty downtown, for which plans are already being drawn up or implemented to draw people back, a new question came to mind.
Private companies like GM and Quicken Loans have recently invested much into Detroit. There is buzz about the city becoming a new hub for tech start-ups, research and innovation. The Wall Street Journal reported a 97 per cent residential occupancy rate in the downtown. Private sector energy managed to enlist various levels of government support, resulting in a commitment to build the M-1 Rail streetcar line along Woodward Ave., which will shuttle people in and out of the downtown core, and is expected to attract even more investment.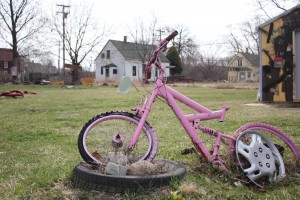 But the new question was formally asked as the group explored the Heidleberg Project, a massive, 28-year-old open-air art installation in Detroit's East Side. The project turns burnt-out and abandoned houses into canvases. Images of clocks and taxis were ubiquitous. What did it mean?
Project founder Tyree Guyton will answer your question with another: what time is it? Where do you want to go?
"What's happening to us?" should be the question on every Detroit citizen's lips. "What happened to us" is a great question for a Masters thesis. But this new question is being answered at time of writing, and will continue to be written for decades to come.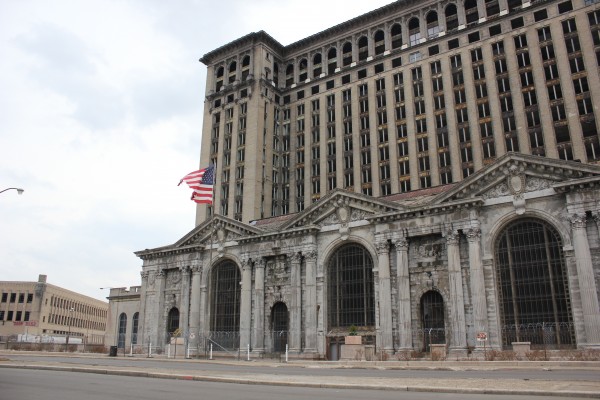 What's happening, for example, is a group of volunteers turned the former, blighted Lincoln plant into an art park and DIY recycling facility.
What's happening is Roosevelt Park, designed through community and youth consultation and facilitated by locally-based Ponyride, is being built at the foot of a famously abandoned train station.
What's happening, is that Quicken Loans is relocating thousands of employees from the suburbs to Detroit's downtown core.
What's happening is, perhaps, images of so-called "blight porn" are finding a counterpoint in images of new places, spaces and amenities that are often conceived of, and created by passionate local volunteers.
We should all be asking ourselves what's happening to Detroit because, as the answer unfolds in real time, it's instructive and may hold lessons for other cities, the world over.
When a city re-imagines itself, does it start with the downtown? How do you involve all stakeholders, and ensure that equitable community input guides the process? If Detroit is to become the next tech giant, will it face the same ruin if the tech bubble bursts? How do you ensure the rebuilding process incorporates and prioritizes that concept of resilience so that the city isn't just restored to its former glory, but ready to face future, unseen challenges head-on.
When you stop asking what happened, and start asking what's happening – as so many in Detroit are doing, actively – you'll find many more questions accompany the latter. But they are all important questions to ask, and the answers may not be Detroit's salvation only. They could become a field guide for uncharted territories all cities must at some point explore.
As part of the ongoing Urbanism Road Trip series, Spacing in partnership with Cities for People will be taking people for a tour of Pittsburgh, May 9-11. Tickets are available at spacingstore.ca.
Spacing is partnering with Cities For People to bring a series of stories examining issues focused on urban resilience and livability in Canadian cities.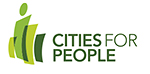 The Cities For People features are a project between Spacing and Cities For People