A startup sees a place to grow in Toronto's derelict warehouses, but it will have to overcome the city's zoning regulations first.
Aqua Greens, the brainchild of Palbo Alvarez, 43, and Craig Petten, 45, is a business hoping to bring urban agriculture to underdeveloped parts of the city. Using aquaponics, a soilless method of growing plants that combines hydroponics and fish farming, the two entrepreneurs want to localize food production, while breathing new life into abandoned buildings.
"We have so many warehouses empty due to the manufacturing pulling out of Ontario, but now we can turn it around, without having to break new ground and be able to grow something," says Petten.
Aqua Green's plan, however, has run up against the City's post-amalgamation Zoning Bylaw 569-2013, which was adopted in May 2013, and doesn't allow agriculture.
"We were hoping it would be a little more receptive in our home city," says Petten of the zoning restrictions. "Obviously, if we are going to be set up here, we've got to be trailblazers and pioneers in our city to get this done."
The aquaponics system that Aqua Greens is striving to establish in Toronto's industrial wastelands works in a loop. The process begins with large water tanks wherein fish are raised on organic feed. The waste the fish produce adds nutrients to the water, which is then pumped up to plants stacked on rafts above.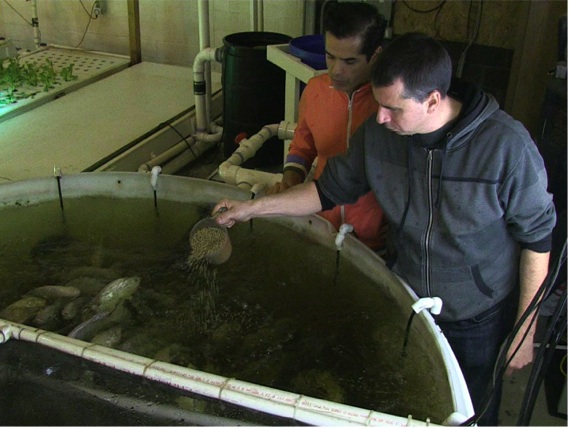 From there, the water passes the plants' roots and travels back down to the tanks below, where the whole process repeats. Instead of sunlight, high-efficiency LED lights are used to grow the plants. "Aquaponics has been around for thousands of years," explains Petten, "but only now because of the lighting technology can we financially do it."
Comparing aquaponics to conventional soil-based agriculture, Petten cites some favourable stats. Aquaponics uses 90% less water, he says, and because plants are vertically stacked, the system can yield crops five times larger than possible in a field of the same size. Plants also grow faster in the controlled environment; there is a 28-day growing period for head lettuce, half of the 56-day period seen when the vegetable is farmed in soil, notes Petten.
Anything from leafy greens to watermelons can be grown year-round using aquaponics, says Petten, with the only exception being root vegetables such as onions and potatoes.
Aquaponics can already be seen in action in other North American urban centres with companies including Urban Organics in St. Paul, FarmedHere from Chicago, and Detroit-based Aqua Growers all cropping up south of the border.
But while technology has developed to the point where companies like Aqua Greens can create viable business models, Lauren Baker, policy specialist for Toronto Food Policy Council and Toronto Public Health, says the City's rules are lagging behind.
"The practice has outpaced the policy. We have great new innovations in urban agriculture that we didn't anticipate 20 years ago, 10 years ago," she says. "Now we just have to revisit the by-laws and the zoning regulations."
Baker is a member of the Toronto Agriculture Program steering committee, which has been tasked with finding ways to implement ideas from the City's GrowTO plan, released in October 2012.
Among the plan's recommendations is adding an "'urban agriculture' zoning category for use in designated locations." As of yet, no new category has been created, but Michael Wolfson, who is also part of the committee, says such changes are being considered.
"We're working on developing specific zoning for the ability to do agriculture in urban centres," says Wolfson, who is also the City's food and beverage senior advisor.
Until the regulations change, one option for Aqua Greens is applying for property rezoning through a bylaw amendment, according to Klaus Lehmann, the City's zoning bylaw and environmental planning manager.
"There's nothing to stop them, as long as they comply with the official plan, the purposes and intensities there, and get a proper rezoning, they could go ahead," says Lehmann, but he also notes complications can arise.
"The practice has outpaced the policy. We have great new innovations in urban agriculture that we didn't anticipate 20 years ago, 10 years ago."

   — Lauren Baker, policy specialist, Toronto Public Health
"It could be a very long process if it runs into obstacles," says Lehmann, adding rezoning applications include reports, community consultation, and may even lead to "battles at the OMB (Ontario Municipal Board)."
The City is streamlining its bylaws 15 years after amalgamation. Parts of Etobicoke and north Scarborough, for instance, still have zoning bylaws separate from Bylaw 569-2013, although the City plans to replace lingering bylaws dating back from before the megacity amalgamation with Toronto's updated framework, says Lehmann.
As the City moves towards updating its policies and consolidating bylaws, Aqua Greens is broadening its focus. Originally, the idea was to first move into a Toronto brownfield site, as old warehouses have the high ceilings ideal for housing vertically stacked aquaponics systems, and the city is a major target market.
In line with the initial plan, Aqua Greens is considering possible bylaw amendments for two Etobicoke industrial sites and a meeting with the City is also approaching. "We are scheduled to go talk to city council on June 23 to plead our case," says Petten. But in an effort to move forward, Aqua Greens has widened its search and is now eyeing sites beyond Toronto's limits.
"We figure we might as well go to Mississauga, start up the business properly, make some money, and get some traction for when we go to Toronto and go, 'Look, we're doing this already in Mississauga, we really want to be in Toronto too,'" says Petten.
Despite the zoning challenges they have encountered, both founders envision Aqua Greens one day supplying produce to Toronto's grocery stores, farmers markets, and restaurants, while at the same time encouraging other businesses to open up nearby, revitalizing communities in the process. "Imagine a restaurant or pub beside us," says Alvarez. "We can have fresh, organic stuff right to their plates within minutes."
Photos courtesy of Celia Grimbly and Aqua Greens.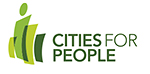 The Cities For People features are a project between Spacing and Cities For People