Travelling up the I-95…
It was a sweltering Saturday, late morning.  I was sitting in a deli in downtown Bangor, and while downtown was not exactly bustling, there were people out and about – on a day like this it seems many Bangor residents (I would later see the same up in the mall/boxstore district too) had opted for the beach, with the city feeling quite emptied out.
While eating, I noticed a large mural, displayed prominently in the deli, it was a painting of a violent shoot-out, bullets flying, gangsters falling, with the buildings of downtown Bangor evident in the background.  A rather grisly painting, this was commemorating a notable – notorious – moment in the Bangor's history, a 1930s shoot-out which was the bloodiest shoot-out in Maine's history, where "public enemy" Al Brady and another member of his "Brady gang" of mobsters were gunned down.
A grisly event to mark, but a notable one in the city's history.
A prosperous lumber port in the 19th century, Bangor was also a hub of the anti-slavery movement in the run-up to the American Civil War.  Bangor today is a commercial hub for northern and eastern Maine, a city of just over 33,000 people with a metropolitan population of about 153,000.
The famed Interstate Highway 95 (I-95) runs along the Eastern seaboard of the United States, from Florida to Maine (and technically into New Brunswick with the NB-95 highway for a short stretch across the US-Canada border).  This highway is a primary node connecting major components of Bangor for commuters – with exits for the airport, downtown, and the mall/boxstore district.  An exit further up the I-95 takes one to Orono where the University of Maine campus is located.
On a side-note, the closing miles of the I-95 in northern Maine, beyond Bangor but before the Canadian border, can be very relaxing, forests and nature, and an imposing view of Mount Katahdin, especially visible from a viewing station just off the highway where one can relax on picnic tables and take in a great panoramic view.
First Olive Garden, Then JC Penney…
Most Canadians – from the Maritime provinces in particular – know Bangor for the outlet stores, boxstores, and the Bangor Mall, shopping at American chains such as JC Penney, having dinner at Olive Garden (there is neither a JC Penney nor an Olive Garden in my hometown of Fredericton).  Bangor's mall/boxstore district is a popular destination for cross-border shoppers coming in from Canada and can be very busy with traffic and people.
This is a generic landscape of sprawl, boxstores, and parking lots.  However, it does offer some interesting sights for the few – I was among the few – who venture outside their car and walk.
One thing that was very telling was the sidewalk virtually blocked with overgrown shrubbery, clearly showing that people do not usually walk here, taking their car from one mega-parking lot to another as they shop in this very car-oriented landscape.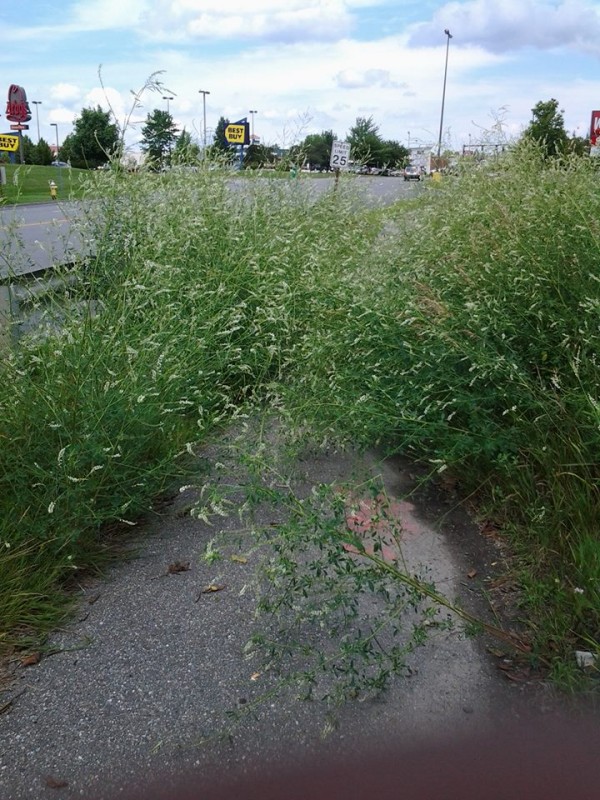 Another notable sight is an aired and restored creek, with a sign detailing the conservation measure involved, a good initiative even if this creek is not visible for the vast majority of people travelling by their cars.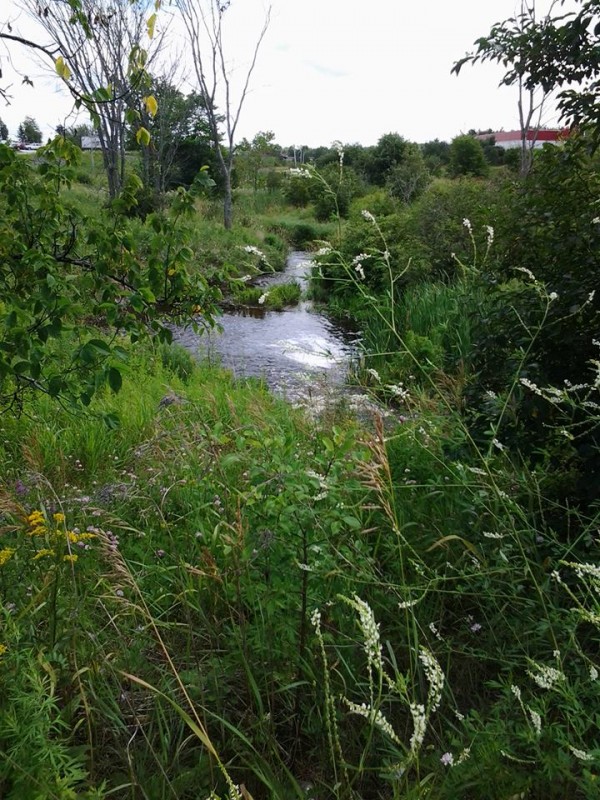 I wonder what's going on downtown…
Downtown Bangor took a hit with the construction of the Bangor Mall in the late 1970s and box stores in that area, becoming a busy commercial and retail district taking business away from downtown.  As well, "urban renewal" schemes in the 1960s saw the destruction of historic buildings – including the city hall and train station – which also hurt the downtown.
Even on a Saturday morning when I was downtown, many businesses were closed, it can be hard to find what businesses are open, not a problem in the Bangor Mall/big box store area.
Despite these challenges, downtown Bangor can be a vibrant place.  During the summers there is a Thursday evening concert series, with a street closed off to traffic – it becomes pedestrian-only – for the concert and audience, and an open-air market at the nearby park featuring local merchants.  I was there on Thursday evening, downtown was a lively place with a sizeable audience in their lawn chairs taking in the concert.  Many were checking out the open air market while others walked around downtown.
People from a variety of ages and walks of life were taking in a pedestrian friendly environment.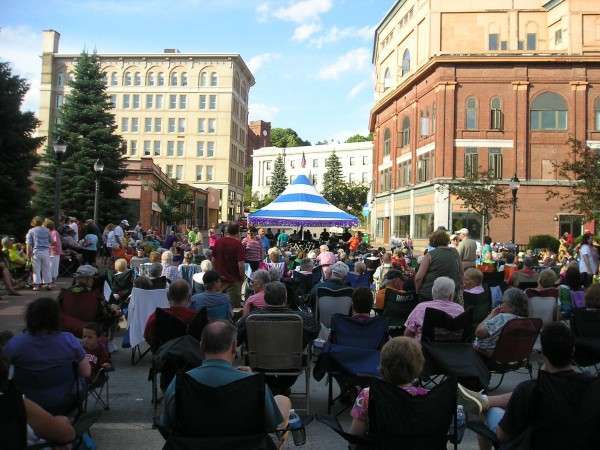 The buildings of downtown Bangor are somewhat reminiscent in architecture of Great Lakes cities.  As well, the Kenduskeag Stream gives a nice ambience to downtown with multiple bridges.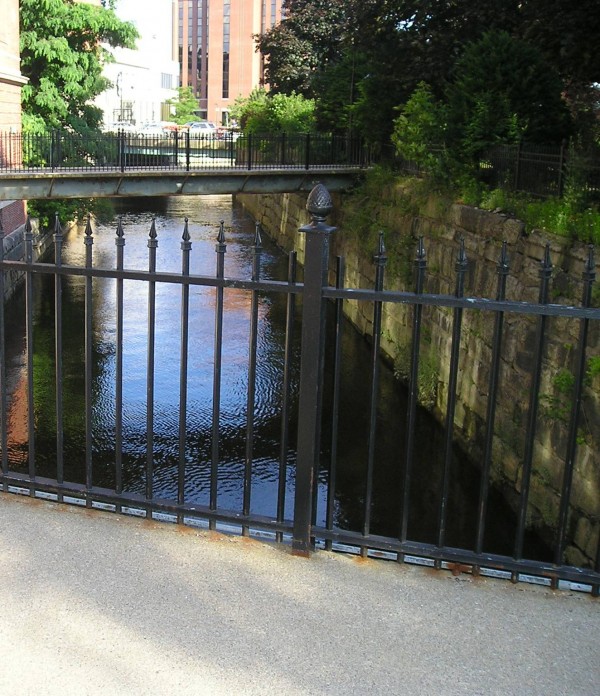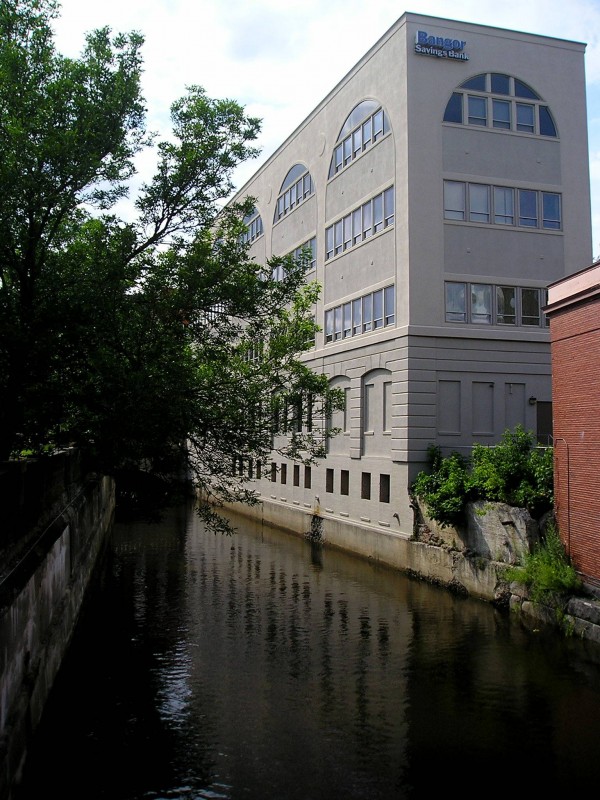 What I missed…
Driving through the streets of Bangor, just beyond downtown, one sees quiet residential streets with older homes.  Unfortunately I missed the house of a particularly famous Bangor resident, Stephen King, whose house is known for its "haunted" style gates with spider-web and bat patterns.
Overall, Bangor is a small Maine city, and while the box stores and mall are a dominant feature, there is potential in the downtown, and events like the outdoor concert offer opportunities to visit, explore, and experience pedestrian-level life.
Hassan Arif is a PhD candidate in sociology at the University of New Brunswick.  He is also a columnist having published for various outlets including the Telegraph Journal and Daily Gleaner in New Brunswick, the Detroit News, the Toronto Star, and the Huffington Post.
You can follow him on twitter: @HassanNB