Reclaiming Spaces/Places is an ongoing series written by Lacey McRae Williams that shares stories of Indigenous resurgence through public art and planning across Canada, Turtle Island (North America).
The first story comes from Hayden King, the Director of the Centre for Indigenous Governance & Assistant Professor of Politics at Ryerson; PhD candidate at McMaster; and Anishinaabe inini from Gchi'mnissing. This story explores visible acts of indigenous interjections in Toronto's busy urban landscape. As described on the project blog:
"The Ogimaa Mikana Project is an effort to restore Anishinaabemowin place-names to the streets, avenues, roads, paths, and trails of Gichi Kiiwenging (Toronto) – transforming a landscape that often obscures or makes invisible the presence of indigenous peoples."
The Ogimaa Mikana (Leader's Trail) project began at the height of the Idle No More movement as a means of reclaiming and renaming streets and places in Toronto. As Hayden explains it, the idea has been to create visible and provocative interruptions in the urban landscape.
The two ways Hayden and his team reinsert Anishinaabe language and culture into Toronto are done by 1) taking the literal translation of the place name and using the Anishinaabemowin name, and 2) reinterpreting a place name to disrupt the normative physical cityscape.
At Spadina, for example, the original Anishinabemowin name replaced the Anglicized street name (see picture above). Ishpadinaa literally translates to "little hill" or "place on a hill" which makes a lot of sense when standing at College looking north up 'Spadina Avenue' or even south to the water.
On Queen Street the team chose to replace 'Queen' with what they ended up titling their project, Ogimaa Mikana, meaning 'Leader's Trail'. The reason for placing the 'Leader's Trail' on Queen Street may not need explaining for some; It did for me however, because like many residents, I took this street name at face value and had associated it with the space it occupies now, 'The Fashion District'. This name became a part of my everyday, blended in, and I didn't take the time until recently to question its origins.
It makes perfect sense then to dethrone the cross-Atlantic monarchy, temporarily at least, and replace the space with a tactile homage to local indigenous leaders making real change on our lands. This piece was installed the day Chief Theresa Spence ended her fast to honour her and all the women leaders at the forefront of the Idle No More movement. It was an act of solidarity.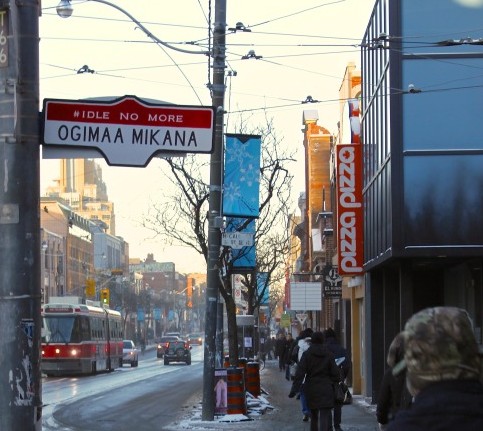 The final piece I would like to highlight here is the plaque replacement at Queen's Park. After the Anishinaabemowin text the English is provided in a poetic stanza reaching out to Torontonians;
"Toronto (Place Where the Logs Flow)
We all live on native territory
Our Anishinaabe land
Welcome to our community
How do you recognize it?"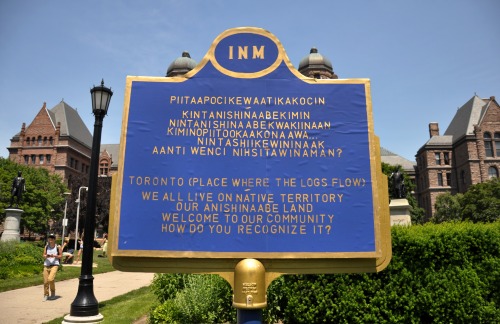 Ironically as they were installing this artistic voice of interruption, Queen's Park security asked them to leave saying if they didn't they would be arrested for trespassing.
I would like to leave you with that thought with the hopes it strikes a chord with you, especially if you are a non-Indigenous person living in this beautiful country.
This series has been heavily influenced by the many talented, determined, and wise indigenous activists, artists, academics and friends who ignite a fire in me to dig deeper into our true history, recognizing colonialism is still pervasive today, and to take steps to decolonize a practice I have been privileged enough to belong to.
A huge thanks to Hayden King for taking the time to share this story with me.