I recently met up with David Miller, the President & CEO of WWF-Canada, the Canadian division of the international World Wildlife Fund. Canadian urban buffs (and Toronto residents) may recall that David Miller is a former Toronto city councillor and mayor of Toronto from 2003-2010. During his term in office, Toronto became internationally admired for its environmental leadership, economic strength and social integration.
The purpose of our meeting was to discuss the WWF's current Go Wild campaign. The campaign is inspired by the idea that nature isn't only a far-off place or pristine wilderness, but something we experience and benefit from every day. I met up with David on a warm spring afternoon and took him to visit Habitat Island, Vancouver's newest wilderness oasis and my favourite place to "Go Wild" in Vancouver.
Habitat Island: False Creek's Wildness Oasis
On our way to the island we strolled through the adjacent Hinge Park. This park was created as part of the 2010 Winter Games Athlete's Village in Southeast False Creek. Hinge Park includes a naturalized wetland that acts as a "kidney for the neighborhood," cleansing storm water runoff before it reaches False Creek. The wetland also provides a natural habitat for a variety of native plant and animal species.
We then made our way across the busy bike and pedestrian paths to Habitat Island. What makes this piece of wilderness in the city unique is that it didn't exist seven years ago. The half acre island was built with 60,000 cubic meters of rock, cobble, gravel, sand, and boulders excavated during the construction of the neighbouring Olympic Village.
While it was a foundational aspect of the design of Southeast False Creek, the impetus for Habitat Island actually came from federal government policy. Prior to the development of the Olympic Village the shoreline in False Creek veered right into the centre of the development. In order to create space for a public plaza and some of the buildings, part of the creek needed to be filled in.  The catch was that, under federal government regulations, any shoreline that was lost to development must be made up for at another site. The answer in this case was to create Habitat Island.
Like the nearby wetland, Habitat Island was designed to attract a variety of native plant and animal species. It includes vertical snags for local and migratory birds, and a natural shoreline for a variety of waterfowl and fish species. And it's working! As a result of this "natural infrastructure," wildlife are returning to this once barren industrial site. Bald eagles have been seen perched on the snags, herring are spawning for the first time in several generations, and there have been several otter sightings, and even a visit from a wayward beaver.
The Importance of Connecting with Nature
During our walk, David shared many observations about the importance of nature in our cities. He is a strong advocate of getting outside, and believes that "going wild" is an important part of fostering a greater respect and a stronger sense of responsibility for nature. He noted that most "Canadians are environmentalists in their hearts, but need to connect to nature with their heads." This is why it is important for us to "go wild" to actively participate in nature and "get our hands dirty. "
However, this is only a first step. While David was an admirer of how Habitat Island brought nature to a former industrial part of our city, he believes that what is needed next is programs that help people actively engage with nature and co-create more natural spaces in our cities and towns. This is the motivation behind the WWF's Go Wild campaign.
Go Wild is a national program that invites people to share their best ideas for getting their community involved in helping nature thrive. It is based on the premise that the more we get involved with nature, the more we understand how it needs our help. When Canadians experience nature and conservation within their community, it inspires a deeper connection to nature that inspires future actions and decisions.
How Will You Go Wild?
This spring, World Wildlife Fund-Canada is inviting Canadians to share their best ideas for getting their community more involved in helping nature thrive. Let the WWF know what makes you feel most connected to nature on Facebook and Twitter, using the hashtag #wwfgowild.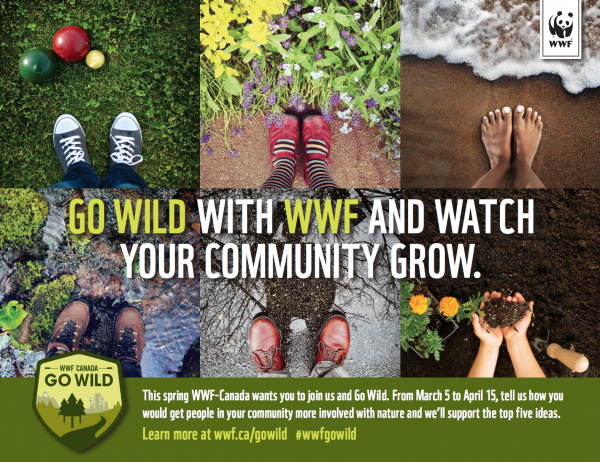 From March 5 to April 15, Canadians from coast-to-coast, from eight to 80-years-old, are invited to Go Wild with WWF-Canada for a chance to win recognition and cash. If you have an idea for a project to mobilize people in your community to help nature thrive, but you need a hand getting it off the ground, submit it to wwf. ca/gowild. All submissions will be evaluated and the top five ideas will be awarded a micro-grant of up to $1,000 to help bring their idea to life. All you have to do is apply online and tell the Go Wild team what YOU would do to connect people and nature in your community.
***
***
Yuri Artibise is a public policy analyst and social media specialist. Through his Yurbanism brand, he explores the 'Y' of urbanism by sharing ways to make our cities more livable, community-oriented places one block at a time. He works with SFU Public Square, a signature initiative of Simon Fraser University designed to spark, nurture and restore community connections.