Hot drone action! White water torrents! Underground rivers! An urban region of six million people and more coming!
We need your help to tell an exciting story.
I've been walking the GTA's ravines and the Lake Ontario shoreline a lot this past year filming a documentary called Accidental Parkland. Prior to doing this I thought I knew the ravine system here but the more time I spend in them the more I appreciate not just how vast they are, but how critical they are to sustaining life in this part of Southern Ontario. I'm working with producer Dan Berman and we have a modest commission but our ambitions are bigger and we want to do justice to this story. Climate change, resiliency, mental health and equity issues around who has a right to accessible green space are just some of the angles we cover on top of all the geography. And there's so much geography. This is also a Canadian story we're telling, and what happens in the GTA relates to other urban areas across the country where, arguably, 80% of us live. Here's how you can participate:
1> Please click here and take a look at our 4 minute long teaser video and see some of the great drone footage and interviews we've been able to get thus far. I promise you've never seen Toronto like this before. While there read Dan's case for why you should consider supporting us. There are many Spacing-related incentives you might like too. If you can't help financially, sharing this project as much as you can is appreciated. We've found an incredible network of people who are passionate about these urban Canadian places, and need help reaching more.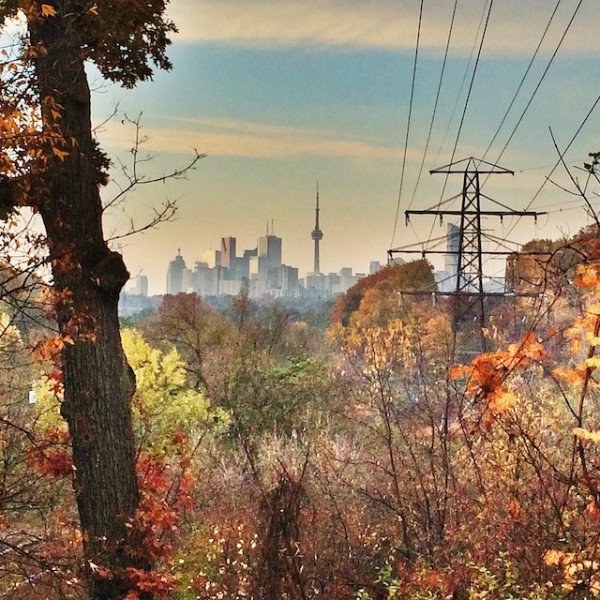 2> Come visit us this Saturday June 6th at the Evergreen Brickworks as we're collaborating with =DUDEMAN= to produce a large-scale, graffiti-styled sidewalk chalk map of Toronto's Ravines for 100In1Day Toronto (and event that takes place in four Canadian cities). Join us in the Holcim Gallery between 9am and 4pm. Walk around on a big map of Toronto that emphasizes the ravine spaces. Interact with the artist and the map and add your own mark to it. Chalk in your favourite spot, your bike commute to work, or the places you want to visit and help us create something beautiful and reflective of the people in this city.
See some stills from the Accidental Parkland documentary below & thanks for considering this project.
Shawn Micallef is a Spacing senior editor.