As an architect on vacation, one does not travel merely to escape the ennui of change orders and field reviews. Time spent abroad in another city is an opportunity to witness firsthand the delicate balance between human activity and its constructed counterpoint, and how this interaction becomes physically manifest in the way a particular city is built. With six years now having passed since I wrote my last Spacing travel piece Notes on Barcelona, this latest piece is an update on how the European city continues to be the site of progressive urban experimentation, as evident in both its innovative architecture and infrastructure.
When one then first thinks of Holland, one imagines fields of tulips and windmills. Next as an urbanist, one is amazed at its successful integration of bicycles into its road systems. And then lastly as an architect, one is drawn to its being the home to some of the most innovative offices in the world, among them OMA and MVRDV.
Traveling there in August, the tulips were out of season, and while there remain many of the romantic windmills dotting the landscape, they are mostly relics of the past, like the barns collapsing beside the road as one travels through our equivalent Canadian landscape. The real heavy lifters on the landscape today are the numerous wind turbines one sees traveling on the freeways, with a large number of them clustered around the airport at Schiphol. Rem Koolhaas himself has said that the winds in Holland are strong and not to be taken lightly, and as it turns out they are also a tremendous source of renewable energy.
As it turns out, Holland is not so unlike the rest of those European cities that have taken positive action to limit vehicle traffic and encourage cycling in the urban cores. Bicycles are being used everywhere on the requisite 'red' paving at the peripheries of the roadways, with both scooters and bicycles sharing this lane, while cars and pedestrians are separated from each other by the bike lanes. What distinguishes Holland from the rest of Europe though is that one can also use the canals to get around. With some properties having their backyards defined by a canal, it turns our North American tradition of backyard laneways on its head by upping the infrastructure ante, with converted boathouses instead of garages.
And while witnessing how cars share the roads with bicycles, insofar that they stop for them in traffic circles to let them pass, what was truly astonishing to see is how at ease people are with using them to get around. Bicycles of every shape and size, with long baskets in the front, or seats for toddlers on the handlebars, with the only ones wearing helmets being those cyclists going long distances at higher speeds. The everyday public has embraced the bicycle wholesale as a leisurely means to get around, so much so that in the larger urban centres like Amsterdam and Rotterdam there are bicycles parkades, and they are always full.
Perhaps what was most progressive though was that they have no obvious formal bike share program like Vancouver's freshly minted (and long-time coming) Mobi system. That is not to say that bike share programs are not there – they are, but just invisible to the tourist, who is able to rent a bike for the day from multiple vendors (including the hotels) for the same price it would cost to rent one in New York, Paris, or London from their bike share systems.
With the majority of the country's 17 million people calling Amsterdam and Rotterdam home, these cities are a must see while visiting the country, though one should not also pass up the chance to see smaller cities like the Hague, Wassenaar, and Leiden, the latter of which has a major university. With a tap on/tap off transit card system now long in place in Holland, one is able to seamlessly go from bus to train to streetcar. And simply by keeping a minimum of 20 euro on the card at any given time, one can travel between all the cities in the country, and then use the same card to get around in the cities themselves on the buses and streetcars.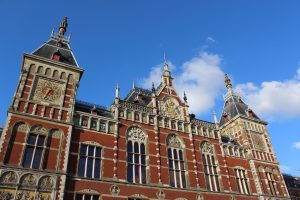 Not surprisingly, both Amsterdam and Rotterdam have a world-class selection of museums, parks, and streetscapes to visit. In Amsterdam, the visitor by rail arrives via Centraal Station at the north of the old medieval centre. The train station is itself an interesting amalgam of new and old architecture, with the canopy covering the train platforms a massive modern assembly of coloured glass and steel, while the main station itself consists of its original Gothic/Renaissance Revival structure, which opened in 1889. Sitting between the IJ lake to the north and a massive streetcar interchange to its south, it provides a fitting grand entrance to the city.
With no visit complete without a walk by the city's cafes, Royal Palace plaza and commercial high street, one should also not miss Vondelpark and the three museums that provide its impressive architectural backdrop. It is also here where one will find the famous 'I amsterdam' sculpture, most certainly one of the city's most famous photo moments (and now selfie spot). Here as well one finds the Rijksmuseum, home to one of the world's largest collections of Dutch masterworks, including Rembrandt's Night Watch which is the museum's main event, given centre stage in the museum's main gallery much as Mona Lisa enjoys in the Louvre. And across the park are two other museums that sit so close to each other they almost touch – the Van Gogh Museum and Stedelijk, the latter fondly referred to by the locals as the 'bathtub'.
While the Van Gogh museum is itself a combination of the original structure by Dutch architect Gerrit Rietveld and a recent addition by Japanese architect Kisho Kurokawa, the Stedelijk is Amsterdam's MoMA, and much like its neighbour it too is a combination of new and old architecture. Like Daniel Libeskind's addition to the ROM in Toronto, the architect here intended a severe juxtaposition between the original 1895 neoclassical brick structure and the new 2012 addition, as the new 3000 square metre façade that fronts the park is a jarring statement of nearly windowless modern architecture that has nonetheless been embraced by the city and its residents.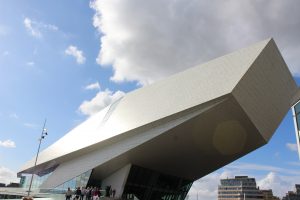 Another new addition to Amsterdam's collection of museums is the EYE Film Museum, devoted entirely to modern cinema and sitting on the north side of the IJ river, across from the Centraal Station. This area of the city, which has historically been home to several port industries and buildings, is presently going through a massive redevelopment. With several multi-family residential developments currently underway, recently completed cultural institutions like the EYE will soon find themselves surrounded by a sea of low-rise and mid-rise towers. And finally, there is the nearby NEMO, the green copper clad science museum designed by Renzo Piano in 1992, which has a south-facing open roof space that one can access through a very long public stair.
While Amsterdam itself can, at times, feel claustrophobic, given the massive amounts of people walking and biking through the old medieval streets, Rotterdam in contrast is the epitome of openness, having been more or less rebuilt from scratch after it was all but erased during the Second World War. With its impressive new Centraal Station having received a facelift, its location in the centre of the city has allowed for a central canal to be built with a generous cross-cut of other uses, including a surface streetcar network along with bike and walking lanes. Lined now with new residential towers running south from the station to its cultural quarter, one finds there the city's main art gallery – the Boijmans van Beuningen – sitting next to the Het Nieuwe Instituut, the Netherlands national centre for architecture.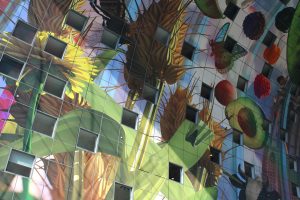 Like the CCA in Montreal, the Instituut is able to show multiple exhibitions in its galleries, and boasts one of the best architectural bookstores in the country. Hieronymus Bosch, Rembrandt, and Van Gogh are all featured in the city' main gallery next door, and several modern artists are here also including Picasso, Warhol, and de Kooning. Mere steps away from this cultural district, running perpendicular to the city is the langstraat, or high street, which has been built entirely for the pedestrian, with not even bikes allowed, and leads to the city's new Markthal, built in an area of the city that is a definite architectural high-point. With its bold barrel vault shape of residential units mixed with open market space, Markthal—designed by well-known architects MVRDV—sits in Rotterdam's bold urban landscape directly next to Piet Blom's Cubehouse.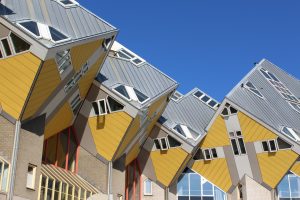 Like something out of a science fiction movie, Cubehouse has to be seen to be believed, and a tour of one unit is available (and recommended) for three euro. The architectural legacy of Rotterdam is unquestioned, as not far from Cubehouse is OMA, Rem Koolhaas's uber-office, also a quick walk away from de Rotterdam, their new addition to the southern city skyline. With this area now becoming a hotbed of new development, it has partially been made possible by the addition of UN Studio's Erasmus bridge, itself a striking piece of engineered sculpture that is kind in scale to both the automobile and pedestrian.
There is so much that can be appreciated by looking at the modern city in Holland – how its landscape has easily adapted to absorb bikes, smartphones, and electric cars, and its most visibly evident in its larger urban centres. But despite all this rapid change, in one moment in Haarlem outside Amsterdam I was humbled to see the organ in St. Bavo's cathedral which has over the years been played by the likes of Handel and Mozart. To me, it served as a reminder that a shared way of life here has persevered through much, and that things in the cafes and restaurants in the streets have not changed that dramatically despite what we might think. That people need to eat together in public remains the same whether or not it's documented on Instagram, and face-to-face social interactions will continue as before, whether the modern city is under threat from terrorism, fascism, or free wifi.
Perhaps this is then the wisdom of the bicycle—that we return to a slower means of being in the world in the full Heideggerian sense, whether we drive a car and use less gas, or ride a bike. To see so many people in Holland opting for the latter to get on with their day-to-day activities, whether or not because of a high carbon tax on fuel, the fact is that it is now a regular way of life there, and that, perhaps, little by little we too can attain the same standard here. A vacation is, in the end, a chance to get out of one's urban groove if but briefly, to be awed by how people in another part of the world go about their own daily routines with relative ease, and how we here have much to learn about how we too could change the world for the better.
***
Sean Ruthen is a Vancouver-based architect and writer.