Today we bring you the second in a series of neighbourhood photo essays by Spacing Ottawa contributor Christopher Ryan, and take a stroll along Carling Avenue. Be sure to check back to see where Chris visits next.
***
Admittedly, Carling Avenue is not the first place that comes to mind when planning a relaxing stroll on a Saturday morning. The six-lane thoroughfare tends to be noisy, dirty, and near entirely car-oriented. Much like Mann Avenue in my previous walk, Carling Avenue was once a no-man's land of sorts. Housing was sparse, there was little commercial activity, and even fewer industries were present. Indeed, until the early 1950s when Ottawa's extensive suburbanization commenced in earnest, there was little built out along this stretch.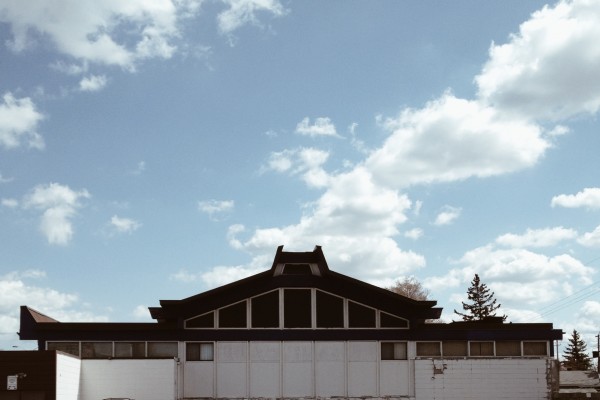 Sampan Restaurant/Ottawa Church of God (George E. Bemi, Constructed 1963-64)

After having attended the Broadview School book sale, I decided to begin my journey at the former Sampan Restaurant (now the Ottawa Church of God) at 1820 Carling. In 1961, Bill Joe and Saul Ages (who owned the Cathay Restaurant on Albert, and Sharry's on Sparks, respectively) looked at the explosive growth in the west end and saw an opportunity.  After having planned every detail and selecting a location between the city's premier shopping malls (Westgate and Carlingwood), they hired local architect George Bemi for the design. Bemi, of course, was the architect of a number of buildings along Carling already, including the Civic Pharmacy and Parkdale Medical Centre. He would also go on to design hundreds of others including the Ottawa Public Library's Main Branch on Metcalfe. For an excellent workup of the Sampan's design features, it's hard to beat the Midcentury Modernist's 2010 visit.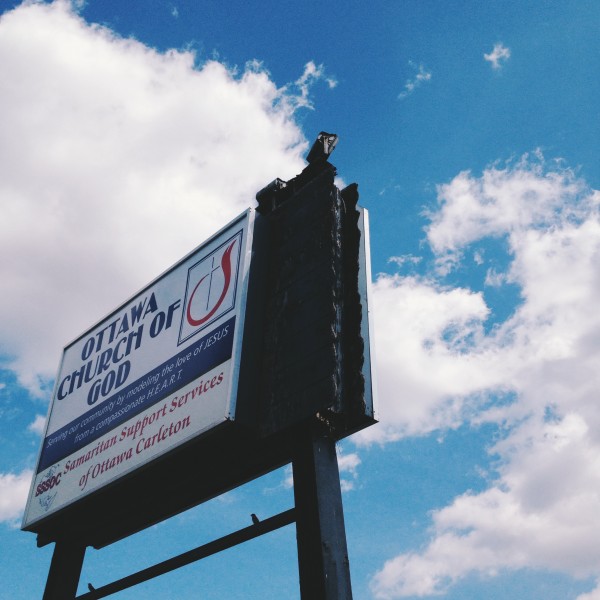 Somewhat curious to many, the Sampan Tavern pulled up their stakes by the mid-1970s and relocated to a much more subdued venue nearer Westgate Mall. Given that nearby real estate was sold on the basis of how near it was to Sampan, many were surprised. It was then replaced by the Sly Fox Cabaret Restaurant, owned first by Sol Shabinsky (of Glenview fame) and sold to Johnny "Slack Shack" Marks in 1978 when it became clear that the new format was not a financial winner. Marks re-launched the cabaret as Studley's disco, for which he spared no expense, bringing in a piece of the illuminated floor from Saturday Night Fever. Though somewhat changed over the years, you can still see and appreciate the distinctive design. A true mid-century gem.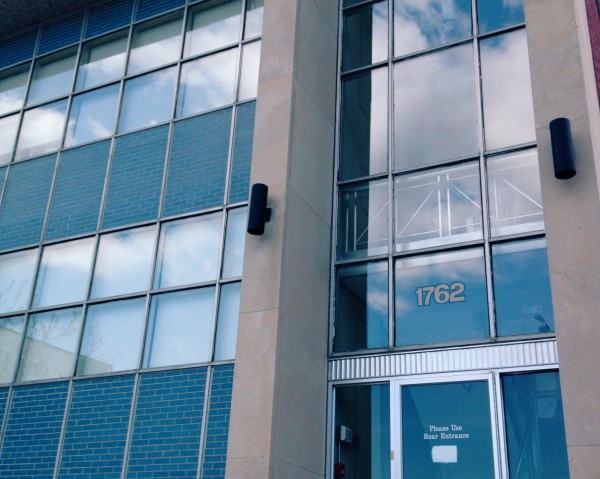 Merit Insurance Company (Constructed 1959)
In a number of cases, the explosive growth of the suburban areas did not lead to expansion, but rather relocation. The Merit Insurance Company which, quite fittingly, specialized in automotive insurance, is one example. This handsome office, complete with blue glazed brick, was constructed in 1959 for the Merit Insurance Company. The construction of the building, which replaced a single-family home, represented Merit's abandonment of the city in favour of the suburbs. Their previous office was at 73 William St. in the Byward Market. Presumably, the location along Carling was a much more convenient location to sell auto insurance from.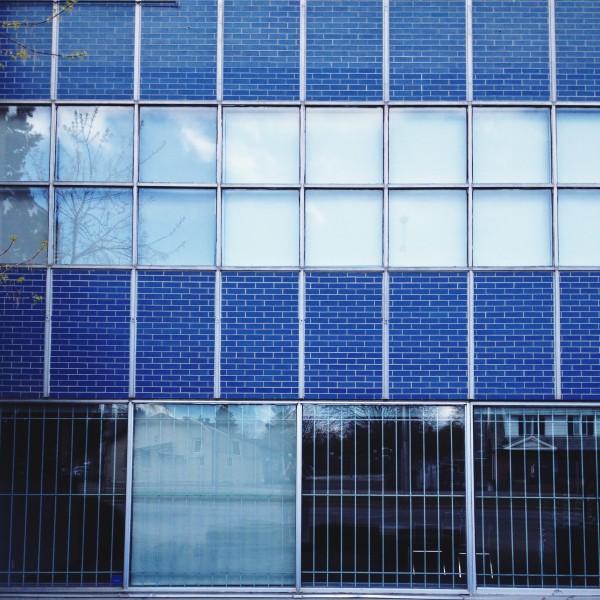 Glazed brick, Merit Insurance Company (Constructed 1959)
Merit's operations never did grow large enough to consume the entire space. Shortly after the move was announced and Merit was settled in, a number of other tenants signed leases for the space. Among them were the Hewlett-Packard Company and the Canadian Film Institute, who occupied the space for years.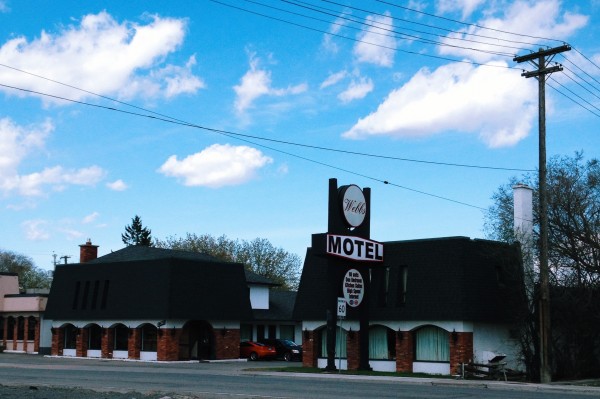 Webb's Motel (Constructed 1939, c. 1950, c. 1960)
Before all of the construction along Carling, before the Queensway, and before the endless fields of housing developments in southern Westboro, along Kirkwood, and Carlingwood (then Honeywell Farm), there was Thomas Webb's motor court, which later became known as Webb's Motel. Webb, who came to Ottawa from the coal town of Carbondale, Pennsylvania in 1918, started his motor court (simply marked "cabins" on the 1925-48 fire insurance maps) in 1939. Webb was both a member of the Westboro Board of Trade and was also – quite interestingly – a member of Legion of Frontiersmen, whose meeting hall was nearby on Clyde.
Webb died on July 27, 1959 while attending his brother Rudolph's funeral in Pennsylvania. At that point, the motel did not appear as it does today. Aerial photos suggest that it underwent a significant renovation at some point during the 1970s. The original cabins appear to have been demolished around the same time as well. As with Montreal Road, a number of pre-war motor courts along Carling remain in operation as motels today.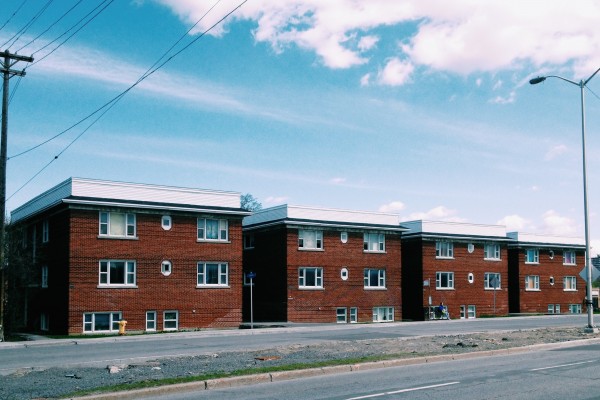 J.P. Chenier's Carling Court Apartments (Constructed 1951)
Though it may seem a suspect claim today – given the largely uninterrupted growth of the city since – it wasn't always clear that the construction of apartment buildings at Carling and Cole would be a good idea. Local builder J.P. Chenier took the risk in 1951 and constructed these four low-rise apartments as a gamble and a show of faith in the growth of the west end. His gamble paid off and by 1954, he had constructed thirteen more, bringing the development to seventeen walk-ups.
It perhaps wasn't as surprising as contemporary ad copy suggested. Chenier had already experienced considerable success selling single-family homes in City View (St. Claire Gardens) and Carling Acres (down the street around the McKellar Golf Course) so constructing apartments on less expensive land nearby was a good move.
Next, rather than continue eastward along Carling, I decided it would be fun to turn southward down Clyde and take a tour of some of Ottawa's midcentury industrial heritage.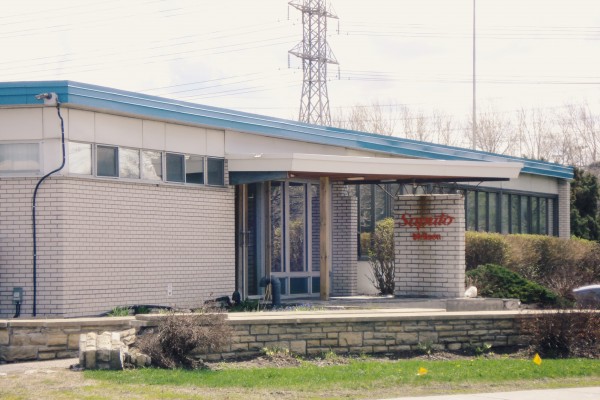 Clark Dairy (Constructed 1955)

Until 1981, when Neilson consolidated its dairy holdings under one name, Clark Dairy was the source of milk for much of Ottawa's west end. By the end of the Second World War, business was booming. The dramatically-increased birth rates and attendant demand for dairy meant that their facilities on Bronson (at Plymouth/Imperial) were quickly strained and the lot much too small for the sort of expansion desired.
In 1953, Clark purchased the eight acre site on Churchill (now Clyde) from an H.Hayes. The site, adjacent to the then-planned Queensway, was considered ideal. The 24,000 square foot plant was constructed in 1955 at a cost of $750,000 and has been expanded a number of times since. It remains in operation today, though the Clark name has long since disappeared.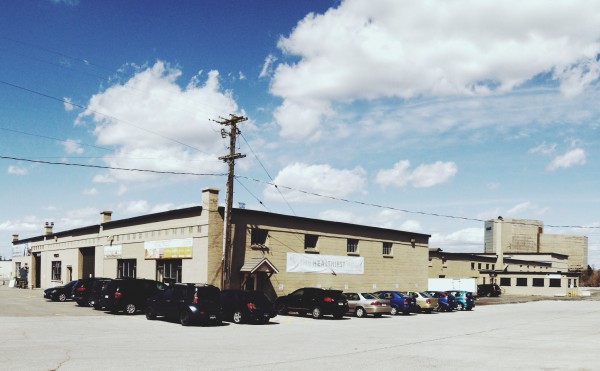 Atomic Energy of Canada – Commercial Products Division (Constructed c. 1954)
After having passed under the Queensway, I took a left on Laperriere. Laperriere is one of those delightfully interesting streets that are loaded with history and contains a mix of residential, commercial, and industrial uses. Really, a last taste of the older style of city planning was at work.
Though it is now home to a diverse variety of tenants, the building pictured above, at 1523 Laperriere, was first home to Atomic Energy Canada's (AECL) Commercial Products Branch. It was here that a number of products were developed, ranging from durable irradiated parquet flooring to the Cobalt-60 powered Theratron Juniorradiotherapy machine. The 1956 UL Fire Insurance map shows that much of the facility was occupied by an assembly floor, with the remaining space in the building consumed by a welding shop, offices, and storage. There was also a very necessary spray booth at the front of the building.
If you were to ask the residents in the homes across the street, they would have been less likely to extoll the virtues of long-lasting parquet, but rather complain about the noise which emanated from the AECL facility. It was not yet clear whether or not federal departments, agencies, and crown corporations were subject to municipal noise bylaws.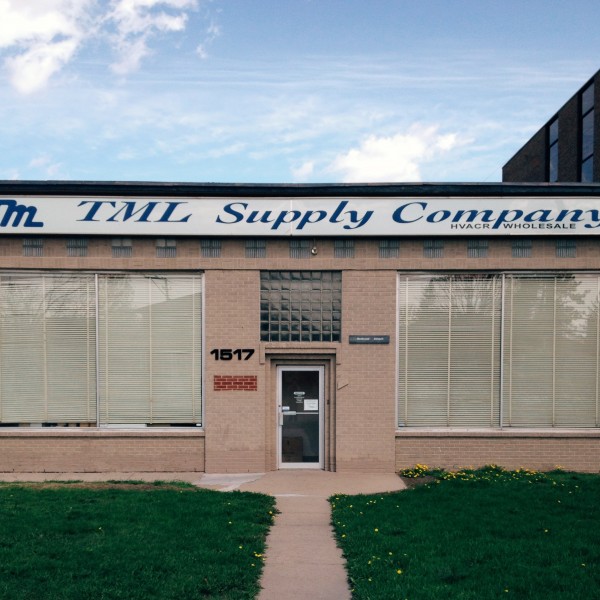 RCA Victor Company Co. Ltd. (Constructed c. 1954)
AECL's much quieter matching neighbour was constructed at the same time. While the RCA Victor Company did not manufacture their radios, televisions, communications equipment, and appliances in Ottawa, it did maintain this showroom and warehouse at 1517 Laperriere.
Departing the industrial stretch along Laperriere, I continued along Coldrey Avenue, to Kirkwood, and returned to Carling.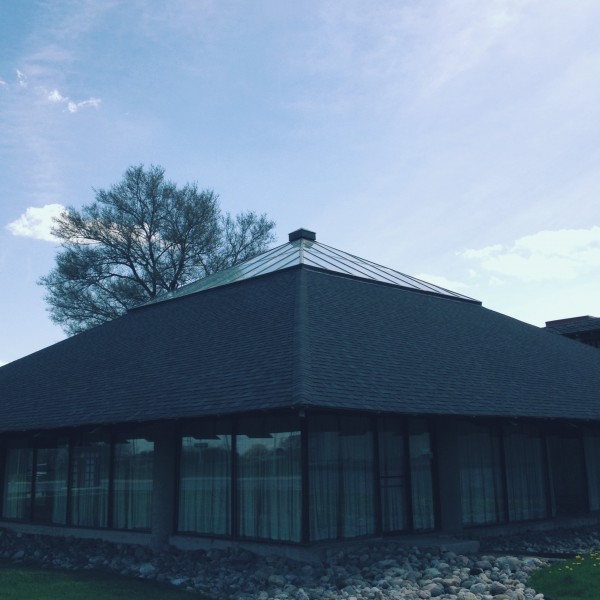 Talisman Hotel (Constructed 1963)
Lastly, in 1960, Ottawa developers Bill Teron and Harold Shenkman went on a trip to Japan and were enraptured by what they saw. As a result of this visit, two years later, the duo planned the Japanese-themed Talisman Hotel. Constructed at a cost of $2,000,000, Teron and Shenkman constructed a west end hot-spot the embodied the essence of what was hot in Ottawa's mid-century. Though it now operates as a Travelodge, the Talisman's spirit and design are readily apparent to guests and passers-by alike.
***
Be sure to check back to see where Chris visits next.
Story/Photos: Christopher Ryan