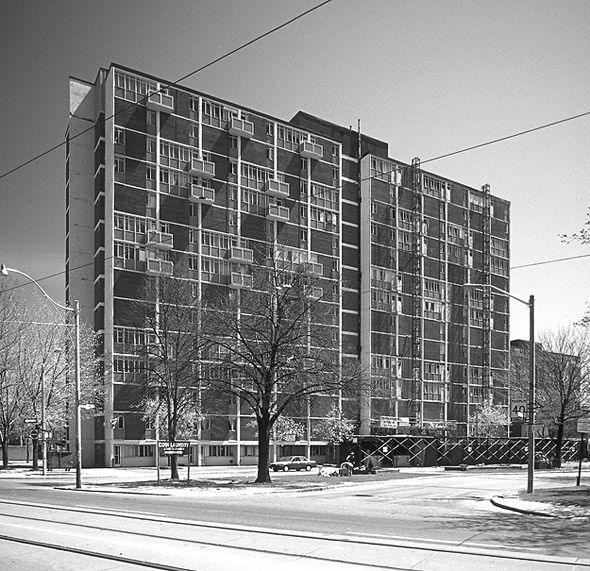 Cross-posted from No Mean City, Alex's personal blog on architecture
Terrible news in Regent Park last weekend: the killing of a teenager.
Fifteen-year-old Tyson Bailey was shot dead inside a tower at 605 Whiteside Place, on the top floor. Paramedics had to take the stairs because the elevators were not running; according to news reports it is unclear why they were not running, or whether this had an impact on efforts to save his life. Landlords Toronto Community Housing say the elevators were not broken.
However, in a broad sense this event fits an architectural cliche. 605 Whiteside is one of the highrise buildings of Regent Park South, designed by the modernist architect Peter Dickinson in 1958, with two-level "maisonette" apartments.
What did the building have to do with Tyson Bailey's death?
There is an obvious answer, which may or may not be right.
Ever since the 1950s, high-rise public housing towers – famously including St. Louis's Pruitt-Igoe – have been seen as unsafe, and as failed architectural experiments. Providing complex and layered spaces that are quasi-public, quasi-private, they contribute to a breakdown of community, so the argument goes. They close off defensible space and eliminate the "eyes on the street" of Jane Jacobs-ian theory.
This was the logic behind the destruction of Pruitt-Igoe in the 1970s, an event that a prominent critic tagged as the moment when "Modern Architecture died." The architecture has taken the blame. Recently scholars have challenged this idea aggressively. Yet the Projects – as in Chicago's notorious Cabrini-Green towers, demolished in the 1990s – are synonymous with the problems of American public housing. They are disappearing, literally, into history, being replaced by low buildings that follow New Urbanist ideas. That is to say, houses built to imitate those of a hundred years ago, plus strip malls straight out of a 1980s suburb.
In Toronto the situation is similar but complicated. The Regent Park towers face elimination, but the entire neighbourhood is being replaced by new buildings which are tall as well as short, mixed economically, architecturally and formally. It is a very large and extremely ambitious project. And its new buildings do, absolutely, reflect the critiques of the first "projects."
Last year I spent some time visiting all of the new buildings to date for Canadian Architect. "Its urban planning success, both in terms of social and economic development, will depend on the skill with which the builders bridge the gap between its massive scale and the fine grain of its architecture and streetscape." And, I wrote, the results so far are good: full of good urban design, environmental smarts, community-building institutions and activities.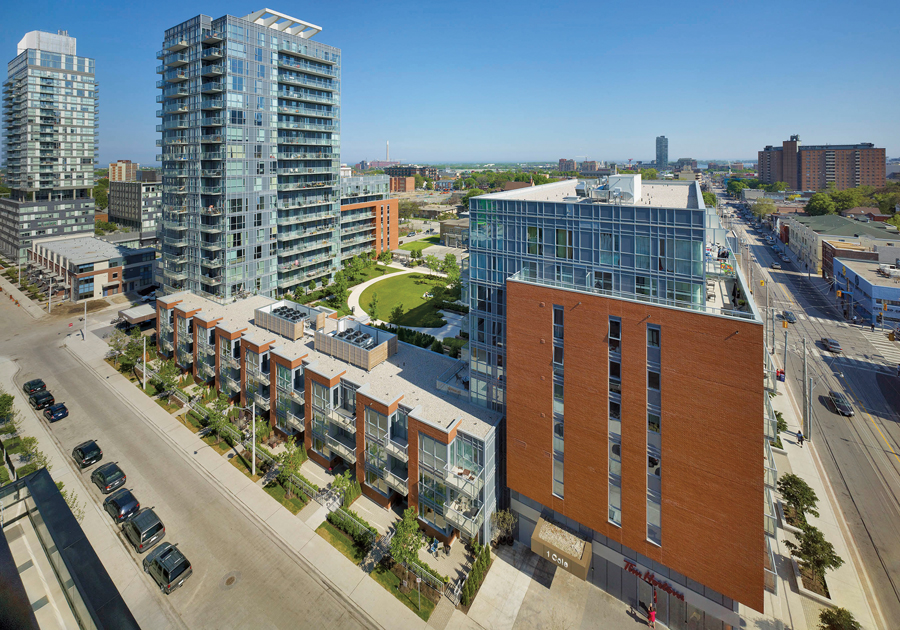 One Cole, a market-rate condo building by Diamond Schmitt (photo above), combines retail along the sidewalk, townhouses on a side street and well-planned entrances and green area. There is no dead space.
The Dundas-Sackville buiding, created for TCHC tenants by ArchitectsAlliance, uses similar strategies.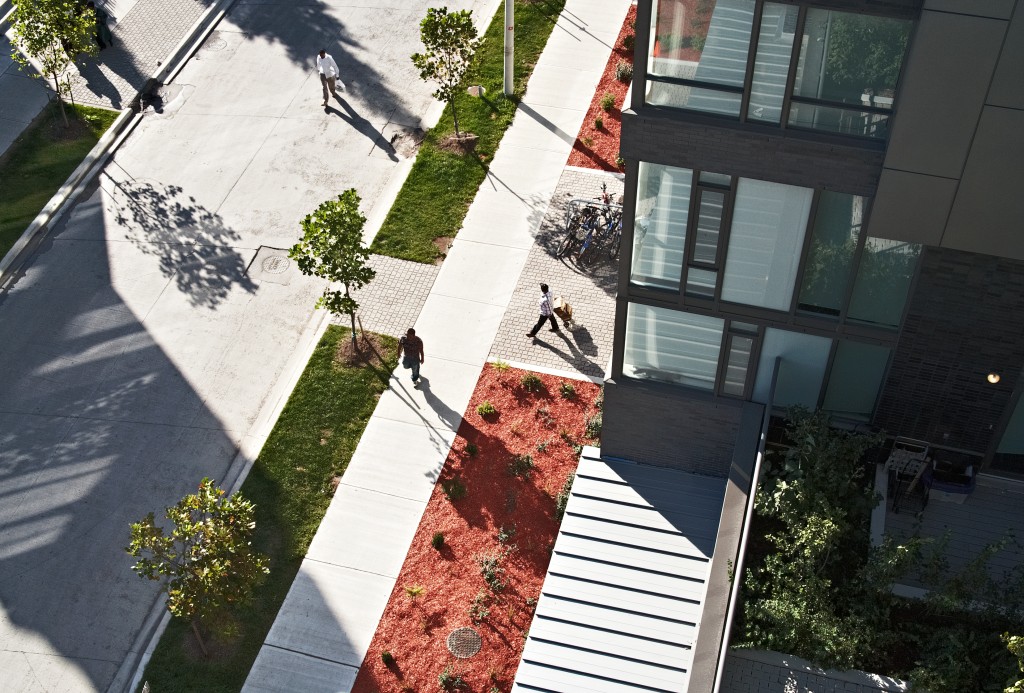 And the highrises of Regent Park South are, as of now, slated for demolition, in a new phase of the Regent Park project that will likely go ahead in 2014. One of them, 14 Blevins Place, is "under review," according to a TCHC spokesperson.
My question: Is it necessary and wise to demolish them?
I would rather see most of them adapted and updated, to preserve their (quite beautiful) forms and to remedy their urbanistic flaws. I suspect it can be done with careful renovations of the ground level and public spaces.  John Bentley Mays has seen them inside, which I have not, and sees potential in their apartments.
It would be better to retain some evidence of the 1950s and '60s, which shaped this area, than to erase them completely.
I hope TCHC will work hard to do so. I doubt that will happen, though. The cultural baggage is too great, and the death of Tyson Bailey – who by all accounts "was a good kid" – will not help.
One final note: Tyson Bailey did not live in the building where he was killed. Neither did the two young men who were killed in the same building in 2012, in the lobby. Did their killers? Who knows? But the building did not kill anyone.