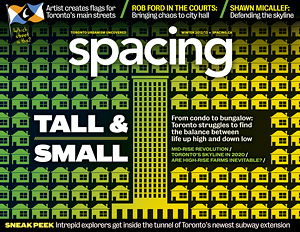 This article appears in the current issue of Spacing available on newsstands across Canada
In the east end of Toronto, between Coxwell and Greenwood Avenues, there's a place called "Tiny Town." The neighbourhood name might not show up on a map, but if you travel up and down Craven Road you'll realize that the area is truly the epitome of modest living.
On Craven, you'll find the largest collection of single houses under 500 square feet in the city. You'll also find the longest wooden (and municipally maintained) fence in the city. Jack Ridout, a real estate agent whose family grew up on the road, says this arrangement draws a certain type of personality — one that doesn't care for across-the-street neighbours peeking into front rooms at night. But those who move in get a lot more than seclusion; these houses come packed with over a century of history.
Craven Road was once known as Erie Terrace, but before that, these lots that now house tiny buildings were attached to the back of properties on Ashdale Avenue — properties that used to extend back from the road over 140 feet. Ridout says those who lived in the houses gave people materials to build places at the back of their lots. When there was a dispute over whose land belonged to whom around 1910, the City stepped in, expropriated the land, and created a tiny road between the houses on Ashdale and the rear lots. Those lots became Craven Road, and a fence was constructed behind the Ashdale houses.
At the beginning of the 20th century, the road was home to bricklayers, manual labourers, and a large population of impoverished residents. It was a boarding area with cheap rent and a high turnover rate. Rent parties were frequent — couples who had to pay rent would hold a party the night before and hope everyone bringing a quarter would be enough to cover it.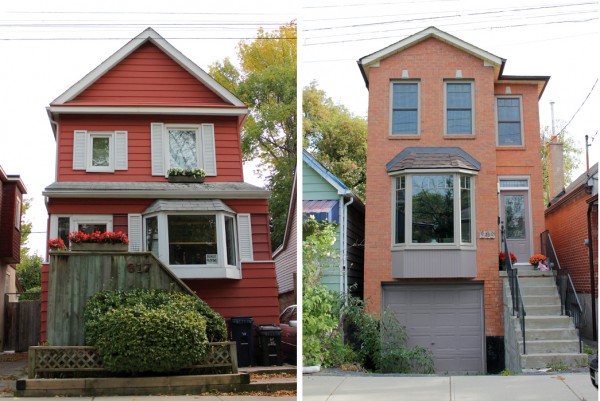 The area is now home to people from all walks of life, including people in the film and art industries (and at least one neuroscientist). The one thing that hasn't changed about the neighbourhood is that some strange force exists between the people who live on Craven Road, holding them together, as though the fact they all live in similar sized houses makes them more than just neighbours, but instant friends. The term "Tiny House Society" has even been thrown around, effectively making everyone on Craven members of the exclusive group. The voices of people saying hello and speaking with one another is common background music while walking down the street. So are the voices of real estate agents, leading anxious and intrigued couples into what look like modern cottages plopped down into the heart of a thriving city of condos.
Another common trait of the road is construction. Many people who have moved into tiny houses on the tiny street have decided to tear down their houses completely and start over from the ground up. With small lots, there isn't a lot of room for expansion, but some architects have taken it upon themselves as a personal challenge to create the most innovative, modern, desirable designs despite the restrictions. Other people simply choose to add another floor on top of their house. Standing on the sidewalk looking up is interesting — many houses stand at similar heights, and others seem dizzyingly tall in comparison.
Lisa Nabieszko, a social media consultant at Your Story Here, said the community is one of her favourite things about living on Craven Road. She's at the bottom between Queen and Dundas and has now been there for 12 years. "I've lived downtown for 30 years and this is the first neighbourhood where I have known all of my neighbours," she said. Living in a small space seems to be her cup of tea.
"I don't think more is better. If I wanted more, I would have bought [a house] in the country," she said, "but then I wouldn't have had all the access to the city services that I love, like cultural events and easy transit and…non-dependence on cars and all of those things that are great about living downtown."
A single mom, Lisa lives with her daughter in the 800 sq. ft. house. At the time she bought it, the house was the second cheapest for sale in the city. "I've actually been quite fascinated by the tiny house movement," she said. "Sometimes even this amount of house feels like more than we need, just me and my daughter."
The road draws interested spectators wanting to see what a bunch of tiny houses look like together, and it's sparked more than a few discussions. As Toronto continues to be surrounded by more and more condo buildings, it is fun being reminded that somewhere near these gigantic high-rise buildings lives a world of little spaces. Craven Road and the Tiny House Society have managed to prove that a few hundred square feet is more than enough space to live comfortably — even among rooms full of history.