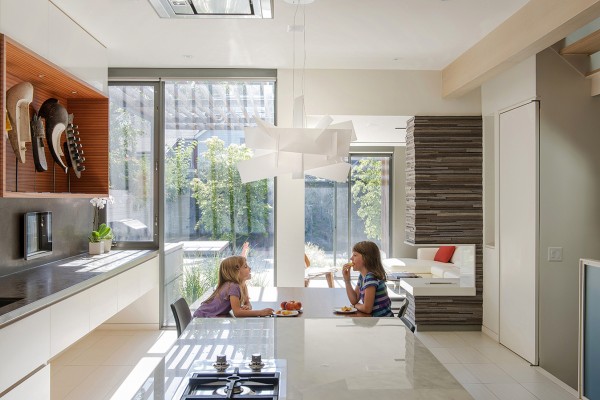 Cross-posted from No Mean City, Alex's personal blog on architecture
Today, every good architect pays tribute to the idea of green building. This can mean high-tech systems (geothermal energy, which draws heat up from deep in the earth), or the green version of conspicuous consumption (solar panels). But sometimes it just means smart design, attentive to the movement of light and air, and modestly sized buildings. That's true for this house by Dubbeldam Architecture and Design , which I just wrote about for Dwell.com. Dubbed Through House, it's a 1,450-square-foot Victorian in the South Annex on a shallow lot, built for a doctor who doesn't own a car.
Heather Dubbeldam and her team oversaw a finely detailed contemporary renovation that benefits from a skylight, a carefully positioned trellis for shading, and beautiful integration of indoors and outdoors. (As well as serious insulation and a radiant heating system.) It is also, I think, very beautiful. Read more here.
Photos by Bob Gundu.