Today, the University of Toronto revealed its plans for One Spadina Crescent. The historic property is well known to Torontonians: more than 55,000 people circle the handsome Gothic Revival building on streetcar and car trips through the city. But despite its storied past — the site was built as a theological seminary, as was later a military hospital for World War I veterans, a factory for penicillin and polio viruses, and a eyeball bank — few people have had the opportunity to spend much time inside its grand halls.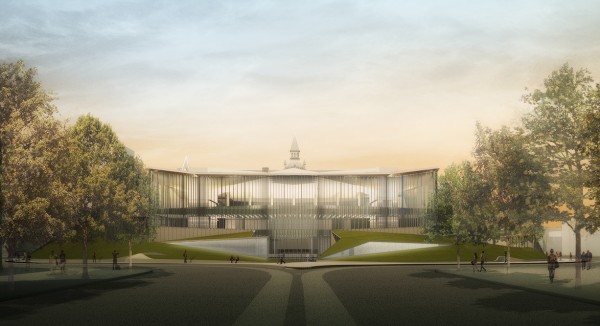 This will soon change. By next year, the heritage building and the unique circular piece of land that it sits on will be the new home of U of T's John H. Daniels Faculty of Architecture, Landscape, and Design. One Spadina will be revitalized (ERA Architects are the preservation architects for the project) and will be transformed with a new contemporary addition on the north side designed by Nader Tehrani and Katie Faulkner the firm NADAAA (The new addition is scheduled for completion in 2015).
Personally, I've always felt that One Spadina has never really lived up its grandeur: it's the visual focal point as you look north or south on Spadina; the traffic circle takes you past modest homes, CAMH, the curving North Borden Building, and Lord Lansdowne (the coolest-looking public school in the city). With this move, U of T's Daniels school of architecture will give the area an anchor and focal point it so richly deserves.

The project will serve to provide bigger and better accommodations for architecture, art, landscape, and urban design students and professors. But just as importantly, the new site is being designed to engage the broader public by providing a large principal hall, a gallery, and pavilions, where new technologies to visualize future urban design ideas will be employed. Outside the building, the fence that encircles much of the site will be removed and pedestrian access will be restored. Meanwhile, the main east-west hallway has been conceptualized as an extension of Russel Street.

More than ever students and professors see Toronto as their laboratory to experiment with new ideas in city building, and more than ever, design education involves increased collaboration with those outside the walls of the traditional educational institution. The hope is that One Spadina will be a hub for discourse on Toronto urbanism, where some of the most pressing issues we face today — from climate change to poverty to transportation systems — can be debated and discussed.