As many Spacing readers know, I have a deep love of maps (both reading and making). And I also have a deep affection for Willowdale, the North York neighbourhood where I grew up. So it was exciting when the curators of the art exhibition "Oh Dear" approached me about contributing to the site-specific show in "downtown" North York.
My installation is called the "Willowdale Transit Authority" and is conceived as a fantasy subway map for Willowdale as if it were a booming metropolis (the map is 12-feet wide, 7-feet high). I used some of the most distinct features of Willowdale — parks, schools, landmarks, plus former civic leaders — as inspiration for the lines that make up the subway network. I included every elementary, middle, and high school in the neighbourhood, as well as every park and parkette, with the exception of Silverview Park (I just couldn't logically fit into the Parks Loop Line). I made every attempt to situate each of the "stations" as close their actual location.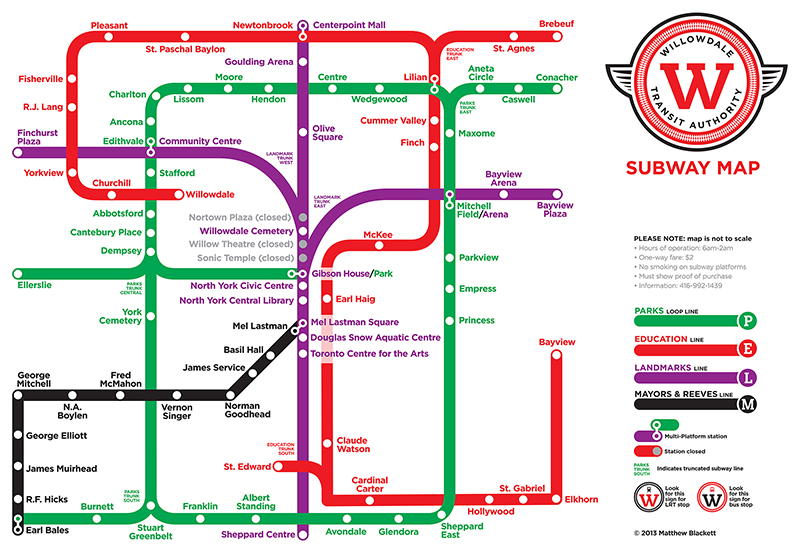 To see a large version of this map please follow this link to the Spacing Flickr account.
When I showed the map to my high school friends (carpe diem, Earl Haigers!) they proceeded to debate the boundaries of Willowdale with me (those that lived outside of my definition took great, and sarcastic, offense). My boundaries for Willowdale are more historic in nature: Highway 401/Sheppard to the south, Steeles to the north, Bathurst to the west, and Bayview to the east (Canada Post's Willowdale includes Bayview Village, Bayview Woods, and all areas east to Don Mills Ave.).
The map is located on the lower level of the North York Centre, near the bottom of the escalators, and attached to the exterior of the Metrolinx regional office (which is a wonderful coincidence).
During the map's installation — and subsequent visits to the site — many people have stopped to explore the map. Some get the idea right away; others are totally confused and think the map is the real deal. I had two Metrolinx staffers tell me they spent 10 minutes staring at the map wondering whether it was a plan for the future (this was both funny and shocking: as employees of the GTA's transit projects wouldn't they know the answer to their own question?).