In response to Christopher Hume's piece on Jennifer Keesmaat's concerns over the proposed Mirvish+Gehry development, I would like to raise a few concerns of my own. However, it is important for me to first recognize the fact that I can easily relate to both sides and empathize with their positions, from the realistic worries of the city's chief planner, to the desire for great architecture from that of a prominent, local architectural critic.
I fully agree with Keesmaat that the infrastructural issues that could arise from such a large-scale project need to be more thoroughly investigated, both from a city services perspective as well as at a more human scale in terms of street life, livability, and social patterns. There are also the heritage concerns of the warehouses slated for demolition if the project is given the go-ahead, in addition to the collective cultural memories and meaning given to the Princess of Wales Theatre that would be lost with the building of what would surly become Toronto's 'Grand Project'.
Yes, wood beams alluding to the industrial past of the site may be seen as "trite," as Keesmaat puts it, but this only speaks to the surface level of visual, cultural history. The heritage issues alone could be worthy of public outcry, but heritage aside, the site is also currently home to an active and thriving theatre, one that any other Canadian city would be happy to have. So with those concerns on the table, I would support Keesmaat in her belief that, "A much more significant contribution to the public benefit would be required for a project of this size." But to this I will come back later.
From Hume's perspective I also fully agree that Toronto is, indeed, a city on the cusp of greatness. But Toronto may also be a city which is suffering from being a little too "Canadian" in its architectural politeness. And this politeness or timidity is perhaps what has led to the numerous monotonous glass and steel condo towers being erected across the city at breakneck speeds – and often with little to no fuss from the public. Then comes along a project which promises a real sense of architectural identity and everyone freaks out. It blow's the architectural enthusiast's mind, not to mention some of the critics.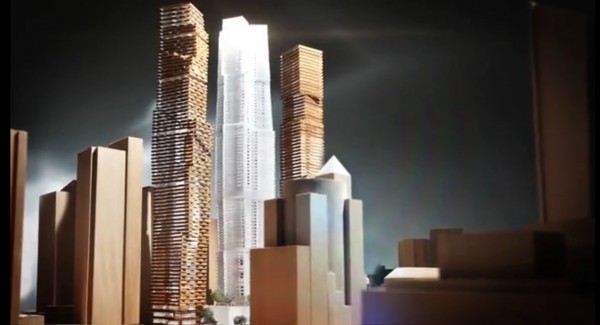 It all seems to be too unfair to the architecturally hungry, those starving for some new interest in the fabric of the city, that we could be offered Frank Gehry on a silver platter and turn our noses up at him. Our palates must be too bland and may cause us to miss out on the opportunity of a city's lifetime, according to Hume, who has stated, "How sad that a city awash in countless nearly identical glass towers and heritage buildings reduced to a facade would fail to grasp a unique opportunity to do something truly remarkable, something that would turn heads around the world and help bring Toronto into the 21st century." But the question is, what is the relationship between the form of Gehry's proposal and the function of the city, especially along the strip of King Street which it will front onto.
And thus my own concerns come more from the bigger picture of what is being said by this project both to the worlds of architecture and city building as well as specifically to and about Toronto. For what it all comes down to is the idea of architecture as icon. Yes, built pieces of architecture can become iconic when given meaning by their users and viewers. Yes, architectural structures can be designed in such a way to ensure that they will have a large visual significance, usually through sheer scale or a drastically contrasting form from its immediate surroundings and context. And yes, these pieces of architecture can give a city a sense of identity and encourage tourist to flock to them, but in this sense, these buildings usually come to be more of an attraction than a meaningful piece of the greater city. They become monuments to themselves and themselves alone.
And this is what I fear when I hear of an architectural project being sold on the idea of the architect, as opposed to the emphasis being placed on the actual design. The case-in-point is that for Gehry's proposed towers little has actually been seen of the design plans, save for a few models, and with it being evident that the design is still very open to being changed. We are being given eye-candy models and renderings, including an animated film, which serves more as a promotional video for the city than the project itself. And so what we are ultimately being sold on is a massing model and the name of a starchitect, or better yet, a "home-town boy."
And with this brings the risk of building a Toronto based off of the idea that to be a great city you need at least two Gehry's, a few Liebeskind, and at the very least a Calatrava archway and bridge. This is not meant to discredit the merit of these great architects and their work. I am personally a huge fan of Gehry's subtle and elegant addition to the Art Gallery of Ontario and was disappointed by comments that it may not have been a fitting enough homecoming for such a great "Toronto" architect. But it is worrying when a city starts to brand itself through architectural "icons", especially when a building is considered to be an icon simply because it has been built by one of the greats, and most likely is extremely loud. Yes, there is a time and place for that, but when a project is sold on this idea of icon alone, which is very evidently the case with David Mirvish's plans for Gehry, as Mirvish seeks to further cement his father's legacy, it raises fears that the very intention of the project is based on ego.
But if this is truly about legacy, then why the lack of regard for Mirvish's father's famed and culturally historical Honest Ed's sign? For it is pieces of Toronto such as that sign which are the already existing and meaningful icons of Toronto, ones that have been given significance by the public and which now risks being displaced by one of those glass and steel towers that Mirvish is supposedly fighting against with his own new complex on King. It therefore seems to be almost hypocritically turning a blind eye to the very issue being debated, that of how to create an iconic Toronto. And the real irony is if we truly want to build an icon for the city why are we destroying the iconic Princess of Wales Theatre in the process? That is what should be the Mirvishs' real heritage and legacy, for while it many not be braggy in its own exterior form, it is a place of great cultural value. And as for Hume's concerns that we are becoming a city fixated on historical façadism, why not solve that problem by saving the theatre in its entirety, keeping with it not only its form but its planned program of performance also?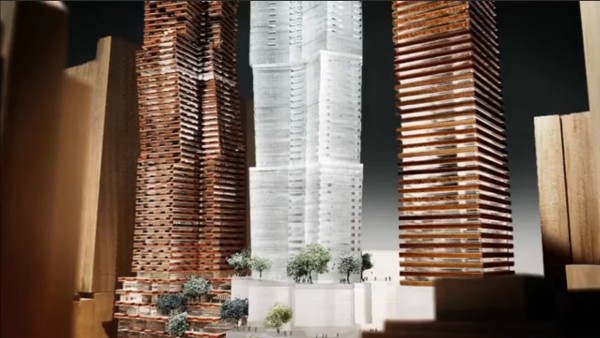 Ultimately, it is not the fact that Frank Gehry is the project's architect or that the towers are curvaceous in form that causes me concern. It is the realization that in order for Toronto to complete a "Gehry," one that is large enough to both hold the required program (program which in fact is great) but also bend to the hand of the master, it requires it to be as large as it is currently planned to be, and from which the city's concerns of density and infrastructure flow. If it is therefore true that the scale of the building is as grand as it is planned to be in order to make it financially feasible, in terms of financing the public/semi-public spaces to be included in the podiums below the towers (i.e. that it needs to be 85 stories in order to pay for the architecture), then why do we not change the architecture to make it financially sustainable at a (even slightly) smaller scale? And while we're at it, why not find a way to save or at least integrate both the historical and culturally significant portions of the existing site? Gehry is a great architect – there should therefore be a way for him to make an affordable, proportional and historically/culturally sensitive development that would have the potential to become a new icon for Toronto, while still being a part of existing Toronto.
Keesmaat has stated that, "A Frank Gehry building — particularly a tall tower — could add a tremendous amount of esthetic value to the city… But how we get there cannot compromise quality of life." Hume has responded to this saying, "That quality of life is already compromised by the failure to control development; Mirvish and Gehry give official Toronto a chance to change that and make it — and the city — look good." And from these two comments I both cringe and find hope. I feel squeamish at the idea of focusing on the "esthetic value" that is believed to come guaranteed from a Gehry project, the idea of a Gehry esthetic, but feel a bit better hearing that for Keesmaat this cannot come at the cost of losing the qualities that already exist and are appreciated on the site. From Hume's comment I whole-heartedly agree that Toronto needs the chance to look good, and his recognition of the importance great, and perhaps grand, architecture should play in showing the world what Toronto already is.
But to say that the quality of life in this particular part of the city has already been compromised because of what has and is happening in other parts of the city should not give anyone a free card to act without feedback, or build without receiving city and community input at this scale of development. Gehry should not be given a carte blanche to build whatever he wants, wherever wants, simply because he is Gehry, or simply because of the mundane condos elsewhere. For Gehry, nor Mirvish, are above their projects being reviewed, but in turn, perhaps the city should be a little more open to that which at first seems different, as long as the checks and balances of the city's side match up.
And that is exactly why projects such as the Mirvish+Gehry proposal are needed to spark discussion and innovation and shake up the city. But this is also why we have planning approvals and town halls for projects of this scale. Perhaps Mirvish+Gehry should be built, but perhaps it should also undergo extensive review and rework from the feedback that has been received from the community since the first models and drafts where shown to the public and city hall. Perhaps the public's upset over the potential loss of a part of the city shows a need for Gehry to use his architectural imagination to find a way to save some of it. And perhaps Toronto isn't ready for a project such as this yet. And all of those would be ok, as long as we take a long look to see what we are doing, evaluate the potential harm and good it could cause the city and then, taking this information into account, move forward bravely. Toronto is already great, now is our chance to decide how we want to show it off, whether its in a polite way or not. So the question is, are we really looking for an icon or do we just crave good architecture?