In the bustling Foxes Den pub on Bay St., a hurricane of wait staff wielding large, clattering plates of piping hot et cetera, were swirling from kitchen to table and back again.
In the eye of this storm was Paul Bedford, Toronto's former chief planner, addressing a tightly packed group of concerned citizens. To his left, in the dim light of a bleary sconce, stood Ontario Transportation Minister Glen Murray.
This was the inaugural Idea Distillery and the vibe was as low-key as the invitation.
Idea Distillery #1: Paul Bedford. Join us this Thursday 6:30pm at the Foxes Den Pub on Bay to chat about transit and land use plning in TO.

— Glen Murray (@Glen4ONT) February 5, 2014
What came of it was a casual, but uncompromising look at the realities surrounding transit planning and expansion in Toronto and the surrounding area, (the GTHA).
"Get real," Bedford said. "Spend money where it's going to have the biggest bang for its buck."
Bedford was speaking, not only from his lifetime of experience as an urban planner; but, more recently, as vice chair of the Transit Investment Strategy Advisory Panel, appointed by Premier Kathleen Wynne to reach a consensus on revenue tools for funding transit.
Bedford also stressed the importance of dedicating revenue from transit, locking it in for the sole purpose, to preserve it from political flip-floppery and administration changes.
"Dedicate the money, or forget it."
Bedford leveled his sights at the Ontario PC assertion that cutting the waste and selling government land will pay for transit.
But Murray's own government wasn't spared criticism.
"Build public trust," Bedford said. "Because its not there."
What followed was a brutally frank, non-partisan, talk about the dire needs and realities facing this region when it comes to transportation.
"I know this seems a little strange," said Murray, after thanking Bedford for his presentation. The Transportation Minister began addressing the group by bemoaning the perpetual pressure to toe the party line. He hoped this forum would free-up the conversation a little and he was pleased people showed-up to join it.
"It's kind of inspiring to me that you actually care enough."
"I'm gonna use my very loud voice now."
Murray addressed the audience, answered their questions, then anyone who liked could take the floor. Food was on its way.
Because this was Toronto, and the topic was transit, the ubiquitous spectre of the Scarborough subway arose when the floor was opened-up to participants. Murray attempted to explain the constant back-and-forth between LRT and subway plans to replace the ageing Scarborough SRT.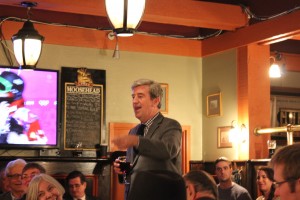 This question of preferred modes was, perhaps, laid to rest when Toronto City Council approved a budget with a 0.5 per cent dedicated tax increase for the subway option in Scarborough.
Murray said the Scarborough subway is "a brand I will carry for the rest of my life." In Toronto, Murray said voters have been led to believe a subway is the uncontested superior transit mode, in spite of any evidence to the contrary.
"The mayor figured that out, so all he talks about is subways."
"I love LRTs," he said, but went on to explain the political challenges of selling one to taxpayers.
"No one knows what an LRT is," said Murray, and he predicted that once the Eglinton Crosstown LRT is complete, and Torontonians can see one in action, politicians can point to it and say "that's an LRT."
Then, Murray said, people would come around to LRT technology.
The talk was being a little displaced, following the arrival of a few massive plates of wings and veggies, provided for all to share. Only once Murray had to raise his voice to discourage people talking-over a participant who was trying to voice her concern about the paucity of accessibility in Toronto's infrastructure, including transit. Eventually, Murray turned the room over to the participants.
"Grab a glass of wine, grab some food, talk to your neighbour," he said.
After some mingling, the transportation minister asked how many would like to see this sort of event once a month. A host of hands were raised. In that case, Murray said, he would do this once a month. Maybe in a quieter place.
In an email, Matthew Edwards, Murray's executive assistant, called the night a "rejuvenation." "We often hold very structured events where attendees are asked questions and prompted to come up with responses. This speaker series looks to be the opposite of that, providing a chance to have some fun and connect," said Edwards.
"Moving forward, the hope would be for the word to spread and get more people to come who wouldn't usually come out to something like this."
Edwards said that, based on the attendance that night, they will be looking for a bigger venue, with better acoustics. He hopes the next date and location will be arrived upon next week.
Thanks to all who participated in the 1st Idea Distillery (ID). This will be a monthly event. Keep following for info on the ID event.

— Glen Murray (@Glen4ONT) February 7, 2014
A version of this post originally appeared on Humber News. Photos by Glyn Bowerman