Editor's note: This is the second post in a series by students at the John H. Daniels Faculty of Architecture, Landscape, and Design. Each piece features an idea for an architectural intervention that would to better connect Torontonians with their ravine system. The designs in this series were created as part of Professor Brigitte Shim's Thesis Research Option Studio or final Thesis Studio. The work and text in this post is by Federica Piccone, whose bio you can find below.
The Don River has been the site of industry, numerous landfills, and, more recently, wasteful suburban big box stores and office parks. These areas represent "waste-scales" which have burdened the Don River by fragmenting and often contaminating the natural fabric. Crothers woods is one of the most biodiverse areas in the lower Don River Valley. It is host to some of the oldest trees in the city, as well as some endangered species such as the butternut. This area is a mecca for nature enthusiasts and bird watchers, and its steep slopes are frequented by over 166 bikers a week.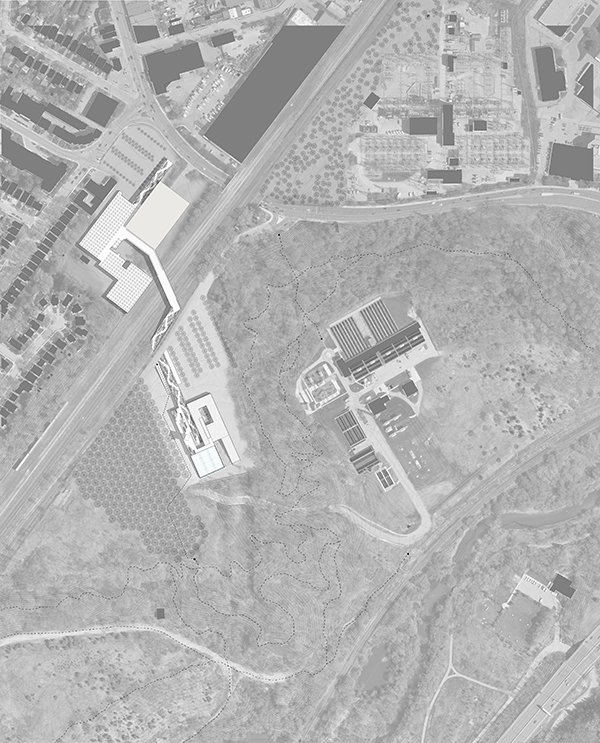 At the head of the Crothers woods trail network is an oversized, impermeable parking lot and Loblaws big box store. The aim of this project is to repurpose the Loblaws into a building that will benefit both the community and its natural surroundings. Acting as an annex to the Evergreen brickworks, the reclaimed building will be used as a nursery, trail user club, and nature interpretive centre.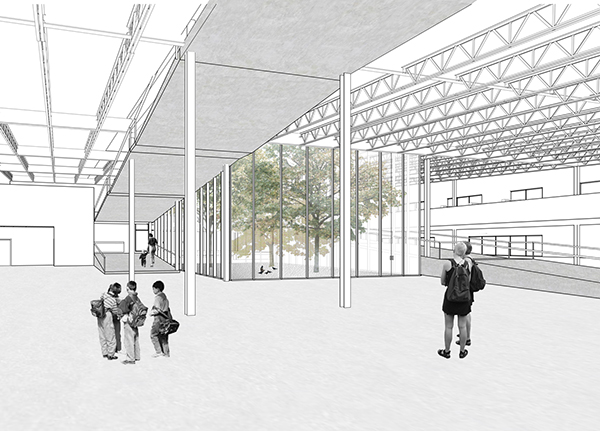 Bikers and trail users can pass through the building by a series of connected ramps that access the roof of the former Loblaws. The addition of vegetated roofs and ramps provides new habitat for birds and animals in the area.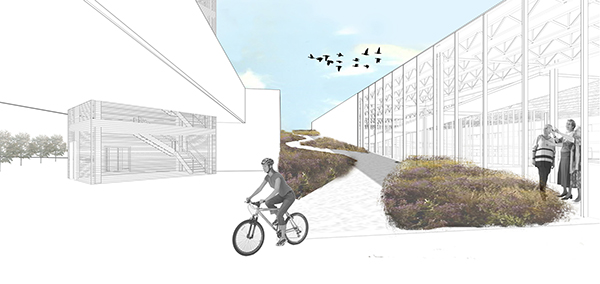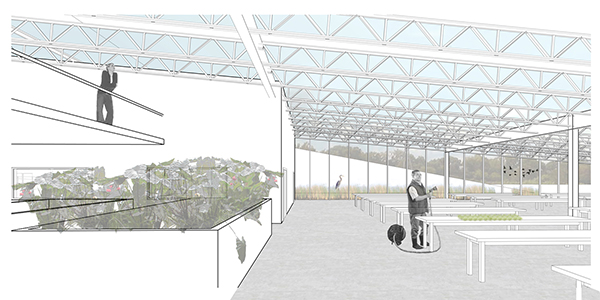 This design transforms what was once a wasteful suburban-style building into something that contributes positively to its surroundings.
Federica Piccone is a recent graduate of the Daniels Faculty of Architecture, Landscape and Design at the University of Toronto with an interest in better integrating landscape and architecture. Her thesis explored the potential in wasted landscapes of former industrial or landfill sites to create social, cultural, and natural capital. Daniels Facutly member Professor Brigitte Shim was her thesis advisor for her Thesis Research Option Studio in the Winter of 2013 and her Thesis Advisor in the Fall 2013.  Her final thesis project will be posted later in this series.
Click here for the first post in this series by Sonia Ramundi.