The NXT CITY PRIZE is all about vision to reimagine Toronto's public spaces and inject a sense of energy, dynamism and reflexivity. With a focus on ideas coming from the next generation of city builders, The NXT CITY PRIZE is an open invitation for all young people connected to Toronto to improve on the design of our city's open spaces. The NXT CITY PRIZE will be announced in mid-August, and the deadline for submissions is July 31st. Spacing has teamed up with the NXT CITY PRIZE to provide our readers with a series of Q&As with local and national city builders in the lead up to the announcement of the winning design.

TODAY: SHELDON LEVY, President of Ryerson University
What public space improvements have you made?
To me, it is more about Ryerson students, our faculty and staff, and our partners in both the public and private sectors. A range of examples includes: the closure of Gould Street that runs through campus, where we are partnering with the City of Toronto; our Ted Rogers School of Management building on Bay Street that sits on top of Best Buy and Canadian Tire; revitalizing Maple Leaf Gardens with Loblaw Companies to build our fabulous Mattamy Athletic Centre; the Ryerson Digital Media Zone at 10 Dundas Street East that is mixed in with stores, restaurants and Cineplex theatres that we partner to use as state-of-the-art classrooms; the award-winning Ryerson Community Garden that partners extensively with organizations dedicated to urban agriculture; and the Student Learning Centre, our new university gateway under construction on Yonge Street. In every case, the advocacy and support of our students in particular has been the key factor in making the case – and partnerships have both made progress possible and provided a win-win for everyone.
What public space improvements would you like to see in Toronto?
More of the same. There are some important principles. At Ryerson we saw our responsibility as a university in the downtown core to be city-builders. This means thinking about the way spaces work together. For example, street level is for retail. Design excellence lasts. Hold out for great architecture. Community engagement matters. Let the use – and the users – dictate the layout. In one instance, the university took the lead in Canada to listen to students about their need for a space that would house our pioneering model of entrepreneurial education. The Digital Media Zone combines rigorous admission and residency requirements with an open environment where you might see 3-D objects hovering over a table or ideas on a whiteboard or extraordinary uses of technology, and animated conversations happening alongside intense concentration. On any given day you might see investors and lawyers mentoring students, business people asking DMZ companies to take on projects, or tours of international visitors paying a visit. The DMZ has just been named the top incubator in Canada by the University Business Incubator (UBI) Index, and 5th in the world, so it pays to listen. But it also turns out this is about more than responsibility to our students. Getting the public space right has an impact on the reputation of Toronto, our province and nation, our place in the global economy and leadership in social innovation, biotechnology, literacy, consumer advocacy, creative design…and the list goes on.
What sorts of places are solid examples of public space improvement in other cities around the world?
 Denver, Colorado. When I was there last summer I thought wow, can Toronto ever learn a lot from this city. At Ryerson I always use the word "flowers" to describe an initiative that, if you came around the corner, would take your breath away. In Denver, it's a bouquet. The main street has decorative paving, lighting that is far more than functional, benches that are works of art, flowers and planters, banners and flags, public spaces that encourage engagement with chess and free-standing pianos (I know Toronto has done this), and community gardens in parking lots. And here's the best part: it's pedestrian only, except for emergency vehicles, and there is a free bus – yup, it's free – that goes up and down the street and you can hop on and off to go shopping, have a meal or a drink, browse, get together with friends, meet new people, go to a movie. In Toronto it would be like going from Eglinton Avenue to Front Street along Yonge. Imagine if we also did that on Avenue Road…Bayview…add the street in your neighbourhood where you can see the transformation happening.
Your advice to young people as it relates to public space?
Take ownership. Your leadership and involvement inspire confidence in what is possible. We need more people thinking public space is their responsibility, not just the job of government but the duty of us all. Get together with like-minded people, and persuade others, in advocating for pedestrian spaces, a higher standard of beauty and quality, areas of vibrancy and pockets of peacefulness, green and sustainable space, furniture that is not just serviceable but 'happy' and inviting. Engage partners who care as deeply, believe in the return on investment, and have an interest in accomplishing shared goals. Do more things like this. When I got the email inviting me to participate I thought, great!  Young people, partnership, a contest, I am there. Thanks for the initiative and the opportunity, and I look forward to my bench on Yonge Street in the sun.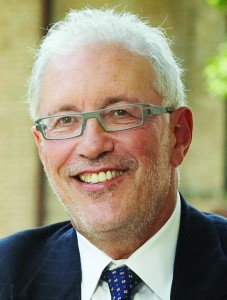 Sheldon Levy is President and Vice Chancellor of Ryerson University, and has been a respected postsecondary leader and analytical visionary for the past forty years. He previously served as Vice President, Finance and Strategy, University of Ontario Institute of Technology; Vice President, Government and Institutional Relations, University of Toronto; President, Sheridan College; and Vice President, Institutional Affairs, York University. Current appointments include: Council of Ontario Universities Executive Committee and Government & Community Relations Committee; Board of Directors, Toronto Waterfront Revitalization Corporation; Advisory Council, Toronto Region Board of Trade; Board of Directors, Pathways to Education Canada, and Board of Governors, Trails Youth Initiatives. 
Sheldon is recognized for championing an entrepreneurial academic model with the international impact of Ryerson's Digital Media Zone and Centre for Urban Energy, and is dedicated to student success, distinctive programs and research, and the university's role as city-builder. He was awarded a BSc, MA, and Doctor of Laws honoris causa by York University, and lectured in computer science and mathematics. He is on the list of "The Power 50 Most Influential in Canadian Business Today" (Canadian Business) and "The 50 Most Influential" (Toronto Life), and among his distinctions most recently received the 2013 Toronto Region Board of Trade Builder Award and the 2014 Canadian Urban Institute David Crombie Award.
Photo by William Mewes, the Student Learning Centre under construction on Yonge St.