The NXT CITY PRIZE is all about vision to reimagine Toronto's public spaces and inject a sense of energy, dynamism and reflexivity. With a focus on ideas coming from the next generation of city builders, The NXT CITY PRIZE is an open invitation for all young people connected to Toronto to improve on the design of our city's open spaces. The NXT CITY PRIZE will be announced in mid-August, and the deadline for submissions is July 31st. Spacing has teamed up with the NXT CITY PRIZE to provide our readers with a series of Q&As with local and national city builders in the lead up to the announcement of the winning design.

TODAY: JAY WALL, c

reative director/designer at STUDIO JAYWALL

What public space improvements have you contributed to that you're proud of?

As a graphic designer obsessed with the details of the city, I look for opportunities to use design and visual communication for good. Unfortunately, much of the design industry devotes itself to causes that have a negative impact on public space, namely by creating corporate advertising for billboards. So I'm proud to be running a design studio that does the opposite – using design to support projects of progressive city-building and meaningful civic participation. I believe graphic design can play a key role in communicating ideas, generating public participation, and imagining the world we want to build.

There are countless inspiring public space initiatives in Toronto, and I've been honoured to collaborate with some great folks. A few highlights from my studio's work over the past year include:
Cover illustration for the latest issue of Spacing, on the theme Cities for People
Creative direction and design of the public campaign to promote the Jane's Walk global festival
Design of a new publication for Evergreen CityWorks, called Intersection, about sustainable city-building, urban policy, and civic engagement
Co-creation of Playwalk, a project which encourages you to use your senses and playfully get to know your city (in collaboration with the Society of Homo Ludens)
Co-design of the sports pad at the East Scarborough Storefront, part of the Community Design Initiative, in collaboration with local community members, ERA Architects, archiTEXT, and sustainable.TO.
In addition to working on client projects, I also believe there's a place for creative civil disobedience to challenge the status quo. This is why I also do street art and have participated in a few collaborative projects. A couple years ago, Astral removed several bicycle posts from the sidewalk on College Street in order to install one of their controversial "info pillar" billboards. In response, I collaborated with the Urban Repair Squad and Mexico-based Camina Haz Ciudad to paint some white stencils on the ground, honouring the disappeared bike posts. Weeks later, Astral responded with an ad in that very info pillar, apologizing for the mistake, re-affirming their commitment to public space, and promising to install dozens of new bike posts in the area. It turns out, the ad was a hoax – I had designed it and had it installed as part of the cARTographyTO artistic takeover of info pillars across the city. The project ignited a national debate about public space, advertising, and art – which confirmed that my work was striking a chord.
What public space improvements would you like to see in Toronto?
Here's my wish list for Toronto:
complete streets with improved pedestrian and cycling infrastructure (and not just downtown)
a fully-connected grid of bike lanes, integrated with public transit nodes
a comprehensive wayfinding system for all modes of transit
de-corporatization of public space, including tighter restrictions on billboards and a crackdown on illegal billboards
a nuanced, community-led approach for addressing graffiti and street art
creative improvements to under-utilized public spaces, such as those being developed by my friends at

Projexity

improved access to our wonderful ravines from streets and subway stations
seamless connection from the downtown core to the waterfront
a new all-season, outdoor/underground winterized public space (imagine hanging out in a park on a winter day like we do in the summertime)
better public notices – which is why I'm working with Dave Meslin on the Dazzling Notice Awards, to recognize Canadian municipalities who are raising the bar in public outreach (winners to be announced on September 11th at Toronto the Good)
What do you consider to be great examples of public space in other global cities?
My top 5:
São Paulo's bold move to ban outdoor advertisements
New York City's transformation of an abandoned rail line to create High Line Park
Detroit's community gardens created on vacant lots
Halifax's waterfront with playgrounds, public art, and pedestrian streets
great cycling infrastructure in many cities across Europe
What advice do you have for young people as it relates to public space?
Remember that the city is yours. It belongs to all of us, so don't be afraid of taking things into your own hands and creating the kind of city you want to live in. It's important for us to advocate and shape policy, but we don't have to be satisfied with the status quo of public space being ruled by corporate interests and we aren't limited to what makes it through the red tape of government. So get out there, get to know unfamiliar parts of the city, and when an idea strikes, just go ahead and make it happen. The city is your canvas – dream big.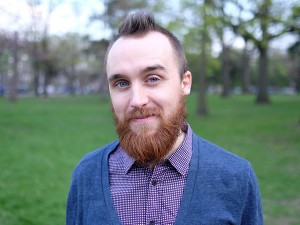 Jay Wall is the Creative Director/Designer at STUDIO JAYWALL, a Toronto-based team specializing in creative direction and graphic design for social, cultural, environmental, and city-building initiatives. Much of Jay's work focuses on using visual design to build communities, to shape the cityscape, and to support civic engagement – often collaborating with architects, urban designers, community organizations, and not-for-profit organizations. Some clients include Jane's Walk, Evergreen CityWorks, archiTEXT, and Spacing. Jay grew up in the woods of Northern Ontario but has called Toronto home for 8 years. He has come to love the city, where he is a bike-riding, street art-making, ukulele-strumming troublemaker.
Top photo by Martin Reis; Astral hoax ad, part of cARTographyTO, 2012