The NXT CITY PRIZE is all about vision to reimagine Toronto's public spaces and inject a sense of energy, dynamism and reflexivity. With a focus on ideas coming from the next generation of city builders, The NXT CITY PRIZE is an open invitation for all young people connected to Toronto to improve on the design of our city's open spaces. The NXT CITY PRIZE will be announced in mid-August, and the deadline for submissions is July 31st. Spacing has teamed up with the NXT CITY PRIZE to provide our readers with a series of Q&As with local and national city builders in the lead up to the announcement of the winning design.

TODAY: MARIS BERNSTEIN and NICOLAS KOFF, urban designers and two of the co-founders of Projexity
What public space improvements have you contributed to that you're proud of?
Scadding Court Community Centre's forward-thinking food and retail shipping container market known as Market 707 used Projexity to crowdsource designs, funding and volunteers for a new outdoor public patio.  The entire process, from gathering resources to building the prototype, took only five months. We're pretty proud that Projexity made that happen by enabling community members, designers and stakeholders to come together.
As a landscape architecture student, Marisa assisted Upenn professor Karen M'Closkey's firm PEG-OLA to build gardens on vacant plots in Philadelphia with local communities. Riffing off the traditional Knot Gardens (think parterre), the series of 'Not Gardens' demonstrated the conversion of vacant land to low-cost, low-maintenance (yet well-designed!) neighborhood gardens.
What public space improvements would you like to see in Toronto?
Where do we begin? While Philly faces a growing network of vacant plots, Toronto is being developed at hyper-speed. Transit and neighbourhood amenities like parks, ravines and a healthy local commercial ecosystem now more than ever need to be fostered in order to make Toronto more livable.
Personally, we'd like to see more 'pet architecture' happening in the city. Coined by Atelier Bow-Wow out of Tokyo, the term refers to taking advantage of the oddly-shaped leftover bits in the urban fabric, such as traffic triangles or tiny plots between buildings; these could be used to create awesome spaces for the community to use. 
What do you consider to be great examples of public space in other global cities?
We could talk about great public spaces 'til the cows come home. We love Tokyo for it's dynamic neighbourhoods. The scale is built for the pedestrian's experience: it's all about the finer-grain commercial, large tree canopies, residential gardens that are more public than private, and the occasional to-be-developed parking lots transformed into temporary night markets.
Speaking of night markets, Singapore's hawker markets are a great example of a healthy balance between government control and informality. Although fully regulated, these laid-back markets still offer some of the best street food in the world.
We love Strasbourg's famed Place Kléber, a large, flexible urban square, which handles vehicular circulation and parking in a smart way (it's underneath the square). This move allows for a seamless connection to shops and restaurants on the perimeter.
What advice do you have for young people as it relates to public space?
YOLO, perhaps? Be bold and experimental, always question the status quo and dare to dream your way to better public spaces.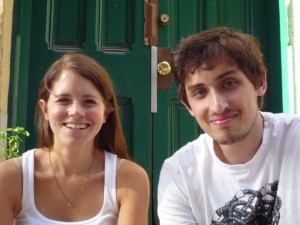 Marisa Bernstein and Nicolas Koff are the urban designers behind Projexity, a Toronto-based online platform that offers communities new tools to improve their neighbourhoods. The duo has been collaborating since their graduate school days at the University of Pennsylvania, where Marisa received a Master of Landscape Architecture degree and Nicolas received both a Master of Landscape Architecture and a Master of Architecture degree.
Marisa and Nicolas constantly seek to uncover the potential of underused spaces and are keen on exploring alternative ways to involve communities in the building of their neighbourhoods. 
Their work as design professionals has also focused on understanding sites in order to create frameworks that can respond to constantly changing natural and cultural conditions. From coastal Venezuelan towns to the streets of Mumbai, India, Marisa and Nicolas' projects have taken many shapes from small gardens to large infrastructural networks. 
Now based in the great city of Toronto, Marisa and Nicolas, along with programmer Jonathan Koff, continue to use Projexity to strengthen communities and cultivate experimental methods of place-making. This Fall, they will be teaching a 3rd year Master of Landscape Architecture studio at the University of Toronto on community-engaged urban design.
Top photo by Ian Irving, Market 707