At the peak of it's population in the 1950s, homes, cottages, and mansions lined the entirety of Toronto Island from Ward's Island in the east all the way to Hanlan's Point in the west.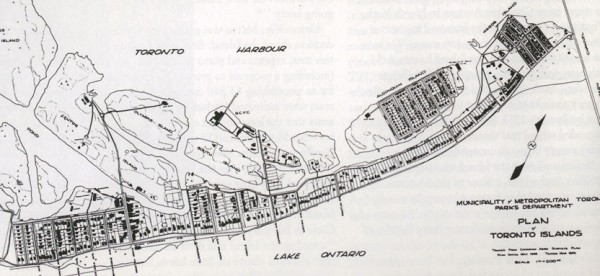 At the time, there were also many Island-side amenities to serve its full time residents, including a movie theatre, a bowling alley, grocery stores, and dance halls. Most of these services were concentrated on Manitou Road, then the main drag of Centre Island.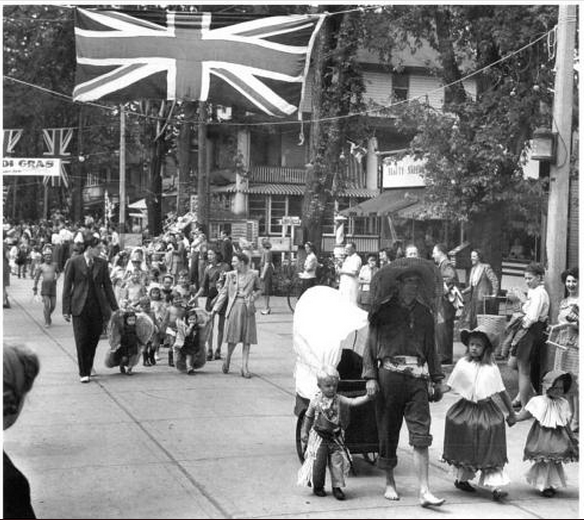 With its businesses and active street life, Centre Island was a bona fide, full-service small town abutting one of Canada's largest metropolises.
When Metro Toronto decided to convert the Island to uninhabited parkland in the early 1950s, they began a program of demolishing Island homes starting from Hanlan's Point and slowly moving east.
Before homes were demolished, Metro Toronto razed Manitou Road, the heart of the Toronto Island community. According to Sally Gibson's More Than an Island, the Island's services were eliminated to make it easier to convince Islanders to give up their homes. How could they live on the Island, especially through the winter, without a grocery store?
With main street extinguished, Metro easily began expropriating houses and demolishing them. As we know, the city only got as far as Algonquin Island before they were halted by protests and a peaceful uprising.  With their main street demolished more than 60 years ago, today's Island residents continue to rely on city-side grocery stores, movie theatres and dance-halls.
In 1967, Main Street Centre Island was replaced by the Versailles-style gardens of the Avenue of the Islands and by Centreville Amusement Park down the road. Along with its rides and petting zoo,  the amusement park includes a full size replica of Small Town Ontario, complete with a Town Hall, town square and Ontario heritage homes with decorative bargeboards.
To add insult to the displacement of most of Toronto Island's residents, it seems the city demolished a living, breathing town and replaced it with a bogus version of itself.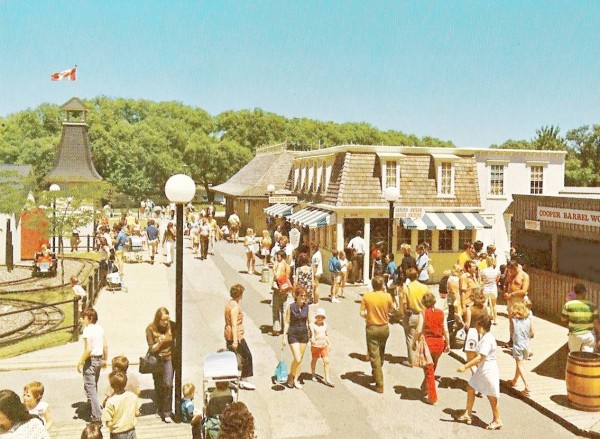 Keep this in mind next time you find yourself at Centreville. It gives new meaning to the idea of a ghost town. A ghost town is usually a place that has been abandoned, but has been left largely in tact. Centreville is a stranger kind of ghost town, not abandoned, but replaced with a toy copy of itself. Centreville is an echo of history distorted by historic grand plans and visions of the future. It's a simulacra of the town it replaced, barely able to speak for itself and its history. This feels especially true when it is doubly abandoned in the quiet winter months.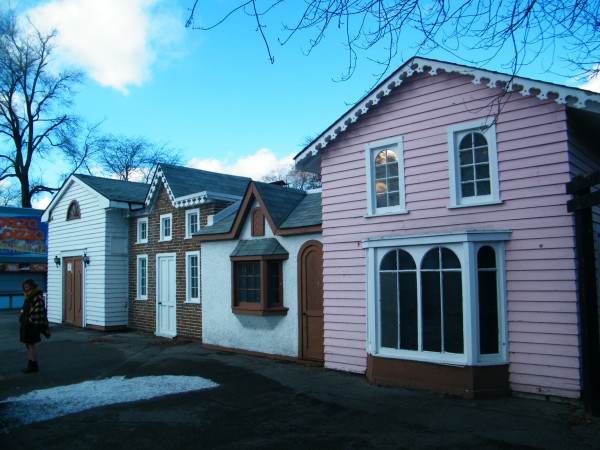 To bring attention to the strange history of Manitou Road and Centre Island, the next edition of the Learnt Wisdom Lecture Series is being held in Downtown Centreville this Sunday February 1st at 2pm. Join us for an afternoon of story telling as we consider the theme "Reckless Abandon." Catch the 1:10 boat to Ward's Island and take the half- hour walk through the beauty of the winter Island, all the way to Downtown Centreville.