One of the more intriguing elements of the West Don Lands development was the promise that it would include some "woonerfs" — a Dutch concept generally translated as "living street" though more literally (according to Wikipedia), "living yard."
The first one, Trolley Lane, has now been partially built, and has already been touted as Toronto's first woonerf. It's a U-shaped route just south of King St. East, intersecting twice with Lower River Street (the joining part is not yet complete).
I recently went to check out this promising new feature, but it was rather disappointing. While Trolley Lane is nicely designed, it's not really a woonerf. There's no fixed definition of a woonerf, but it seems fair to say that, if we are using the Dutch word, it should somewhat resemble what the Dutch do. In essence, a woonerf is intended to be a front yard for the residents who live on it. Cars should be rare, local, and restricted to walking speed. Often the street is configured to be narrow and a bit awkward so that cars have to be careful manoeuvring in it. Parked cars are sometimes arranged to deliberately contribute to this awkwardness. There are no sidewalk curbs restricting pedestrians to the side of the street, and signage indicates that pedestrians have priority and playing children should be expected.
Here is a photo of a Dutch woonerf: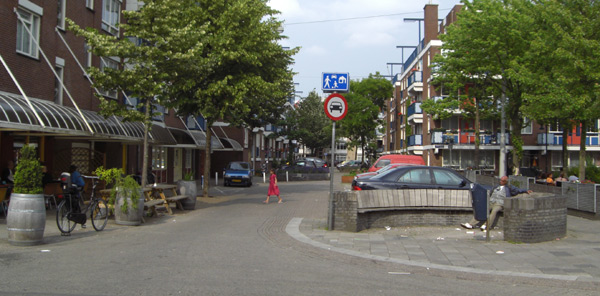 The southern portion of Trolley Lane, by contrast, is in fact primarily a space for cars: a rear lane, a parking lot, and the access point to an underground garage. No housing faces onto it, and there is no signage indicating pedestrian priority. The space is nice and wide, making it easy for cars to manoeuvre, and parking is kept neatly to the sides, rather than being used as an obstacle that narrows the street and calms traffic.
[Update: Waterfront Toronto has indicated that "bike rings and other street furniture fixtures" will be installed where the cars are currently parked, preventing cars from parking in those locations. See comment below for my further comments on their blog post.]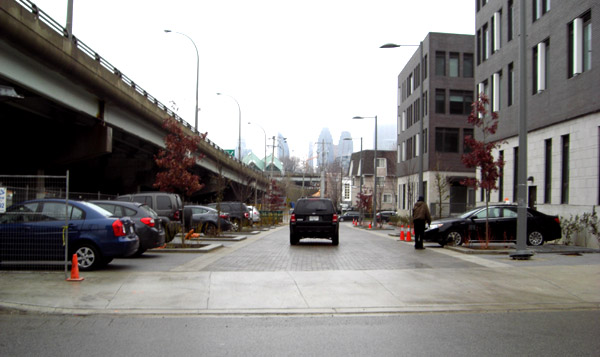 It will likely get plenty of vehicle traffic, as its primary purpose is access to a parking garage for a pair of buildings.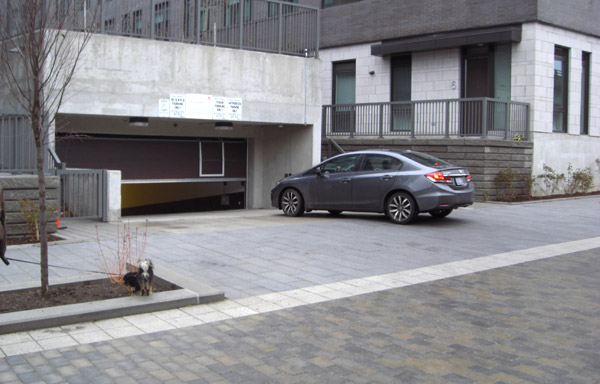 While pedestrians might occasionally use it as a shortcut, it's hard to imagine children playing here. The space is considered dangerous enough that the Underpass Park playground beside it is currently fenced off. It's not clear what will happen in the future, although some separation will be necessary to keep cars from driving into the park. My guess is a more permanent fence will eventually be installed to keep children from running onto the lane, given the heavy presence of vehicles.
[Update: the bike rings and other street furniture fixtures to be installed in the gaps between the trees will provide the separation I expected to keep cars from driving into the park. There are no plans for a fence to keep children from moving through this space]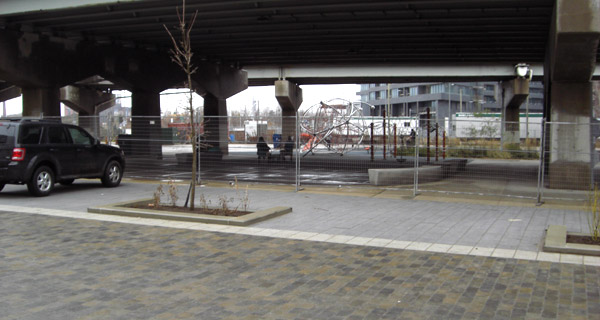 The northern branch of Trolley Lane is, at least, not a parking access road. But it is still a back lane, existing primarily for loading and garbage pickup. While there are rear entrances that open onto it, there's little indication it should serve as a "yard" for the apartment buildings on either side. The courtyard on the south side (left, below) is clearly separated from it. On the north side, there's a little patio by a back entrance, but it's quite separated from the laneway itself. Nothing indicates or invites pedestrian priority in the roadway.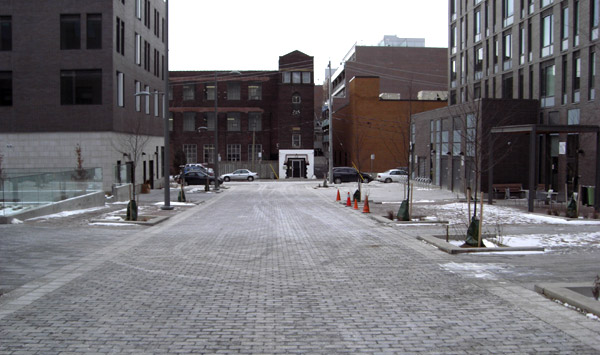 The "U" part to the east is still being developed, but it looks little different.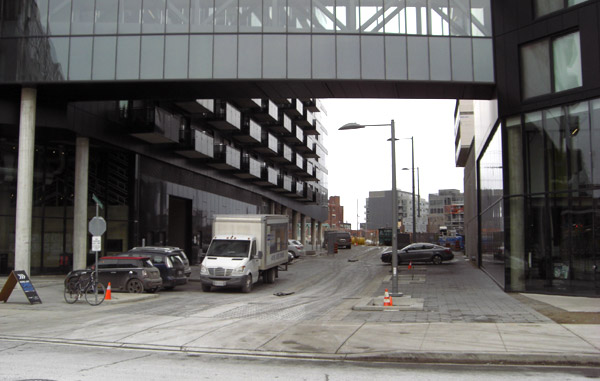 Don't get me wrong — I like these lanes. As back lanes go, these are very nice ones, and good for Waterfront Toronto for putting an effort into them. They do share with woonerfs some basic "shared street" characteristics: they don't have curbs, and they are paved in a nice material. But those characteristics are true of many streets — they do not make it a woonerf. To call it that is to promise way more than these streets deliver. What's worse, it could leave people unimpressed with the whole concept and not interested in pursuing pedestrian priority streets in other locations.
Ironically, a street just one block west of Trolley Lane is a lot more like a woonerf. Percy St. is an unassumed (i.e. private) street in Corktown. The little street, paved in brick, with houses facing on it and parked cars narrowing the way, is quite a good example of a street as a "living yard."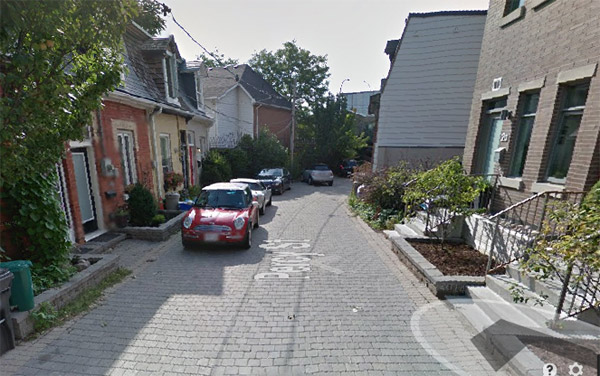 Google Street View
An interesting example of another new "shared" street in Toronto, which likewise has no curbs and nice paving, is the revamped Market St. on the west side of St. Lawrence Market.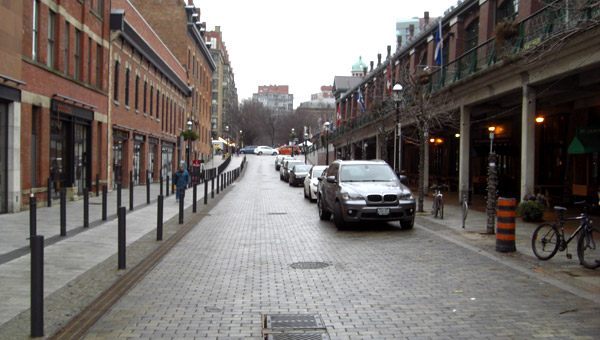 On the west (above left) side, the space between the bollards will be used for restaurant patios for 8 months of the year, and parking during the 4 winter months. The permanent parking on the east side, meanwhile, makes the street narrow enough to slow traffic. No-one has claimed this is a woonerf, as far as I know, although since the driving space is more constrained and it actually has main entrances on it, it might be closer to one than Trolley Lane.
It may actually be impossible to introduce a true woonerf in Toronto on a public street. Ontario regulations specify that all new roads, even laneways, have to have 6 metres of unobstructed width for fire trucks, and fire departments generally insist on a straight line for speed. It's hard to give a street a cozy, safe "living yard" feel with that much straight open space. Perhaps it could be possible on older, grandfathered narrow streets like in Kensington Market, or dead-end streets.
Even if we can't get a full woonerf, though, it's good to see that that Toronto is finally experimenting with interesting new street concepts and designs. As a city, we should continue to look for ways to reinvent and redesign our streets whenever possible. But let's not, in our enthusiasm, oversell them and pretend they are something they are not, if only because then we won't realize there is still something even better to strive for.
Photos by Dylan Reid unless otherwise indicated