It all started back in the mid-1800s, as a relatively small provincial fair. They held it in a field out behind Upper Canada College, which was on King Street back then (on the northwest corner of Simcoe, across from where Roy Thompson Hall is today). It was a very agricultural affair. They had cows and sheep and horses and knitting and needlework. The cheese was very popular. So was the wax fruit. The day ended with a big dinner at the Lieutenant Governor's residence across the street. The city's bigwigs were all there; they declared it a success.
For the next few decades, the fair toured around the province, moving from one city to another each year.  Mostly, it came to Toronto, and to Kingston, London and Hamilton. As the fair grew, Toronto began to construct permanent buildings for it — a Crystal Palace was the first — and a big patch land was set aside for it, too: part of the old Garrison military reserve that the government had held on to ever since the city was founded. A century and a half later, the Ex is still held on that very same ground.
It wasn't until 1879, though, that we decided to have the fair in Toronto every year — and to call it the Canadian National Exhibition. The CNE was officially born. By then, the fair was already a very big deal. There were twenty-three permanent buildings on the site. The fair featured thousands of exhibits. More than a hundred thousand people attended that first year — more than the entire population of the city.
No one, it seems, is quite sure exactly when the CNE's first ride opened. It might have been that year, or, at the very least, soon after. It was a tiny little Ferris Wheel. Just 15 feet high. It had four buckets; they could hold two people each. The whole thing had to be powered by hand. It was such an early prototype that people didn't even call them Ferris Wheels yet. That didn't happen until about a year after the photo below was taken, when George Ferris Jr. unveiled his enormous creation at the Chicago World's Fair. His version was built with tens of thousands of pounds of iron and steel. It had enough room for more than two thousand people. It was powered by steam engines. The world of amusement park rides had changed forever.
The Ex didn't waste any time following suit. The very next year, Canada's National Exhibition boasted "Ferris Wheels, Carousals, Swings and other amusements for young and old." Soon, there would be an entire midway. But it had all started with a modest, little, wooden Ferris Wheel powered by hand: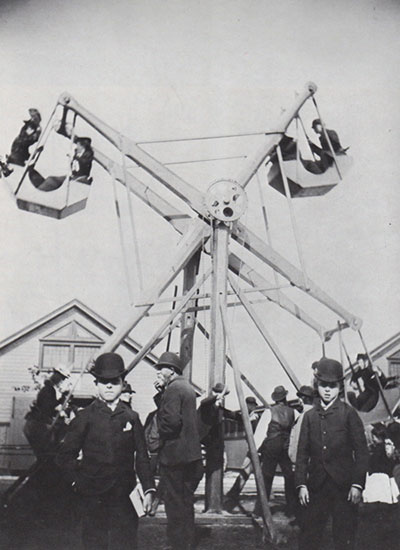 Main image: the CNE midway in 1904
A version of this post originally appeared on the The Toronto Dreams Project Historical Ephemera Blog. You can find more sources, images, links and related stories there.