As the Ontario government considers allowing digital billboards on Ontario's highways, community activists from across North America are gathering in Washington DC for the Scenic America Symposium (Oct. 22) to discuss how citizens can protect our public spaces from commercial advertising.
I'll be heading down on behalf of Scenic Toronto and I invite you to join me! The stakes are high and we have a lot to learn from successful billboard battles being fought all across America.
Some states currently allow billboards to be placed almost anywhere, while other states have banned billboards completely. The difference is like night and day.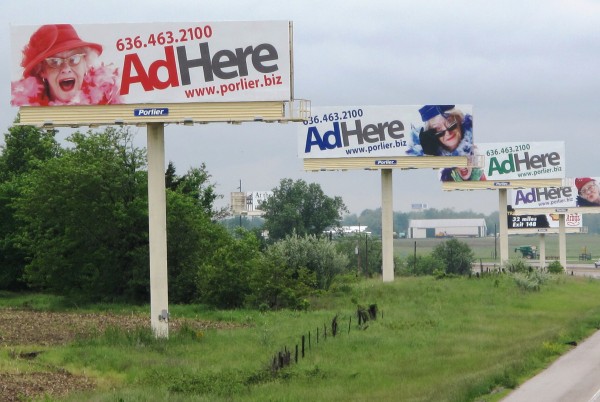 In Ontario, our highways are almost billboard-free. A few municipal highways like the Gardiner Expressway are tragically littered with digital billboards (courtesy of Toronto City Council), but the 400-series highways have been tightly regulated by the Ministry of Transportation. Some areas have exemptions for small local commercial signs (like "Joe's Plumbing") and a few farm owners have found creative ways to get around the rules (for example, placing billboards on parked trucks in the middle of their farm). But for the most part, you can drive for hours on an Ontario highway and simply enjoy the forests, wildflowers, barns, silos, Canadian Shield, and the horizon.
This could change very soon. Because of the Metrolinx proposal to place eight massive digital billboards on the 401, the province has decided to review all of its rules regarding commercial signage on highways.
Billboard lobbyists have been pushing hard for digital billboards, both at City Hall and at Queen's Park. The Metrolinx plan could open the floodgates.
The conference is happening on Thursday October 22, the 50th anniversary of the signing of the Highway Beautification Act.  The focus is on highway billboards, but other topics will be covered such as "honoring parks and open spaces."
To stay informed about the provincial billboard review, sign up for updates. And you if you want to spend a couple of days in Washington learning from public space advocates across North America, let me know. Drop me a line at dave@scenic.to.
Billboard advocacy is never easy. The lobbyists are powerful, smart, and they know how to contribute the right amount of money to the right politicians. But communities all across the world are fighting back. If you want to see our public highways remain billboard-free, don't wait until it's too late.  Because as hard as it is to prevent new billboards from going up, it's much harder to get them taken down later.